These 3 cheese "whole wheat" pizza bites are perfect appetizers to snack on with homemade marinara sauce!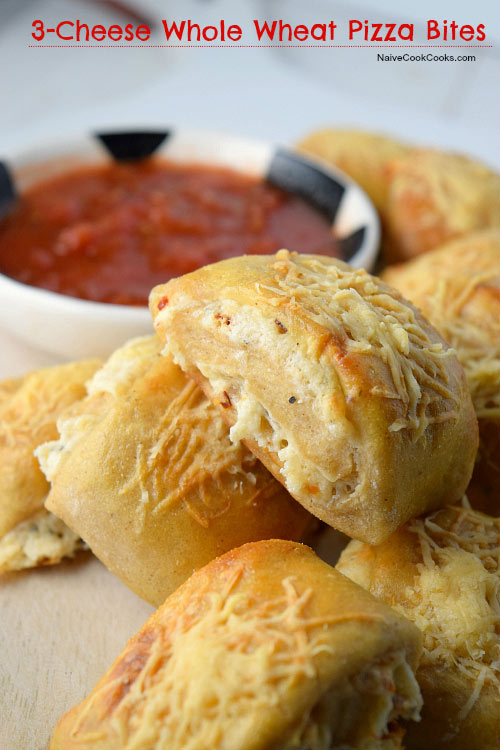 What happens when you end up with extra pizza dough? Well, I don't know about you but I make pizza bites and those too seriously cheesy 3-cheese pizza bites for dunking in fresh homemade marinara sauce. These are my new favorite appetizers. I know I keep saying for almost all the food but I mean how can you not love cheese + pizza dough?!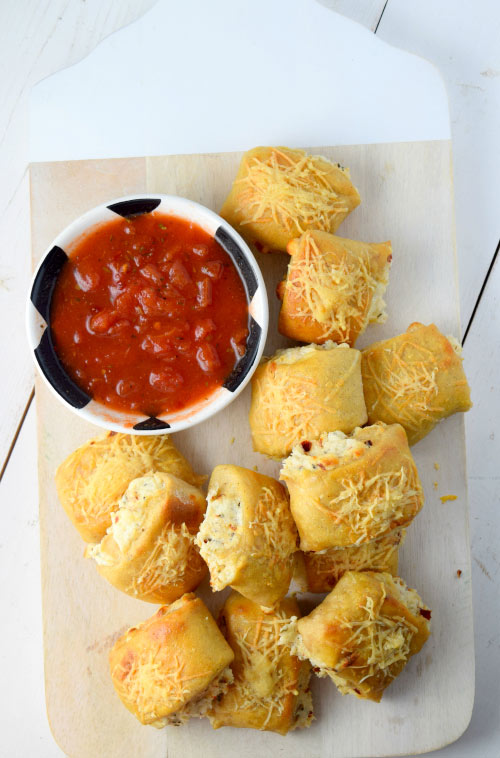 If you already have pizza dough on hand or using store bought, then these come together in flat 25-30 minutes or you can make your pizza dough first thing in the morning before leaving for work and then at dinner time, it will be a snap to put them together. Your family will love you and did I tell you that these are made up of  whole wheat pizza dough?! So sort of healthy too! You can even turn them into your main meal by serving a side of big salad. See told ya dinner should not always be time consuming but then there are days, I like to go all out and make a feast.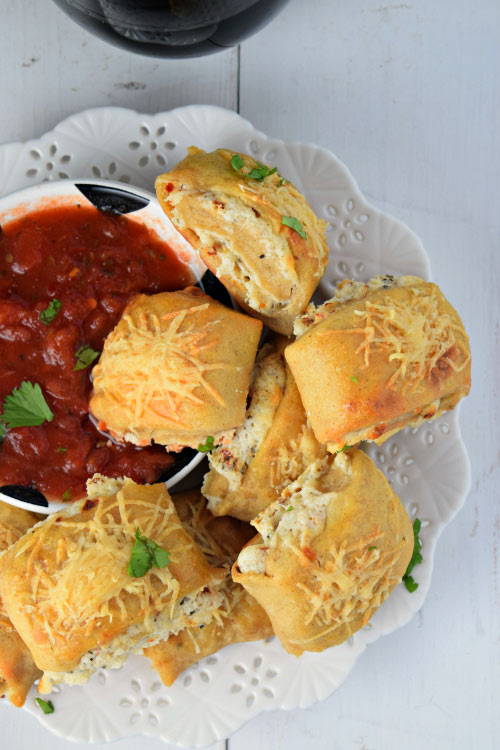 For this version, I made a mix of cream cheese, asiago cheese & parmesan along with few herbs and then spread the cheese mixture onto rolled out pizza dough. Simply roll it tightly, rub with egg wash and sprinkle some cheese on top and bake. The most gorgeous pizza bites and while these are getting done, you can make fresh homemade marinara. I am telling you that once you start making marinara sauce at home and that too in only under 30 minutes, you will never buy the store bought marinara.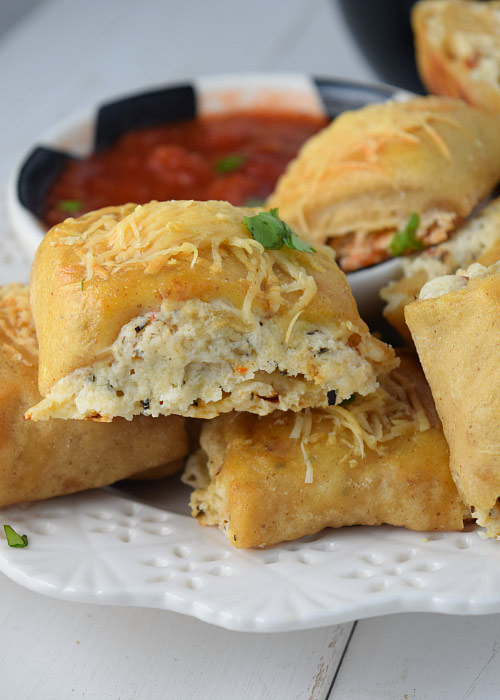 Are you convinced yet?!! If not, just make these! You will know what I am talking!
Help in spreading the word!
Follow along for lot more delicious treats and life happenings on INSTAGRAM || FACEBOOK || PINTEREST 

3 Cheese Whole Wheat Pizza Bites
Ingredients
1 pizza dough recipe**
4 oz cream cheese, softened to room temperature (I use low fat)
1 cup shredded asiago chese
¾ cup shredded parmesan cheese plus extra for sprinkling on top
Salt to taste
1 tsp red chili flakes
½ tsp basil powder
¼ tsp rosemary
1 egg for egg wash
**Pizza dough
1 cup whole wheat flour
¾ cup all purpose flour
2.5 tsp instant yeast
salt to taste
1 tsp sugar
½ tbsp olive oil plus extra for greasing the bowl
¾ cup warm water
Instructions
Make pizza dough by adding all the ingredients in the bowl of your stand mixer and mix until dough comes together or you can mix it with a wooden spoon. Transfer it to a floured surface and knead until soft and supple. Transfer the dough to a greased bowl and cover and let it sit in warm spot for good 2-3 hours or until doubled.
In a bowl, mix all 3 cheeses, salt, basil, chili flakes and rosemary. Taste and adjust seasoning if need to. Now take out the prepared pizza dough. Flour the surface and roll the dough into a 16'*8 " rectangle. Spread the cheese mixture onto the rolled out dough. Now starting from one of the longest side, start rolling it tightly. Once rolled all the way, using a rolling pin flatten it a bit on the top so the cheese doesn't ooze out too much while baking. Cut in desired size. I ended up with around 15 pizza bites.
Pre heat oven to 425F.
Transfer these bites to a greased baking sheet. Break an egg into a bowl and whisk until smooth. Using a pastry brush, brush egg wash over the tops of the pizza bites and sprinkle each bite with some cheese.
Bake for around 15-17 minutes until golden and cheese is all melted and dough is cooked.
Serve with marinara immediately.
Notes
You can even make them ahead and warm them in oven or toaster oven before serving.
More Appetizer Recipes: