Classic chewy chocolate chip cookie dough stuffed with oreo's and baked to crispy perfection is a perfect pick-me-up treat for anytime of the day!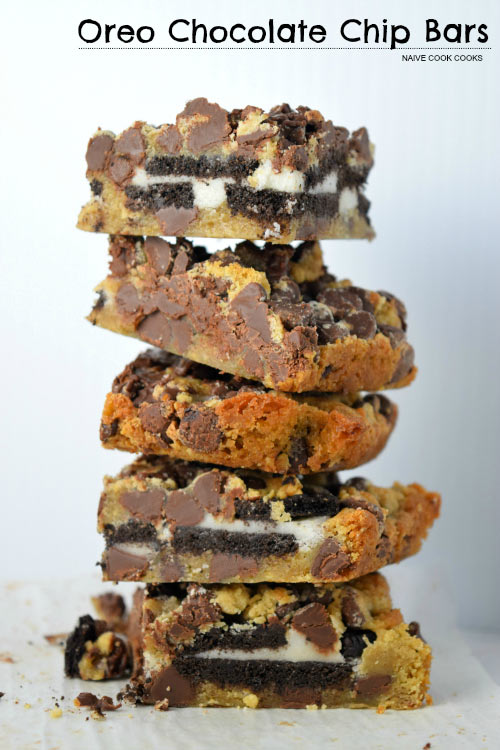 These bars.
It all started one night with a craving for chocolate chip cookies and me making a big batch of chocolate chip cookie dough. Usually I always make a big batch of cookie dough and then freeze the rest to have it on hand when sudden craving for fresh hot-out-of-the-oven cookies hits. But this time with us travelling almost every other week, I didn't find time to bake these. So before leaving for another trip, I realized I needed to do something with this dough sitting in my refrigerator.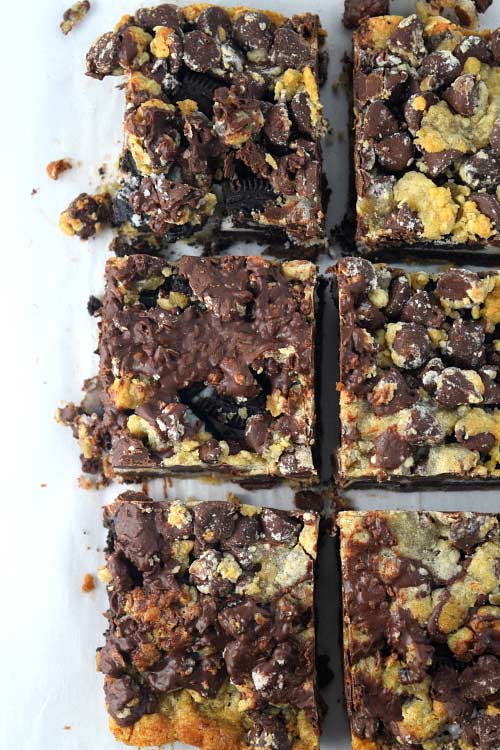 Though chocolate chip cookies are always welcome in my family almost anytime any day but I wanted to spice up the old recipe. Long time back I had stuffed cookie dough with oreos and it turned out to be everyones favorite. So I decided to do the same thing again but to make them look more appealing and easy to eat, make them in the bar form instead. Hear I spread a layer of cookie dough on top of which I place crushed oreos and then a final layer of cookie dough and bake it until it's gooey and cooked through.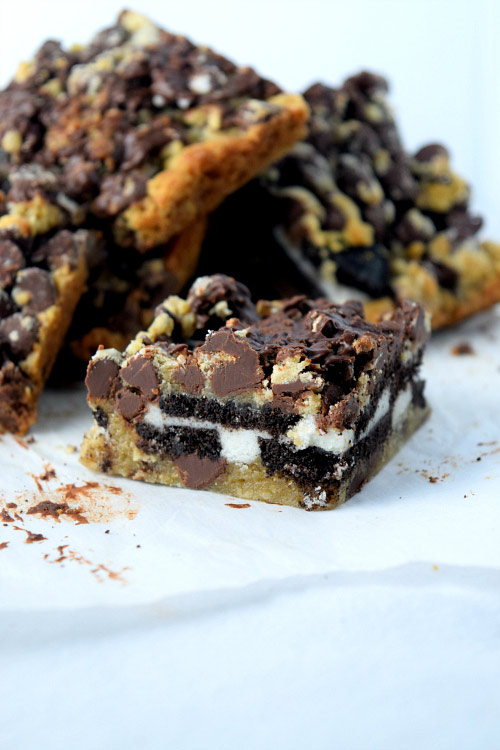 The HARDEST PART you ask me? Waiting for them to cool down. And they don't even last long enough! But these just make those classic chocolate chip cookies extra fancy! Seriously to die for combination. And did I tell you these are ALMOST semi healthy as cookie dough has OATS in it! Win-Win. And and these cookies are inspired by the famous DOUBLE TREE HOTEL's famous chocolate chip cookies recipe. So you know these ROCK.
Did I convince you enough?? If not, go ahead and bake these!
Help in spreading the word!
Follow along for lot more delicious treats and life happenings on INSTAGRAM || FACEBOOK || PINTEREST 

Oreo Chocolate Chip Bars
Ingredients
½ cup oats (any kind works - old fashioned, instant)
2-1/4 cups all purpose flour
1.5 tsp baking soda
1 tsp salt
¼ tsp cinnamon
1 cup (2 sticks) unsalted butter, softened to room temperature
¾ cup granulated sugar
¾ cup brown sugar
1.5 tsp vanilla
½ tsp lemon juice
2 eggs
3 cups semi sweet chocolate chips
8-10 oreos, crushed
Instructions
Grind oats in food processor until flour like.
Add oat flour, all purpose flour, salt, baking soda and cinnamon in a bowl and stir.
In the bowl of an electric mixer, cream butter, both sugars, vanilla and lemon juice until creamy and mixed through. To it add eggs one at a time and keep mixing.
Add the dry ingredients to the wet mix and mix well until combined. Fold chocolate chips.
Chill the dough for upto an hour or longer covered.
Before baking let the dough sit at room temperature for 30 minutes or so.
Put parchment paper in a rectangle or square baking tray. Size of the tray will depend upon how thick or thin you want to make the dough layers so choose accordingly. Add half of the cookie dough and spread it on the parchment paper evenly. Add crushed oroes and cover the entire surface. Add remaining cookie dough.
Bake in a 350F preheated oven for good 15-18 minutes until cooked. It will seem to be soft and kind of uncooked. But don't worry. Once it cools, it will all come together.
Enjoy and once completely cooled, store in an airtight container.
Notes
Chocolate chip cookie recipe adapted from foodgeeks.com (Doubletree chocolate chip cookies).
More Oreo Dessert Recipes: