NO-BAKE  4-Ingredient Easy Oreo Balls are perfect make ahead dessert for holidays!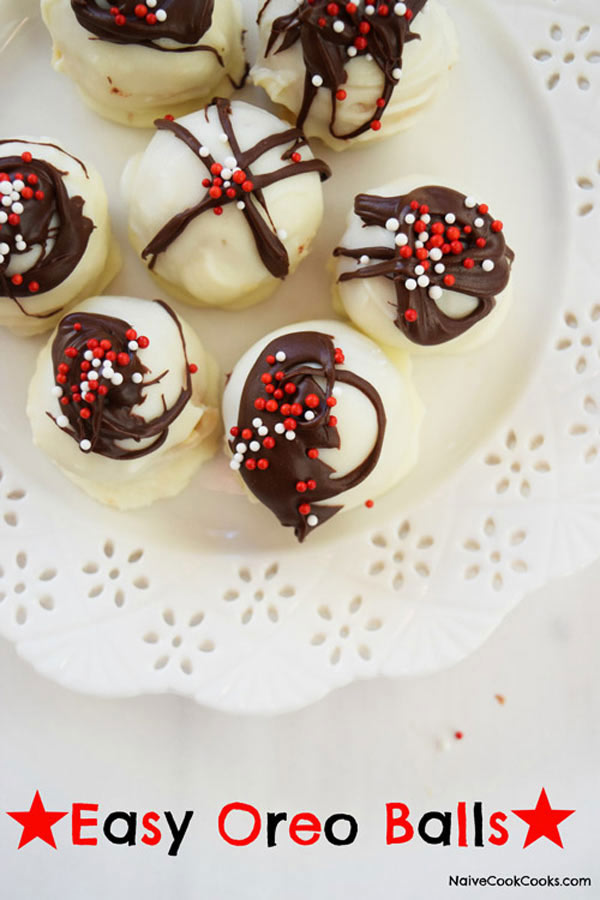 Happy Sunday friends! Can you believe we are only 12 days away from Christmas?! I know right! I mean I wait for Christmas all 11 months and then suddenly when December comes, I feel the days start to go at super fast speed. I mean wasn't it just the first of December a while back and soon it will be all done and we will be in a New Year. I know I know I should be enjoying this time rather than thinking about future and worrying. But I just wish Christmas season lasts forever! I am crazy for all the decorations, Christmas cookies, all the holiday food and all the gorgeous stuff everywhere not to forget Christmas shopping which to be honest I kind of hate because lately I find shopping to be such a waste of time! But that's just me and my opinions hehe!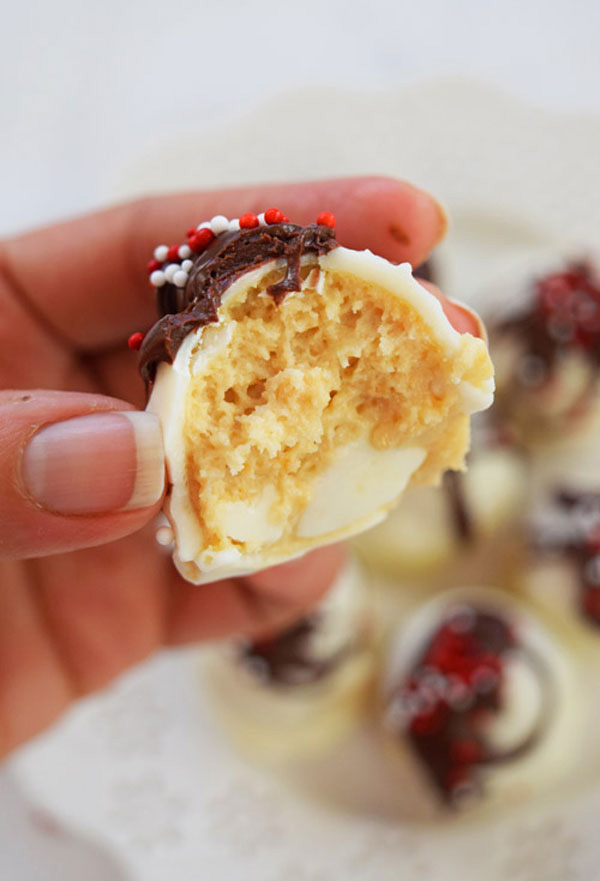 So since I feel like cooking and making everthing Christmasy these days but to be practical, I know it's sort of impossible to make and post everything here so I decided to include few simple recipes for this wonderful yet crazy hectic holiday season and to my surprise, everybody loved these! These OREO cookie balls were finished so fast and everybody kept coming for seconds! I was like whoa people do love simple recipes!!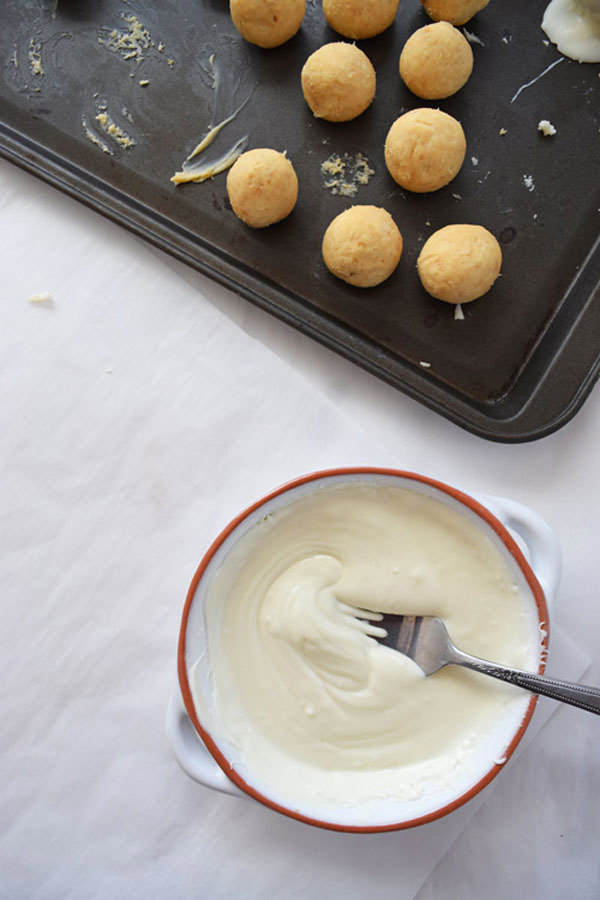 Making these is probably the easiest ever. All you need is Oreos, cream cheese (I used low fat), chocolate and sprinkles and you are on your way to these delicious bites of heaven.
There are few things I like to do to make the whole rolling and dipping process easier ->>
After rolling the crushed cream cheese and oreo mix into balls, I freeze them for an hour.
I re-roll them to have perfect round shapes which is totally optional but I do it anyways because sometimes my craziness is at extremes and I like them all to be perfectly round.Then I again freeze them.
Freezing makes these balls hard which makes it really easy to roll them in melted chocolate.
Then it's all about storing them in refrigerator until you are ready to eat. But I like things I eat to be pretty, so I decided to drizzle some melted semi sweet chocolate and add some sprinkles!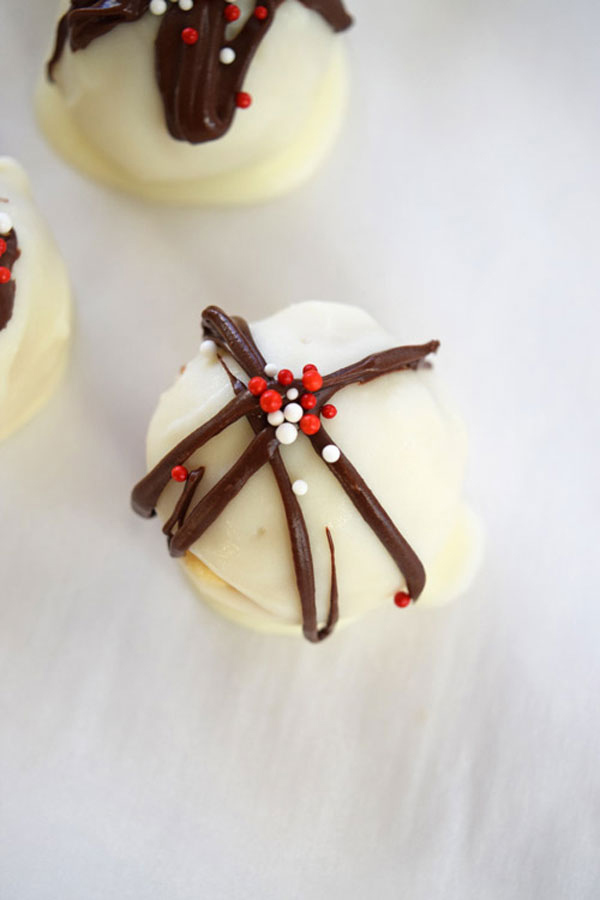 Follow along for a lot more delicious treats and life happenings on INSTAGRAM || FACEBOOK ||PINTEREST ||TWITTER ||GOOGLE+

Easy Oreo Balls
Ingredients
1 pkg. (8 oz.) brick cream cheese, softened (I used low fat to keep calories at check!)
36 OREO Cookies, finely crushed (You can use your favorite kind of Oreos here. I used Golden oreos.)
4 pkg. (4 oz. each) white chocolate chips
I also used 1 cup of semi sweet chocolate chips and sprinkles but that's totally optional!
Instructions
In a mixer, crush oreos until finely crushed. To it add softened room temperature cream cheese and mix until it evenly combined.
The mixture will be sticky. Roll it into small bite sized balls or any size you like and lay them down on a plate or baking sheet.
Once done rolling, freeze them for 30 minutes to an hour.
I like to re- roll them to get proper round shapes but that's optional.I then freeze them again until they are hard.
Melt white chocolate by placing chocolate chips in a bowl and heating it up in microwave at 30 second intervals initially and then at 15 seconds interval until completely melted. Stir after every 30 seconds to make sure how much more you need to heat it up until melted. Make sure you do not heat it for longer time in microwave or the chocolate will become hard and you won't be able to use it!
Dip one by one hardened oreo balls into this and using fork, gently move them so they are coated with chocolate. Pick them using a spoon or fork and gently place on a parchment lined baking sheet.
Now if you want, you can also melt some semi sweet chocolate chips and drizzle on top and add some sprinkles.
Chill them in refrigerator until ready to eat.
Keep them stored in refrigerator covered.
 More OREO based recipes :
https://www.naivecookcooks.com/no-bake-oreo-nutella-bars/