What's better than drinking thai ice tea in summers? Probably  turning it into popsicles! Creamy refreshing thai ice tea popsicles are made with just 4 ingredients and are sure to please everyone around!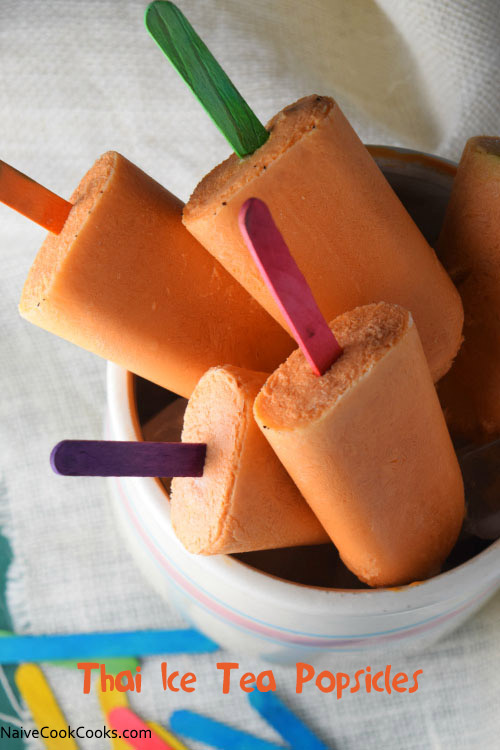 Hullo Monday!! We are going to eat popsicles today so you know it's going to be a great day!
First time ever when I ate Thai food, it was thai tea more than the food that made me  keep wanting to go to the restaurant every single time I could get a chance to. The aroma, sweetness and creaminess all in one glass served over ice was my favorite drink to order at Thai restaurants for a long time until I came to this realisation that well with all the sugar, they are not really healthy!
So last year, I started making THESE at home and it was a game changer! Now I could make them anytime I craved thai tea and I could control the amount of sugar and cream that goes in there too! Then few weeks ago when I was all in popsicle mode, I turned my ice tea into popsicle too. And I am loving summer way better with these around!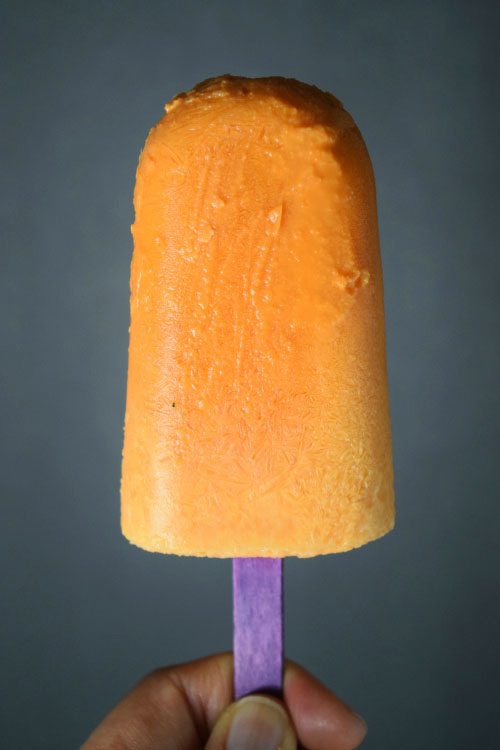 It takes only 4 INGREDIENTS to make a batch of these and the only effort from your side needed is to order this particular Thai Tea Mix from amazon or if you have a Thai grocery store, grab a packet from there! It gives the exact same taste as you get in restaurants and you can always control the amount of sugar & cream as per your taste! I know some of you will argue that isn't it better to make the tea from scratch at home too and I have seen tons of recipes for that around too using black tea bags and spices but I feel nothing beats the flavors that come from this thai tea mix and since it's an indulgence and you will do it once in a while so it's totally OK to drink something that you haven't made from scratch yourself!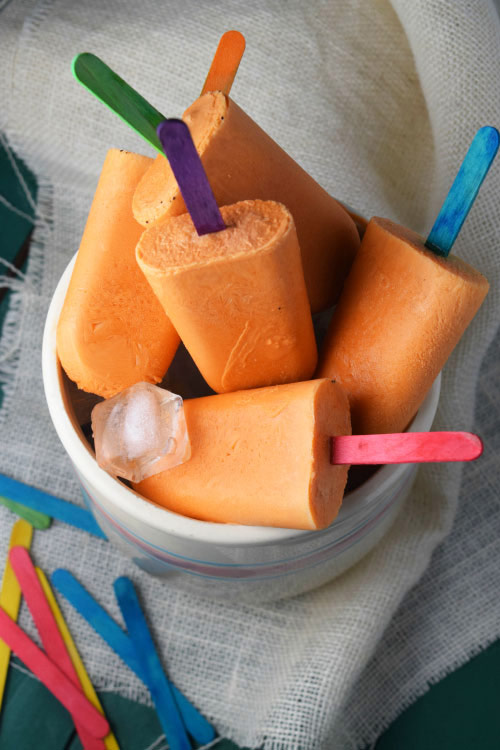 Now to my favorite part : Orange is the new black?!! Guys did you watched it yet? I started watching it Friday night but I just couldn't enjoy it! I know I know that sounds horrible and knowing that I have waited so long for it to come and now I feel like I am not really in the mood to watch it?! Something must be wrong with me or it might be the fact that since last 10 days Jerry has been bed ridden as he pulled his back and most of my time has been going in worrying about his health and on the side my mom & me are on a massive house cleaning project lately! I am going to give it another shot today!
These Popsicles = SUMMER!!
P.S Thai Ice tea popsicles recipe adapted from my Thai Ice Tea Recipe.
Help in spreading the word!
Follow along for a lot more delicious treats and life happenings on INSTAGRAM || FACEBOOK || PINTEREST || TWITTER
Similar Recipes:

Only 4 Ingredients Thai Ice Tea Popsicles
Ingredients
2 cups water
2 tbsp thai tea (I STRONGLY recommend you to buy this"Pantai" thai tea mix to get exactly restaurant style thai tea. I buy it from the thai grocery store but it's also available on amazon)
6 tbsp white sugar
¾ cup heavy whipping cream, cold
Instructions
In a pot, bring water to boil. Once it starts to boil, add thai tea mix & sugar and let it simmer for 2-3 mins. Turn off the heat and cover the pot and let it sit so the flavors get stronger for another 5-7 mins.
Strain and discard the solids. Let the tea come to room temperature. Add cold heavy cream to it and stir until it's all uniform color.
Transfer it to popsicle molds and freeze overnight or good 5-7 hours.
Enjoy!
Similar Recipes:
https://www.naivecookcooks.com/thai-iced-tea/