Make your very own Old Fashioned Caramel corn at home with just few ingredients! Dangerously addicting & way better than any store bought caramel corn!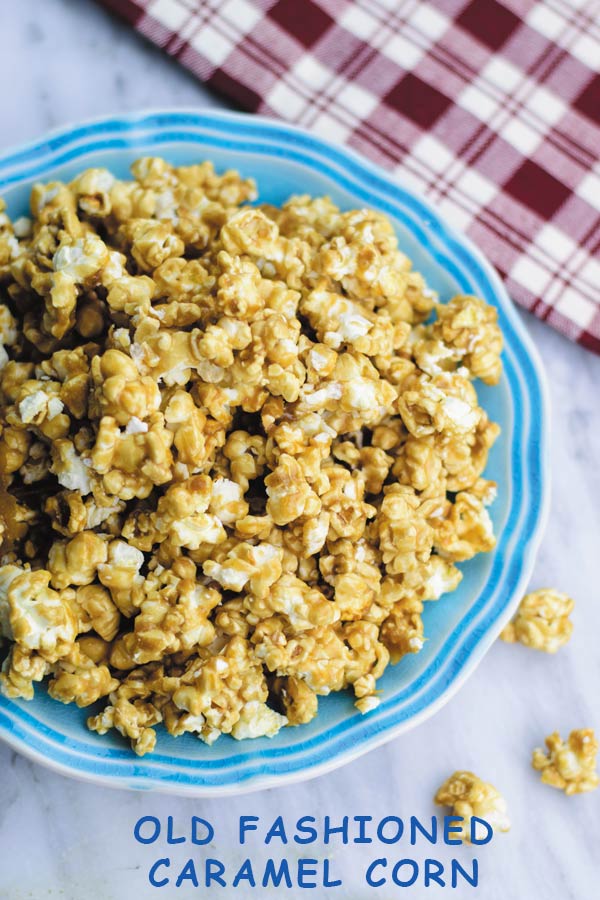 We are big popcorn eaters around here.
Ronak's favorite snack to munch on while watching TV or playing video games is plain salted popcorn. I, on the other hand, prefer eating flavored popcorn over plain salted popcorn unless we are talking about buttery movie style popcorn! Have you tried our PIZZA POPCORN yet?! So addicting!
I also have a big sweet tooth so sweet popcorns are always a big favorite of mine! Everytime we visit Chicago, it's a must for us to buy Garrett's caramel corn! It's the perfect snack to munch on while roaming in Chicago.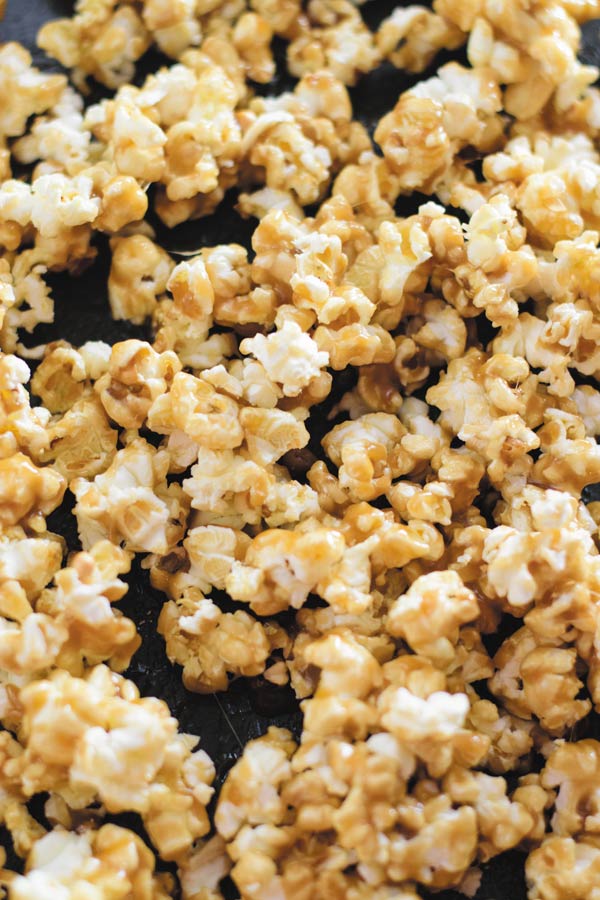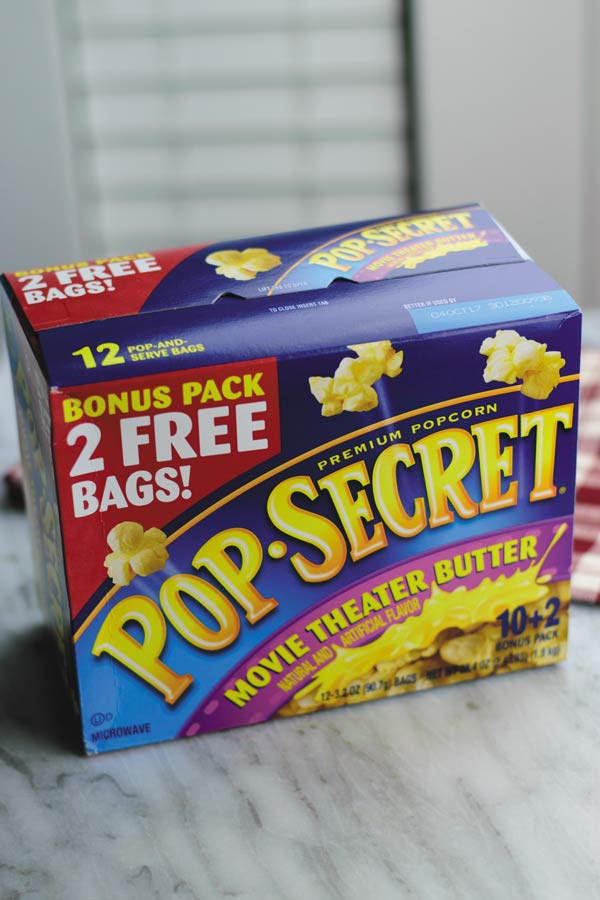 It's been really long since we have been to Chicago and after craving caramel corn all weekend long, I knew it was time to learn and perfect caramel corn. Just plain simple classic Old Fashioned Caramel Corn – you know the kind grandma's used to make!
And I never knew that it was so simple to make at home! All you need is brown sugar, butter, salt, corn syrup, baking soda, vanilla extract and popcorn! I bought Popsecret Butter popcorn from Walmart and currently they have a deal on pack of 10. You get 2 extra pocorn packets which is always an amazing deal for my popcorn loving family!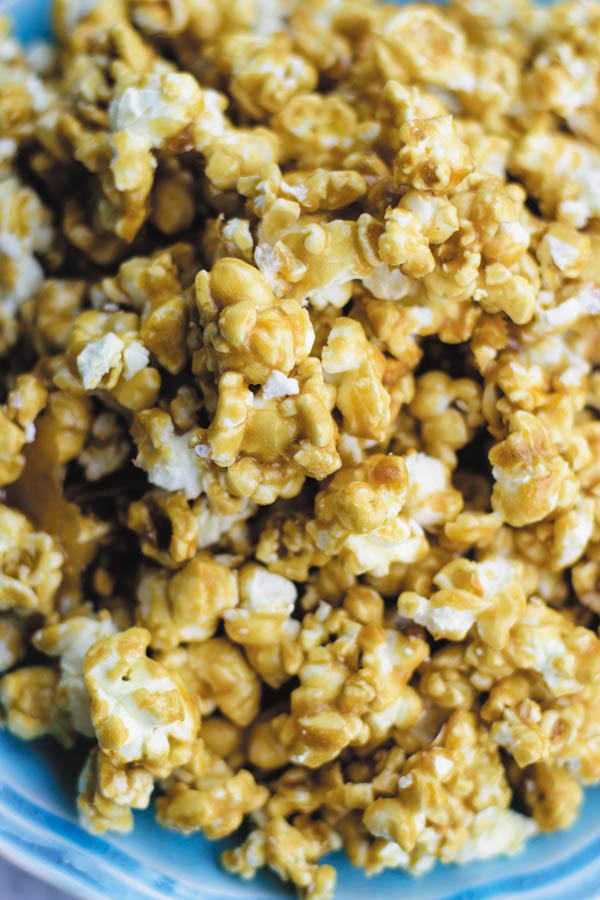 Our weekends always involve watching movies either in theatres or at home! Lately it's been lots of Christmas movies at home with our Christmas tree, hot cocoa, popcorn and a comfy throw. And if you are a movie buff like us , then you might know that soon Assassins Creed is going to be here in theatres on December 21st 2016, just few days before Christmas! I can't wait to watch it and to make movie watching little extra special, I got you a SPECIAL DEAL!
"Buy 2 Pop-Secret 10 ct or 10+2 ct bonus packs at Walmart between 12/7/16 – 1/8/17 and get an $8 credit toward a ticket to the Assassin's Creed movie while supplies last."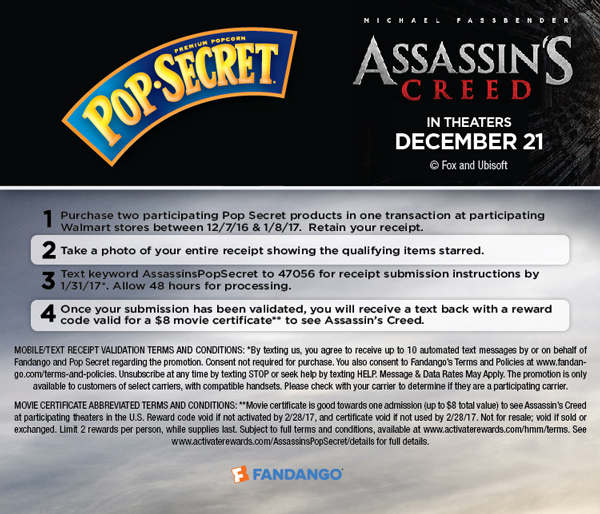 Now this deal will make your movie watching experience much better!! 😛
So go ahead and give this a try! If you make these or any other recipe from our blog, do tag us by using#naivecookcooks on social media channels.
If you enjoyed this recipe, don't forget to FOLLOW me on INSTAGRAM||FACEBOOK||PINTEREST||TWITTER ||GOOGLE+ || BLOGLOVIN || YouTube

Old Fashioned Caramel Corn
Serves:
10 cups caramel corn
Ingredients
Old Fashioned Caramel Corn:
9 - 10 cups popped popcorn
1 cup brown sugar
¼ light corn syrup
½ cup unsalted butter (1 stick)
½ tsp salt
½ tsp baking soda
½ tsp vanilla extract
Instructions
Old Fashioned Caramel Corn:
Grease the baking sheet with butter generously.
Preheat oven to 250F. Place popped popcorn on a baking sheet and place it in a 250F oven.
In a deep heavy pot, add brown sugar, corn syrup, butter, salt and place it on stove. Bring it to boil on medium heat. Boil it for 4 - 4:30 mins but not not more or it will harden up.
Add this caramel syrup all over the popcorn in baking sheet and stir it gently so every popcorn is covered with caramel syrup.
Place the caramel syrup covered popcorn in oven for 45 mins. Stir it after every 10 mins which will result in more even distribution of caramel over popcorn.
After 45 mins let the popcorn cool in baking sheet. Once cool to touch and super crispy, store it in airtight container.
This post is part of a social shopper marketing insight campaign with
Pollinate Media Group
® and
Pop Secret,
but all my opinions are my own. #pmedia #Pop4AssassinsCreed  
http://my-disclosur.es/OBsstV