Classic old fashioned apple pie  bursting with cinnamon flavored apples and a buttery crust.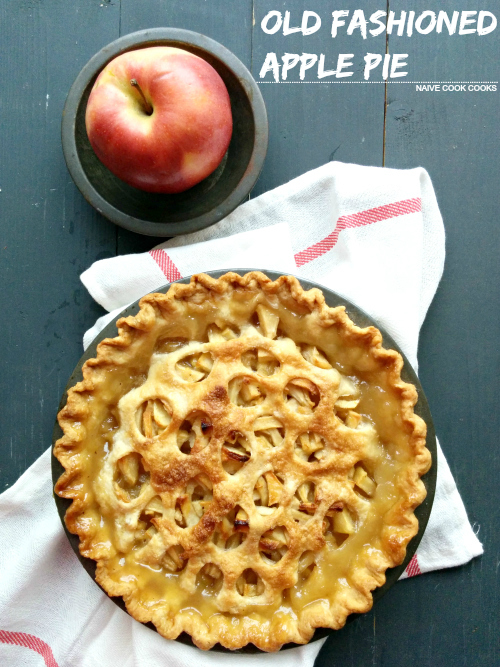 Helloooo Monday!
I am sitting bundled up in my woolens, cozy socks and a big mug of coffee by my side and writing this. I made my first apple pie of this season! Apple pie makes me realise that it's finally winters and time for all the things cozy. Hope you all had a rocking relaxing weekend. We finally started to get in the mood for Christmas. Sugar cookies saturday night, christmas music on youtube, a big cinnamon broom (I know, I was surprised too. We saw it at Trader joes and it is just so aromatic and yes you guessed it right, I had to buy it as it's cinnamony and feels like holidays!).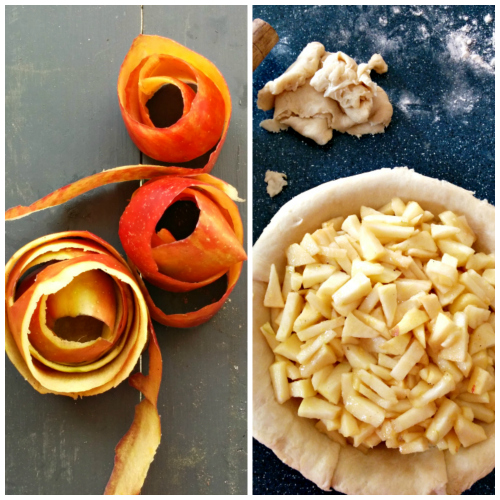 This pie. I thought what better than to post you guys a classic old fashioned apple pie recipe on Monday morning. You have full 5 days to plan and do your grocery shopping to make this for the weekend. I am telling you that this will for sure hit the spot and even if you are living in area with temps still in 70's, this will totally bring winters, at least, to your home. House will smell amazing with all the apple and cinnamon goodness.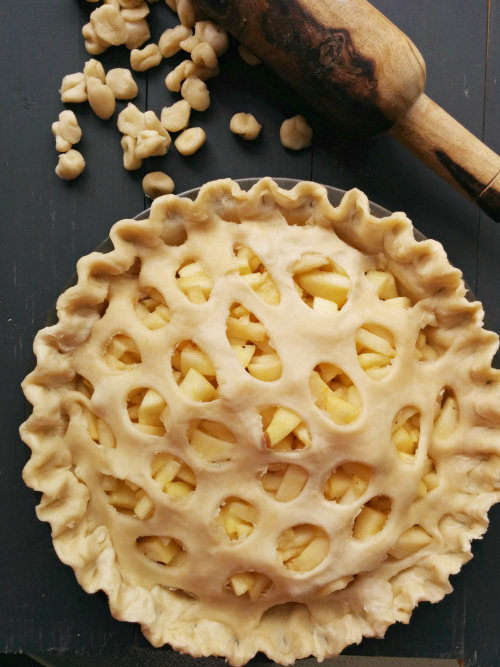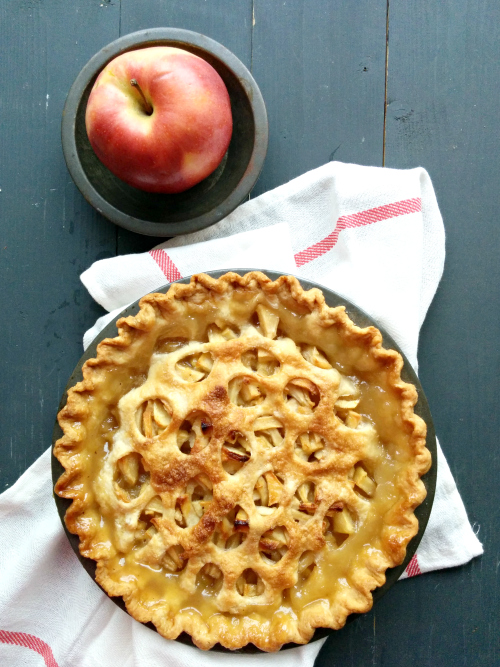 Talking about Christmas vacations, We are still in the planning stage. What about you guys?? I know some, who have already planned their christmas vacations like 6 months in advance! For people like us, don't worry and have a pie.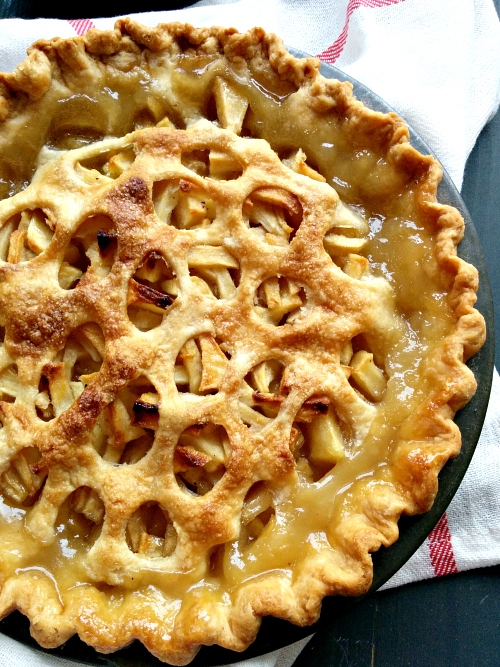 This pie is the epitome of classic apple pie. Lemon scented with cinnamon apples and a perfectly buttery crust which melts in your mouth, it is the best dessert you can serve on your table. Classic yet timeless.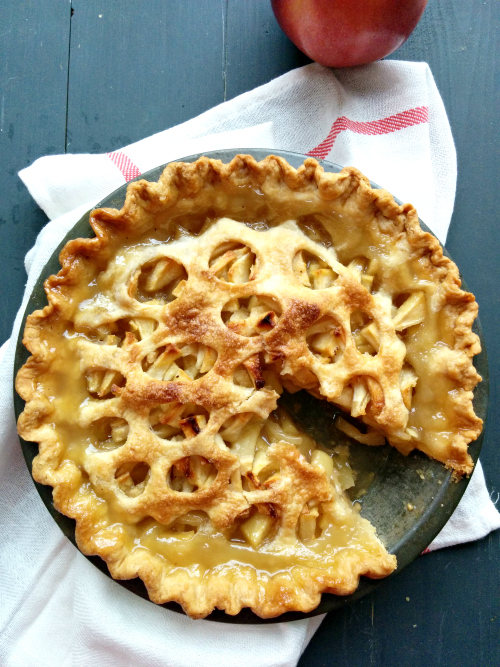 Go ahead, make your grocery list!
Old Fashioned Apple Pie
Ingredients
For Crust
2.5 cups all purpose flour
1 tbsp sugar
¾ tsp salt
10 tbsp chilled unsalted butter, cut in small pieces or grated on a grater
⅓ cup solid vegetable shortening, cut into pieces
6 tbsp ice water
Filling
½ cup sugar
¼ cup brown sugar
2 tbsp all purpose flour
1 tbsp fresh lemon juice
2 tsp grated lemon peel
⅛ tsp ground nutmeg
1 tsp cinnamon powder
3 pounds apples (I used 2 huge honey crisp apples), peeled, quartered, cored and thinly sliced
Milk
Additional sugar
Instructions
For Crust
Stir flour, sugar and salt together in a bowl using spatula.
Add butter and shortening and using a pastry cutter or simply your fingers work it together, until it resembles a coarse meal.
Add 6 tbsp iced water and mix until moist clumps form. Add more water by tsps if desired and until the dough gathers into a ball.
Divide the dough into half. Flatten each piece and wrap in a plastic wrap.
Refrigerate for 1-2 hours. (At this point, dough can be prepared 2 days ahead. Keep chilled. Let it soften to room temp before rolling out)
For filling
Position rack in bottom third of oven and preheat oven to 400F. Mix first 7 ingredients in a large bowl. Add apples and toss to combine.
Assembling
Roll out one dough disk on a floured surface to 12 inch round. Transfer to 9 inch diameter pie dish.
Fold edge under, forming high standing rim. Crimp edge decoratively if desired. Add filling. Roll out second dough disk to 13 inch round.
If making honeycomb design, using a small circular cutter, cut holes in the dough leaving 2 inch all around the edges. Make sure the dough is not rolled out too thin or your holes will break while transferring the dough.
Transfer the honeycombed top crust on top and seal the edges. Brush the honeycomb using milk. Sprinkle with generous amount of coarse sugar.
Bake in a preheated 400F oven for 10 minutes.
Reduce oven temp to 375F and bakes until filling is bubbling thickly and crust is deep golden brown, covering edges with aluminium foil collar if browning too quickly for about 1 hrs 20 mins.
Let it rest for an hour before serving if possible.
Serve with ice cream or whipped cream.
Notes
It can be made 8 hours in advance and then served at room temperature.
This classic old fashioned pie is adapted from "The Bon Appetit Cookbook"
More Apple Pie Dessert Recipes: