Flakiest buttery Caramel Apple Pie with loads of apple flavor & spices!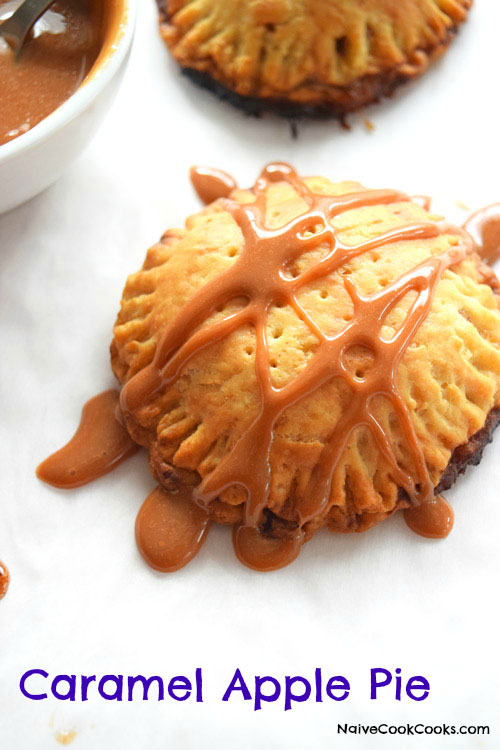 Sweet & sticky caramel coated flakiest apple pies loaded with juicy apples and spiced apple puree. The BEST caramel apple pie ever! Remember few days back when I posted about this CARAMEL SAUCE and showed you a teaser of these pies and told you nothing about them! I know, pure torture!
These pies are based on my favorite Old Fashioned Apple Pies and but I changed a few things here!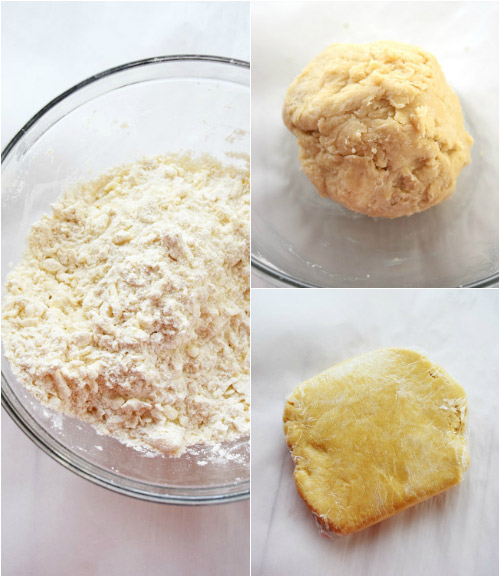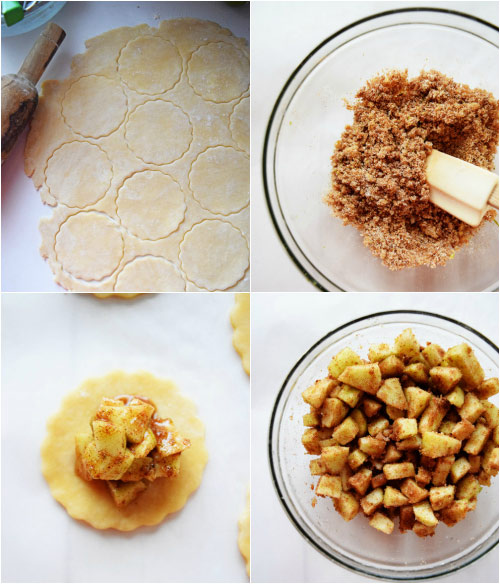 The dough recipe is exactly the same because well this pie dough crust is probably the best! It's super light unlike some pies where dough feels like so filling & dense, it's buttery in a good way and goes along perfectly with this mini version caramel apple pies.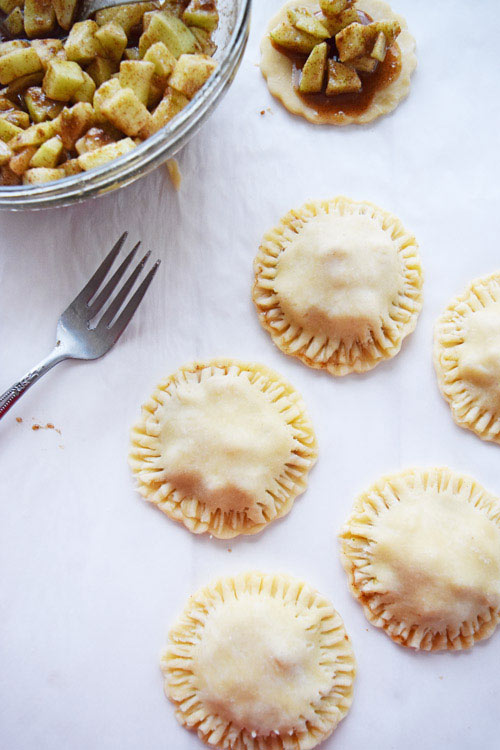 Here instead of keeping the filling just like original, where I mixed apple pieces with spices, sugar and bunch of other ingredients, I pureed half of the filling and kept the other half just like that. That makes the pie much more intensely apple flavored and in every bite you get juicy sugary spiced apples. Pure bliss!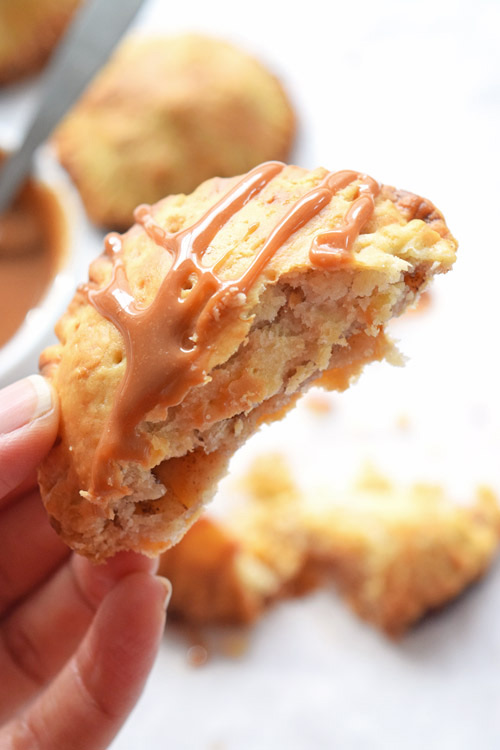 The best part about these pies : They are PORTABLE! Yes, perfect for potluck parties, get togethers and you can even make them ahead of time for holiday entertaining! And since these are mini & individually portioned, you don't need to worry about slicing. Just grab and enjoy! And you would probably want to dip these in warm caramel sauce because well that's the whole point!!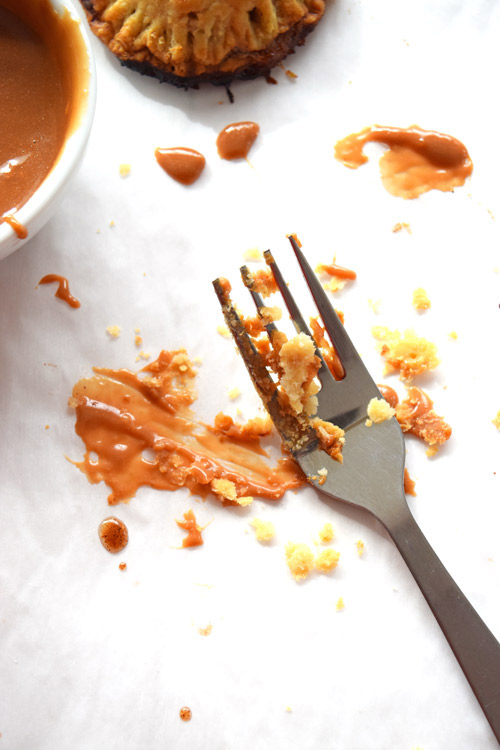 Follow along for a lot more delicious treats and life happenings on INSTAGRAM || FACEBOOK ||PINTEREST ||TWITTER ||GOOGLE+||BLOGLOVIN
Mini Caramel Apple Pie Bites
Ingredients
For Crust
2.5 cups all purpose flour
1 tbsp sugar
¾ tsp salt
10 tbsp chilled unsalted butter, cut in small pieces or grated on a grater
⅓ cup solid vegetable shortening, cut into pieces
6 tbsp ice water and more as needed
Filling
1 cup sugar
½ cup brown sugar
4 tbsp all purpose flour
2 tbsp fresh lemon juice
4 tsp grated lemon peel
¼ tsp ground nutmeg or in place you can use 2 - 4 tsp apple pie spice
2 - 4 tsp cinnamon powder
I used 4 huge apples, peeled, quartered, cored and thinly sliced
Milk
Additional sugar
Caramel Sauce for drizzling
Instructions
For Crust
Stir flour, sugar and salt together in a bowl using spatula.
Add butter and shortening and using a pastry cutter or simply your fingers work it together, until it resembles a coarse meal.
Add 6 tbsp iced water and mix until moist clumps form. Add more water by tsps if desired and until the dough gathers into a ball.
Divide the dough into half. Flatten each piece and wrap in a plastic wrap.
Refrigerate for 1-2 hours. (At this point, dough can be prepared 2 days ahead. Keep chilled. Let it soften to room temp before rolling out)
For filling
Position rack in bottom third of oven and preheat oven to 400F.
Mix first 7 ingredients in a large bowl. Add apples and toss to combine.
Pulse half of this apple spice mix in a food processor until you have a coarse puree. Keep it aside.
Assembling
Roll out one dough disk on a floured surface to 12 inch round. Using a round cookie cutter and a large bowl or glass, cut circles from the dough.
Place a tbsp or so of that puree on half of those dough circles and then on top put a tbsp or so of apples mixed with spices.
Cover each one of them with another circle and using a fork, pinch the outsides to make a decorative design and so the filling doesn't come out! Repeat with the other dough ball in the same way.
Transfer them to a lined baking sheet and Brush the surface using milk. Sprinkle with generous amount of coarse sugar.
Bake in a preheated 400F oven for 22 - 25 mins or until it's nice and golden brown..
Let it rest for an hour before serving if possible.
Serve drizzled with caramel sauce!.
Some more Dessert recipes:
https://www.naivecookcooks.com/pistachio-lemon-bars-with-coconut-whipped-cream/
https://www.naivecookcooks.com/spiced-pumpkin-bars-with-hazelnut-crust/