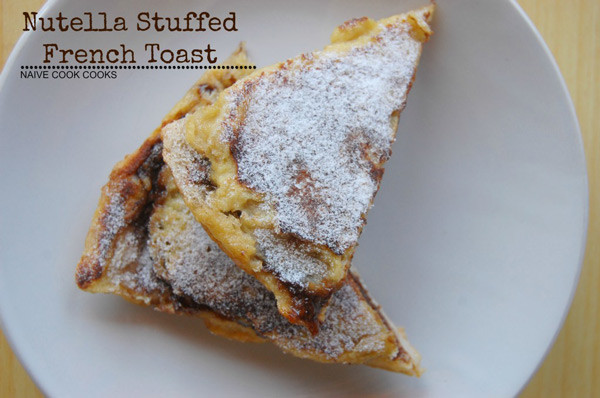 Valentines day is around the corner and I wonder what you all have planned for your valentines. We have not planned anything so far but we did enjoy a pre-valentines day brunch this weekend – at – home. We have been missing some good brunch for good last 3 months, I suppose. Brunch is not really big here and with still few more weeks to go before we head back home, we needed good brunch at home.I have been wanting those skillet eggs with hashbrowns and lots of jalapenos or what about a plate full of tiramisu pancakes. Even though it's hard to get them here but the thought itself makes me happy and reminds me of those weekends in Chicago with good friends and good food. What else can you ask for?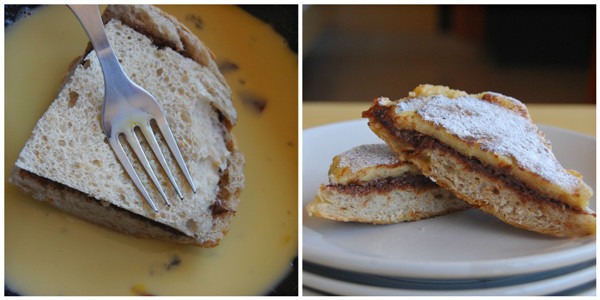 On to french toast now. Lately, I have been having an ongoing obsession with Nutella. I blame it on absence of good desserts here and that makes me reach for Nutella to satisfy my chocolate chip cookies, devils chocolate cake craving. Not really but it does work. I have been eating it filled in crepes, toasts but mostly straight from jar using a spoon. While looking for a good brunch treat, I decided on making Nutella stuffed in french toast. I know, it does sound good.
During last few attempts at making french toast, I learnt few things and it helped me in getting the right texture.
1. First and most important, USE THE RIGHT BREAD and the RIGHT THICKNESS. Bread should be sturdy and spongy so it can soak up the egg mix and after cooking it should be  little crispy outside and creamy inside. Challah, brioche or croissant are best for this purpose and try to keep thickness of each slice around 3/4 -1″.
2. SOAKING THE BREAD. Very very important step. Bread needs to be soaked  properly on all the sides for  3-5 minutes each side. But if your bread is not the right kind, you will end up with a mushy, hard to handle bread piece. So, right bread, right bread thickness and good soaking time.
3. COOKING. To avoid butter getting burnt, spray a little vegetable oil on the pan and than add butter. It prevents the butter from burning and make sure you butter the pan before putting a new toast.
4. TEMPERATURE. Moderation is the key here. Too much heat will burn it while low heat will make it chewy. Before starting, make sure it is at medium-medium high heat so that the egg mix on toast doesn't run. Cook it on med to med-high heat for perfect french toast. Also, it will be different for your stove kind, so do the first one and find the perfect setting.
Hope it helps.

Nutella Stuffed French Toast
Ingredients
2 eggs
¼ cup milk (I used 2%fat milk)
1 Tbsp sugar
½ tsp cinnamon powder
4 large slices of stale bread, thickness ~3/4 to 1 inch each
2 Tbsp Nutella
Butter for cooking
Powdered sugar for sprinkling ~ 1Tbsp
Instructions
In a deep large bowl, mix eggs, milk, sugar and cinnamon. Stir it using a fork and keep aside. Now coat Nutella on one side of 2 toasts and then close both the toasts together by sandwiching the Nutella sides in between. Soak the Nutella stuffed toast in the egg mix and push it using a knife so it gets coated properly. Let it sit for 3-5 mins and then flip and let the other side gets coated too same way. Soak the sides as well. Once ready, cook it on a preheated pan with butter for around 5 minutes on each side until nicely browned but not burnt. Sprinkle some powdered sugar and serve with black coffee. Repeat for the next one in the same way.
More Sweet Breakfast Recipes: