Sweet & Salty Nutella Pretzel Chocolate Chip Cookies makes for a delicious chewy chocolate packed treat! One of my favorite ways to elevate regular chocolate chip cookies.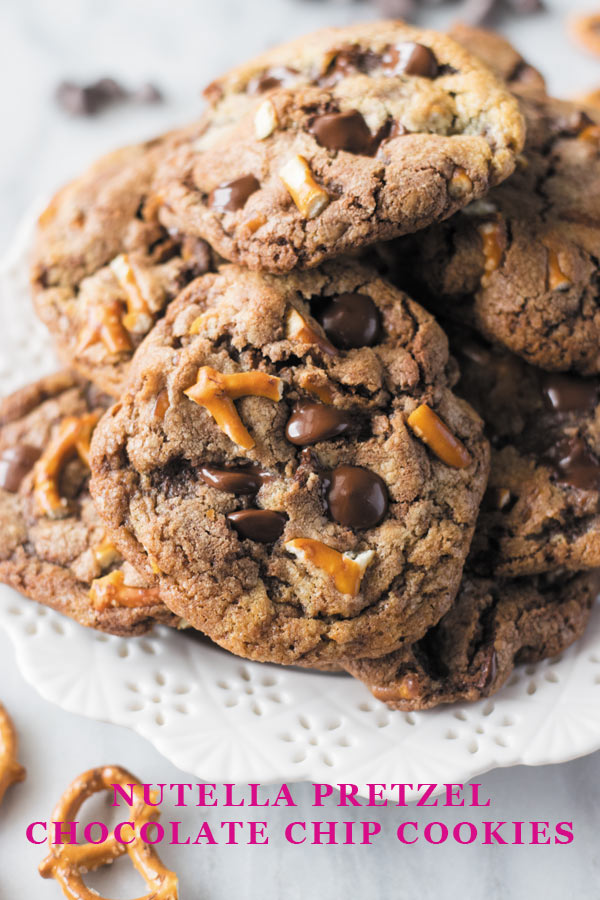 It's officially summer! How are we halfway through 2019 already?! Time sure flies and since having Aria, I feel every day goes by so fast! Life has been amazing with this little girl of ours and one thing I enjoy a lot these days is cooking with her. She is my little helper and loves helping out in mixing, handing me stuff like the other day she handed me one strawberry at a time for a recipe I was making and sure it took forever to get those strawberries in the blender but it was so much fun!! We were practicing counting simultaneously and seriously now I can't think of my life without her! I am obsessed with this little girl of ours 🙂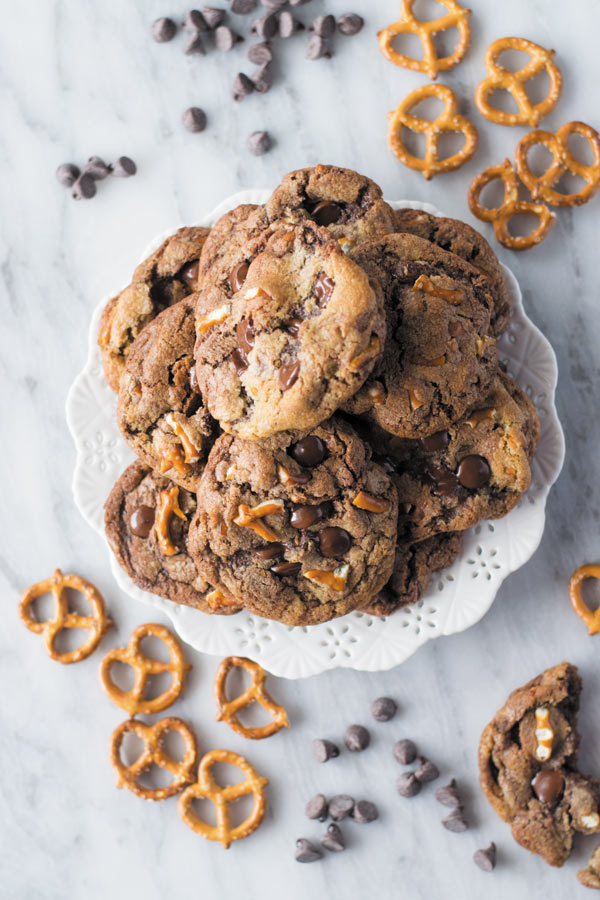 Onto these cookies, I have already made these cookies thrice and these are so delicious! Ronak suggested this idea as one day we were missing HopDaddy's famous nutella pretzel shake and he was like what if you add nutella & pretzel in chocolate chip cookies. I went ahead and gave it a try. In first try, we felt pretzels weren't enough so I added more in the batter and I rolled the cookie dough balls into crushed pretzels just before baking to make pretzel's salty flavor shine.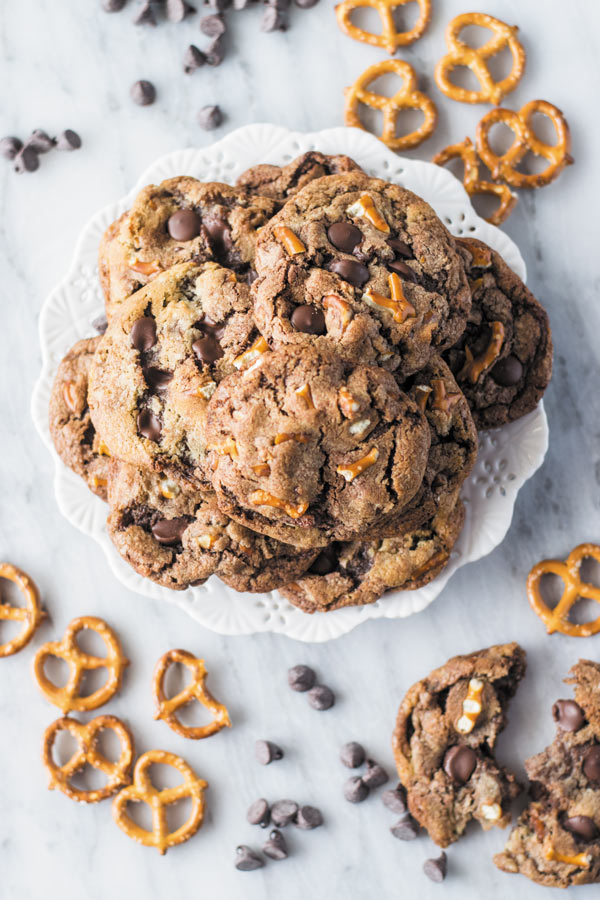 I used my sturdy OLD FASHIONED CHOCOLATE CHIP COOKIES recipe and just added/substracted few ingredients to make these. These are seriously so so good, salty, sweet, chewy and super chocolatey. Everything comes together super fast and once the cookie dough is ready I chill it for few hours in refrigerator. Then just roll and bake!
Just go ahead and make a batch of these amazing cookies for yourself ( you deserve a treat once in a while!), for next door mamma who is hard at work raising a kid and multi tasking millions of things on her list, for people who help you day in day out or just for someone random 🙂 Make someone's day by baking a batch of these!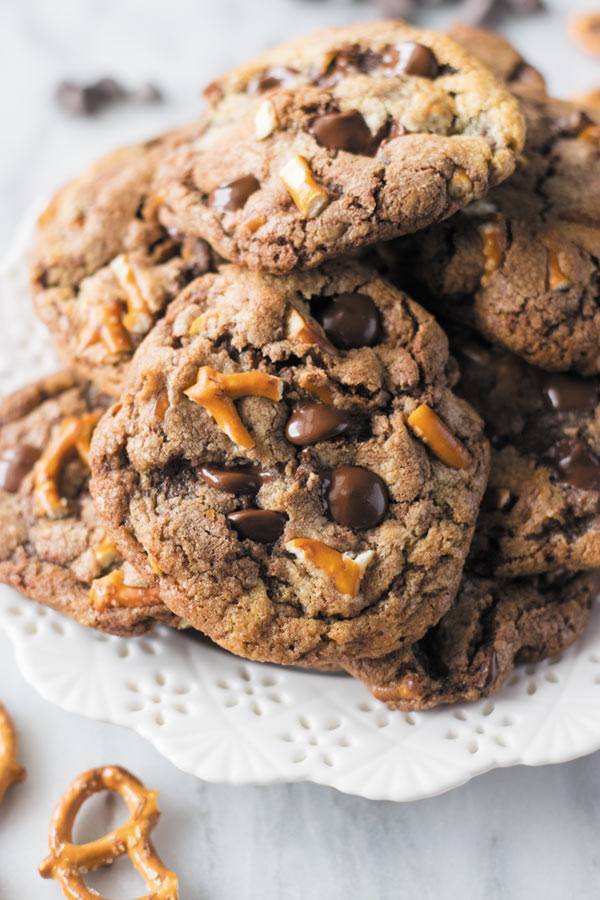 Nutella Pretzel Chocolate Chip Cookies
Ingredients
1.5 cups unbleached all purpose flour (191 gms or 6.7 oz )
½ tsp baking soda
½ tsp salt
½ cup ( 1 stick or 113 gms or 4 oz ) unsalted butter at room temperature
¼ cup white granulated sugar ( 57 gms or 2 oz )
½ cup tightly packed brown sugar ( 102 gms or 3.7 oz )
1 large egg
6 tbsp nutella spread or any chocolate hazelnut spread
1 tsp vanilla extract
⅓ cup semi sweet chocolate chips ( 70 gms or 2.4 oz ) plus few extra for adding on top of warm just of oven cookies
⅔ cup pretzels ( 40 gms or 1.3 oz ) plus few extra for rolling cookie dough ball into.
Instructions
Whisk flour, baking soda and salt in a medium size bowl. In a large bowl, beat butter until light and fluffy. Add both sugars to the butter and beat it until well blended. Add eggs and vanilla. Beat until mixture becomes smooth and creamy.Add nutella and using a spoon swirl it around until just mixed. Add flour mixture to it and beat until just incorporated. Crush pretzel chips by hand and stir them in the dough. Stir in the chocolate chips.
Cover the dough and let it chill in fridge for 30 mins to upto few hours. This helps in making nice thick chewy cookies that don't spread too much.
When ready to bake, preheat oven to 375F.
Spray a baking sheet with non stick oil or use a parchment paper or baking mat over baking sheet. Crush the extra pretzels and place them on a plate or bowl. Roll around 2-3 tbsp cookie dough into a tight ball and then gently roll it onto crushed pretzels or stick some crushed pretzels onto the dough ball so we have good amount of crushed pretzels and place them on a sheet at least 2-3 inches apart. Bake them for 11-13 minutes or until golden brown.
Let them cool on the baking sheet for a minute or two. Then transfer the cookies on a rack and while still warm add few chocolate chips onto the cookies and then let them cool completely.
Store in airtight container at room temperature.
Best enjoyed with a glass of chilled milk.
Looking for some more COOKIES ->>.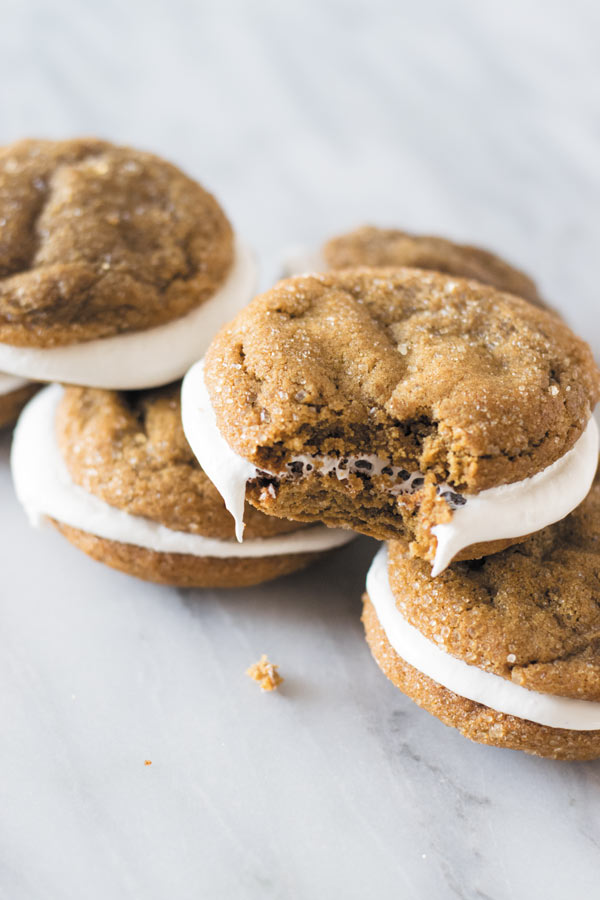 Soft & Chewy Ginger Cookies With Marshmallow Buttercream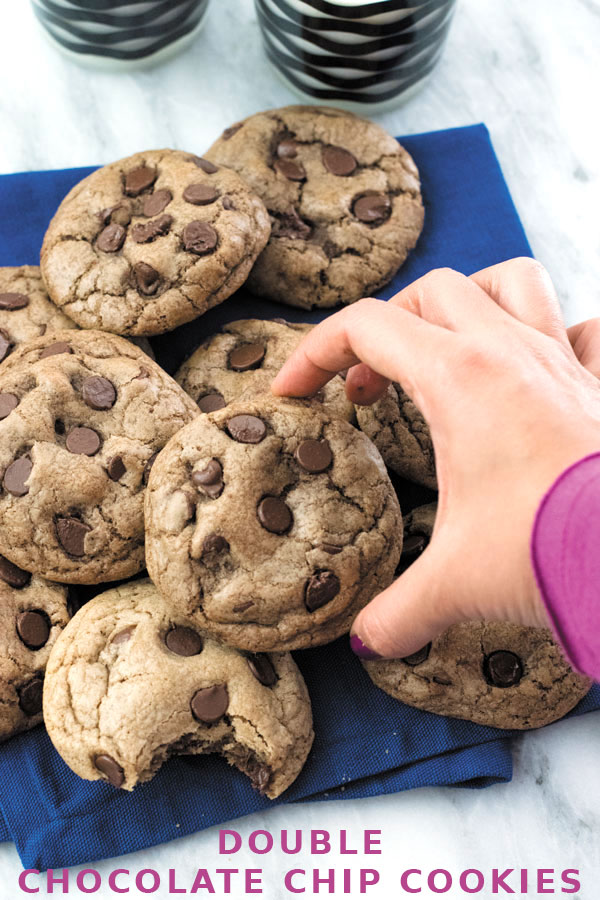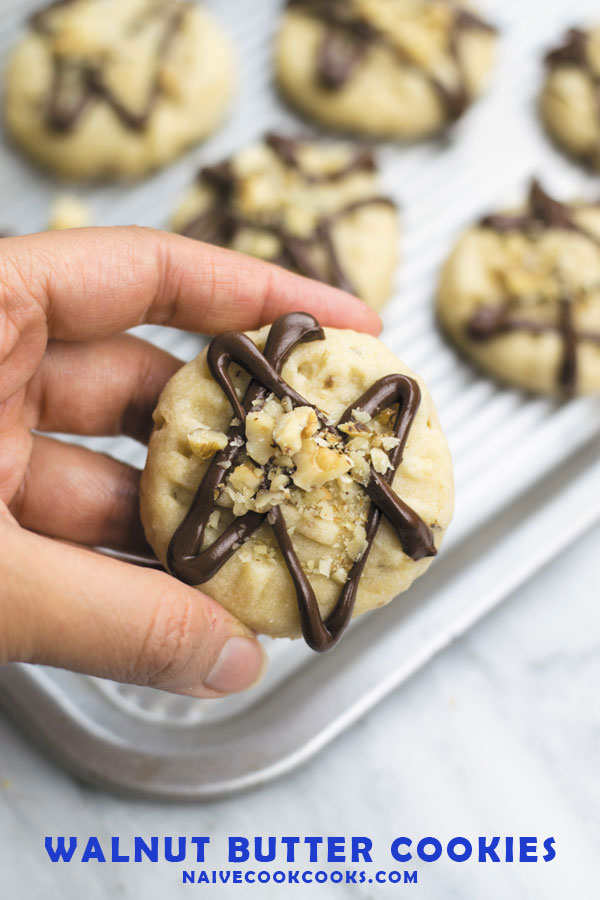 Walnut Butter Cookies