Nutella Pretzel Chocolate Chip Cookies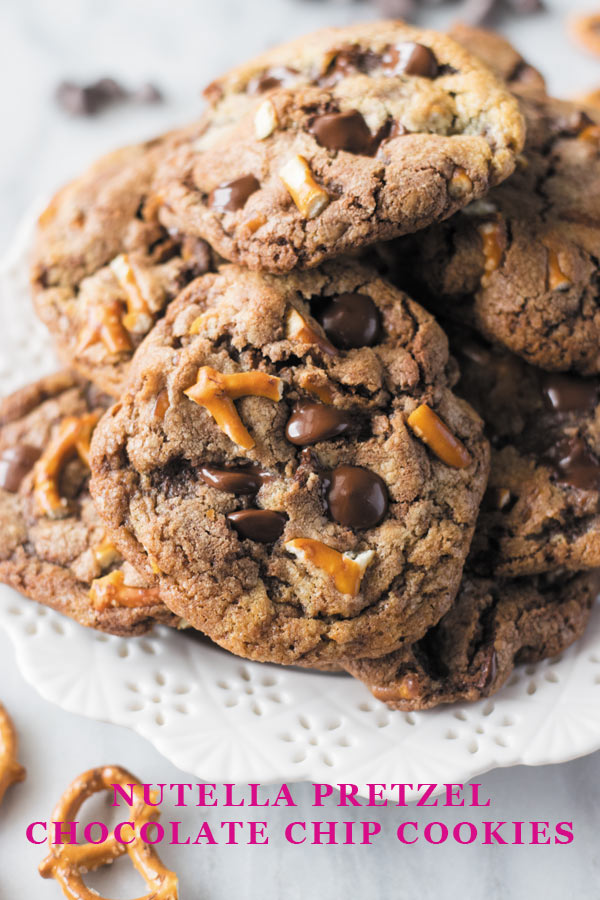 1.5 cups unbleached all purpose flour (191 gms or 6.7 oz )
½ tsp baking soda
½ tsp salt
½ cup ( 1 stick or 113 gms or 4 oz ) unsalted butter at room temperature
¼ cup white granulated sugar ( 57 gms or 2 oz )
½ cup tightly packed brown sugar ( 102 gms or 3.7 oz )
1 large egg
6 tbsp nutella spread or any chocolate hazelnut spread
1 tsp vanilla extract
⅓ cup semi sweet chocolate chips ( 70 gms or 2.4 oz ) plus few extra for adding on top of warm just of oven cookies
⅔ cup pretzels ( 40 gms or 1.3 oz ) plus few extra for rolling cookie dough ball into.
Whisk flour, baking soda and salt in a medium size bowl. In a large bowl, beat butter until light and fluffy. Add both sugars to the butter and beat it until well blended. Add eggs and vanilla. Beat until mixture becomes smooth and creamy.Add nutella and using a spoon swirl it around until just mixed. Add flour mixture to it and beat until just incorporated. Crush pretzel chips by hand and stir them in the dough. Stir in the chocolate chips.
Cover the dough and let it chill in fridge for 30 mins to upto few hours. This helps in making nice thick chewy cookies that don't spread too much.
When ready to bake, preheat oven to 375F.
Spray a baking sheet with non stick oil or use a parchment paper or baking mat over baking sheet. Crush the extra pretzels and place them on a plate or bowl. Roll around 2-3 tbsp cookie dough into a tight ball and then gently roll it onto crushed pretzels or stick some crushed pretzels onto the dough ball so we have good amount of crushed pretzels and place them on a sheet at least 2-3 inches apart. Bake them for 11-13 minutes or until golden brown.
Let them cool on the baking sheet for a minute or two. Then transfer the cookies on a rack and while still warm add few chocolate chips onto the cookies and then let them cool completely.
Store in airtight container at room temperature.
Best enjoyed with a glass of chilled milk.
Recipe by
Naive Cook Cooks
at https://www.naivecookcooks.com/nutella-pretzel-chocolate-chip-cookies/