First Monday of summer?!!!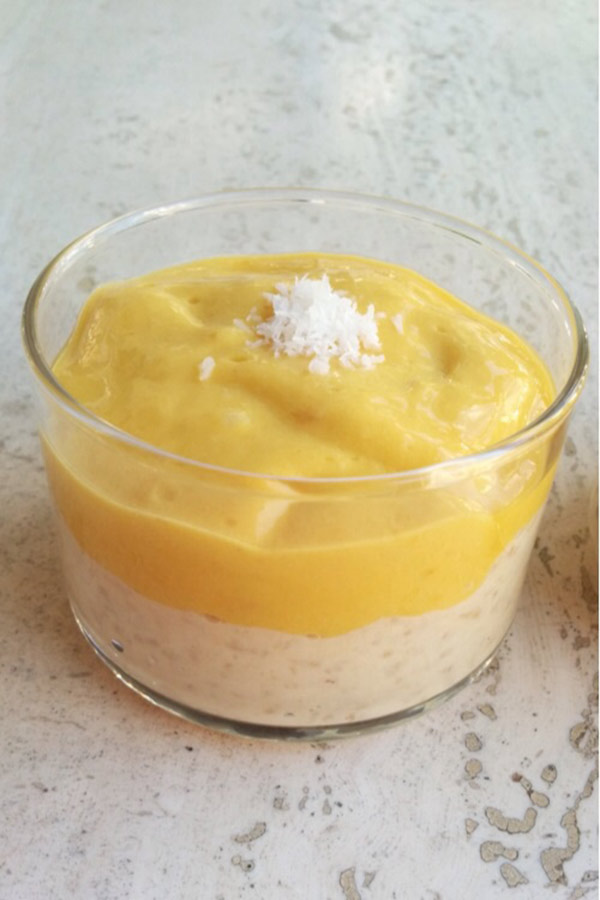 Long summer days means more work done and more time to relax and enjoy! Time to go for a quick lunch with friends, picnic in the park, music concerts, lots of ice cream, summer food- I die just thinking about it!!, summer dresses with sandals, reading my favorite books and  getting fresh run in the open! To me summer means cooking all day and I don't even have to rush as I can do food photography in natural light until like 8 pm. How cool it that?!!
Ok, back to this perfect summer dessert!!
This is a perfect healthy comforting dessert with lots of tropical flavours – say fresh ripe mango purée and coconut milk! Most importantly, it's a no bake rice pudding. I grew up eating this kind of rice pudding (an Indian dessert called Kheer) which requires no turning the oven on. It gets done quietly on stove top and you enjoy it chilled. Made with very few ingredients, it's a charm to make and I bet everybody will love it! Just milk, basmati rice, sugar and cardamom powder. Milk and rice cook on low flame for about an hour with occasional stirring and you get yourself a creamy rich looking dessert. Top it off with some mango & coconut milk purée and summer dessert can't get better! I made them few hours ahead and chilled them in small glass bowls in the refrigerator for few hours before serving. Even I was shocked as I wasn't expecting these to taste that good!! You can't eat just one,seriously!!

Eggless Mango Rice Pudding
Ingredients
4 cups milk (I used 2%fat but you can use any fat content milk you wish. The creamier the milk, the creamier pudding will be)
¼ cups basmati rice
sugar to taste
1 tsp cardamom powder
4 ripe mangoes, pureed
1 cup full fat coconut milk
Instructions
In a deep, preferably stainless steel pot, bring milk to a boil. Lower the flame and add rinsed and cleaned rice to it. Stir it and let it cook on medium-low flame. Keep stirring occasionally so it doesn't stick. Let it cook like this for around 30-45 mins until it reduces to half. To it add, sugar and cardamom powder and stir it nicely for a minute so it all gets mixed together. Take it off heat and cool. Layer in small glass bowls(if using) halfway.
In a blender, add mango chunks and coconut milk and blend until smooth. Make sure mangoes are ripe and sweet. Layer this purée on top of rice pudding. Chill for few hours before serving.
More Pudding Recipes: