Softest Cupcakes made with chocolate & coffee in the batter and then topped with a decadent coffee buttercream for the ultimate coffee lover's treat!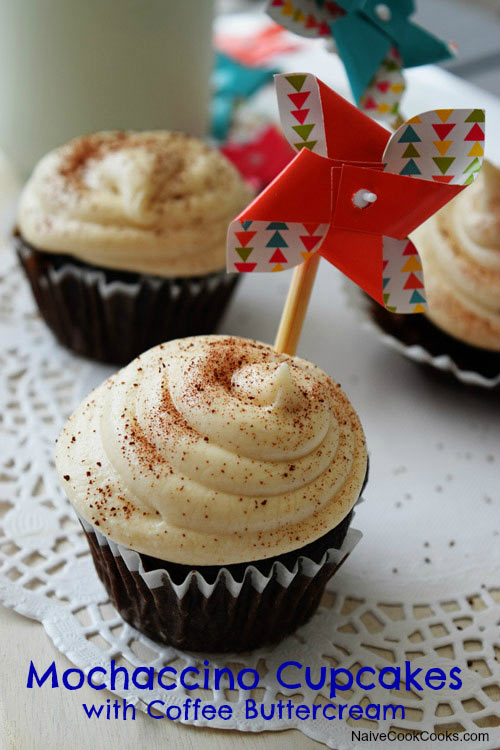 Since I got a hang of making cupcakes, I am unstoppable. All I want to make everyday is cupcakes because well why not?! And not just regular cupcakes but cupcakes that taste like bakery style cupcakes yet are made using NO eggs & no butter in the batter! Is this even possible?!! And is it only me or is there no emoji for cupcakes?!! So unfair!
Regarding no butter & no eggs cupcakes, that's my newest obsession which started with our favorite microwave cake.
Remember the 5 minute microwave chocolate cake which I posted recently that needs only few ingredients and only 5 minutes, yes today's recipe is heavily inspired by that and I am so excited to share today's recipe with you guys because these CUPCAKES !!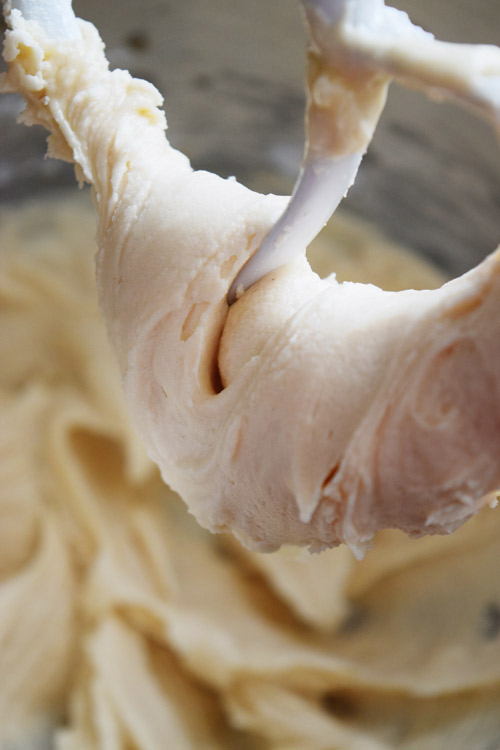 Chocolate & coffee flavored cupcakes and hence the name and topped with a delicious rich coffee buttercream. These are my second favorite cupcakes after my vanilla cupcakes. And I might or might not have eaten 2 whole cupcakes while taste testing because well that's the right thing to do and there is always treadmill to melt those extra pounds away lol. On that note, is it only me or you guys feel like you gain few extra pounds during holiday season?! .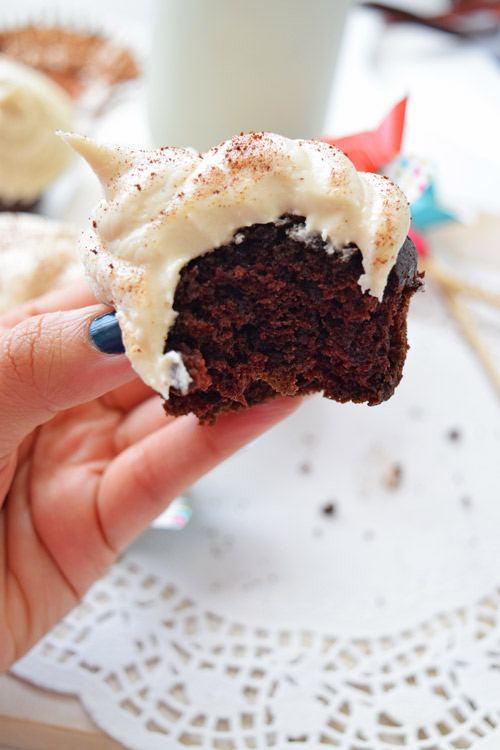 These cupcakes must be the richest softest cupcakes I have made in a while even though there is no butter or eggs in the batter! Atleast everybody needs to try them once and that buttercream. You can lick it with your fingers and if you love coffee like I do, well then you won't have any difficulty in cleaning these up 😛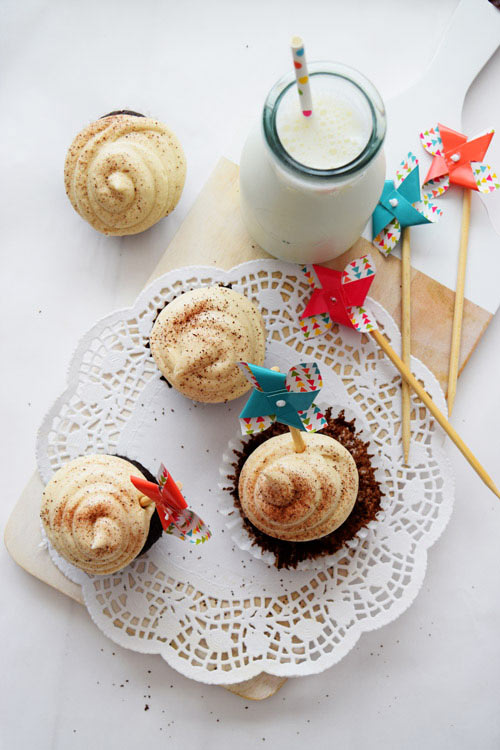 Did you enter in the PB & Co. + Bob's Red Mill Oats GIVEAWAY going on the blog. Hurry, it ends soon!
Follow along for a lot more delicious treats and life happenings on INSTAGRAM || FACEBOOK ||PINTEREST ||TWITTER ||GOOGLE+
Mochaccino Cupcakes With Coffee Buttercream
Ingredients
Chocolate Cupcakes :
10 tbsps All purpose flour
2 tbsp cocoa powder
⅛ tsp salt
½ tsp baking soda
5 tbsp sugar
6 tbsps semi sweet chocolate chips
4 tsp oil (I use olive oil)
4 tsp apple cider vinegar
2 tsp vanilla extract
10 tbsp strong black coffee (If you don't have a coffee press, you can simply make black coffee by taking 10 tbsps of hot water & adding your favorite coffee about 1-2 tsps in there and stirring it. You can even strain it before using so you don't get any coffee granules)
Coffee Buttercream
¼ cup or ½ stick unsalted butter at room temperature
1 tsp vanilla extract
'2.5 cups white powdered sugar
5 tbsps very strong black coffee (Here we are going to make coffee just like above. So by adding 1-2 tsps or little more in 5 tbsps of hot water and stirring. Make sure when you taste your buttercream, it has nice coffee flavor. If you feel it's not too strong for your taste, add a little bit of powdered coffee in there but make sure it is the powder stuff or your buttercream won't be smooth!)
Instructions
For cupcakes:
Pre heat oven to 350F.
In a bowl, add all the dry ingredients for the cupcake. Stir and add all the wet ingredients and stir until evenly mixed.
Grease cupcake liners and fill them up with batter upto ¾th full.
Bake in 350 F oven for 18-20 minutes or until a toothpick inserted in the center of the cupcake comes out dry.
Coffee Buttercream :
In a mixing bowl, beat butter with an electric mixer until smooth. Add vanilla extract, a tbsp of black coffee and powdered sugar and mix. Now add the remaining black coffee but 1 tbsp at a time until you get the right consistency. I like to get a medium thick buttercream so it's easy to pipe onto cupcakes.
Pipe the buttercream onto cupcakes in whichever way you like.
Enjoy!
 More Cupcake Recipes: