Christmas Tree Cupcakes with vanilla cupcake base, cream cheese icing, coconut snow & gorgeous white chocolate trees!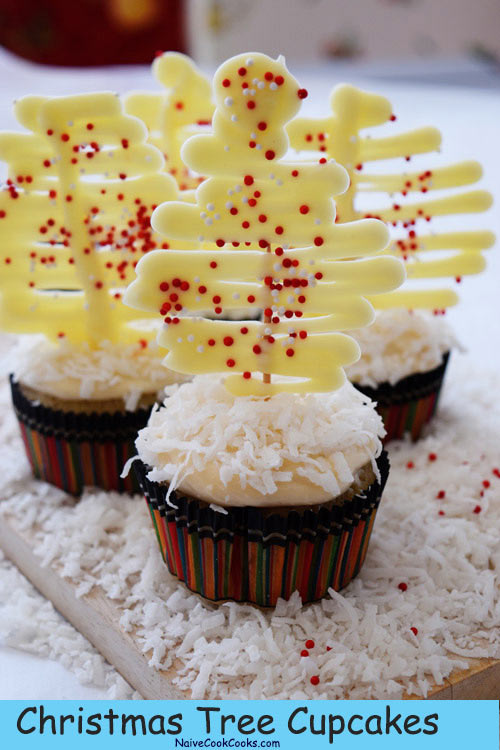 Friday & last weekend before Christmas! I am sure you all are busy shopping before your family arrives for holidays, baking tons of cookies for gifts, right? Well I have something which you MUST include in your Christmas baking list if you have one! These adorable Christmas Tree Cupcakes which every adult and kid will love. A simple vanilla cupcake recipe (by far my all time favorite!), a delicious creamy cream cheese icing, sweetened coconut flakes for snow and then these cute looking Christmas Trees made from white chocolate.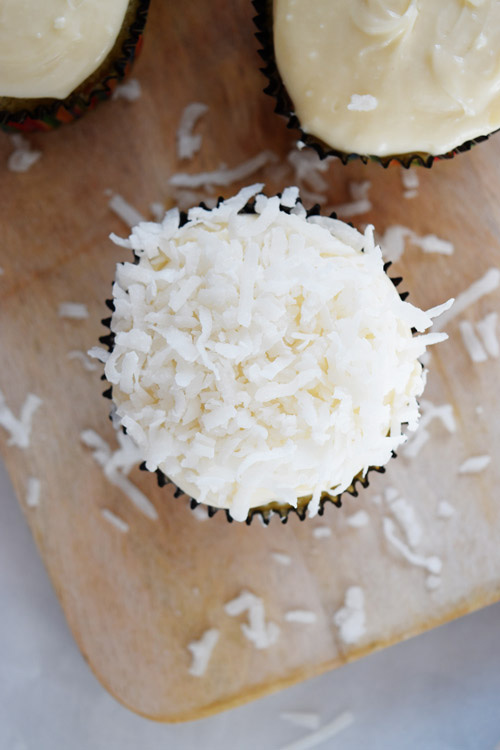 I saw this idea to make chocolate trees by Kelly from JustaTaste.com and since then I have been wanting to make my own! So finally this year I decided it was time and I couldn't be happier with the results. These are so easy to make and the results – >> just so impressive!!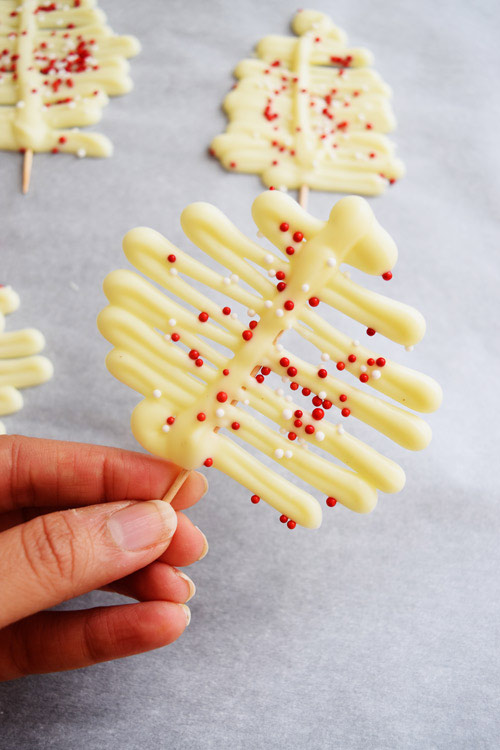 Btw what are you all doing these holidays? We have been busy with lot of stuff going on personal front and even though we won't be celebrating a traditional Christmas this year, I baked way more than I ever did and I am so happy with all the delicious treats I cooked before we head out!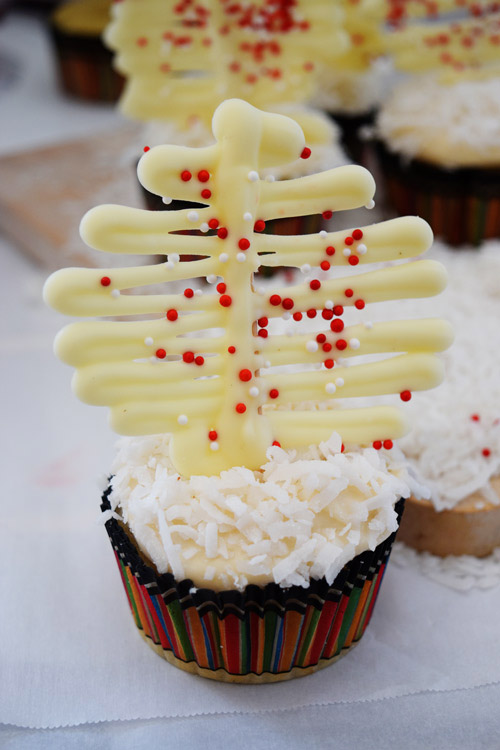 These are perfect to make ahead of time for a party or to take for potlu. Just keep these chocolate trees in fridge & insert them before you are ready to serve. I am telling you that everybody will love these!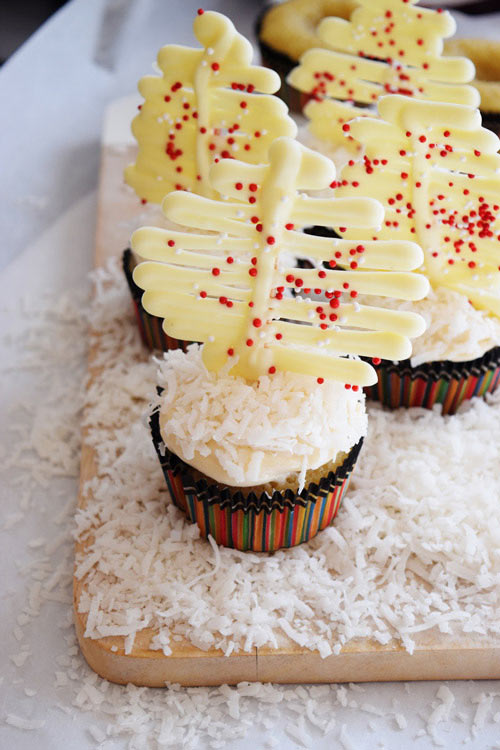 Lots of you have been asking about the kind of mixer I use for baking. Kitchen Aid Stand Mixer is what I use the most -it makes making batters really easy and everything gets done in one bowl! And the best part – easy clean up!
Follow along for a lot more delicious treats and life happenings on INSTAGRAM || FACEBOOK ||PINTEREST ||TWITTER ||GOOGLE+

Christmas Tree Cupcakes
Ingredients
Vanilla Cupcakes :
(1/2 + ⅓) cups All Purpose Flour
¼ tsp baking powder
⅛ tsp baking soda
¼ tsp salt
4 tbsp unsalted butter, melted
12 tbsp granulated white sugar
1 tbsp oil
2 whole eggs
2 Tbsp yogurt(I used low fat but you can even use full fat)
6 tbsp milk (I used 2% but you can even use 1% or full fat)
Seeds scraped from 1 whole vanilla bean
1 tsp pure vanilla extract
Cream Cheese Frosting:
8 oz (I block) Cream cheese ( I used low fat but you can use full fat also), room temperature
½ cup powdered sugar
1 tsp vanilla extract
Sweetened coconut flakes for coating (about 1 cup)
White Chocolate Trees :
2 cup white chocolate chips
Sprinkles (optional)
Toothpicks
Instructions
Preheat oven to 350F.
In the bowl of your stand mixer or large bowl if doing by hand, add melted butter along with sugar,oil. Stir it until combined.
Add eggs, yogurt, milk, vanilla seeds from vanilla bean and vanilla extract and mix it all together until smooth.
To it add flour,baking powder, baking soda & salt and mix until its all evenly mixed.
Now line cupcake baking tray with cupcake liners and fill them up with the batter upto ⅔ full.
Bake at 350 F for about 14-16 mins or until a toothpick inserted inside a cupcake comes out clean.
Let them cool in baking tray for few mins and then transfer them to a wire rack to cool further.
Meanwhile make cream cheese frosting. Mix room temperature cream cheese, sugar and vanilla extract until smooth. Top each cupcake with cream cheese frosting. Now take sweetened coconut flakes and put on top of icing to make it look like snow.
Now take a baking tray and lay parchment paper on top. Melt white chocolate chips in mivrowave for 60 seconds with 15 second intervals and keep stirring in between until chocolate is completely melted.
Fill melted white chocolate in a piping bag and place toothpicks vertically on parchment paper. Now drizzle melted chocolate chips in the shape of trees and keep it in fridge for 30 minutes or until completely hardened.
Decorate each cupcake these white chocolate trees and enjoy!
More cupcake recipes :