Rich, soft  one-bowl easy chocolate cupcake topped with a creamy vanilla frosting! You will want to make them all the time!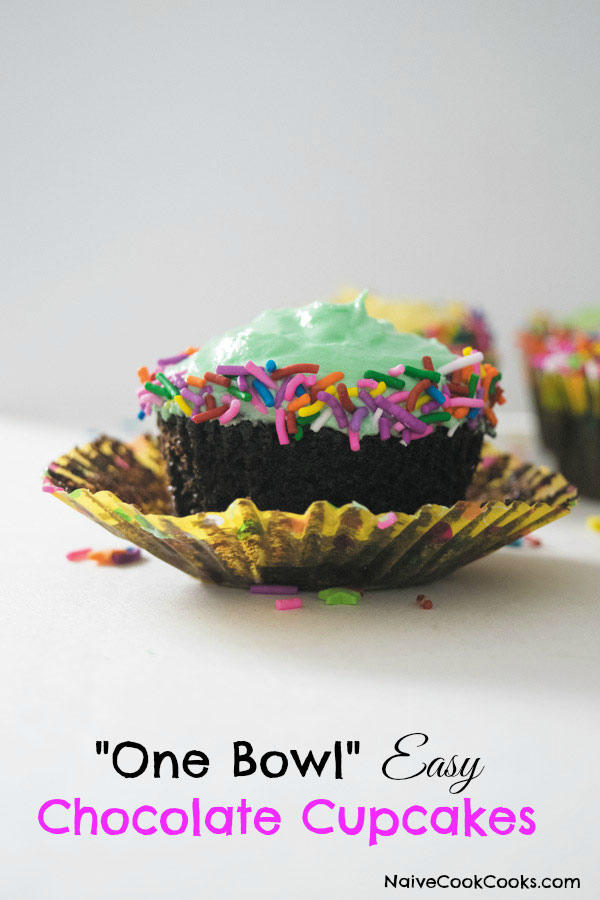 Hump day always always needs something fun, something to make the next two work days seem bearable & that's why I got you something fun! It's involves chocolate (duh!) and creamy fluffy vanilla frosting and sprinkles! Since spring is almost here,
I decided to go with pastel colors for my frosting and I was so happy with how these one bowl easy chocolate cupcake recipe turned out.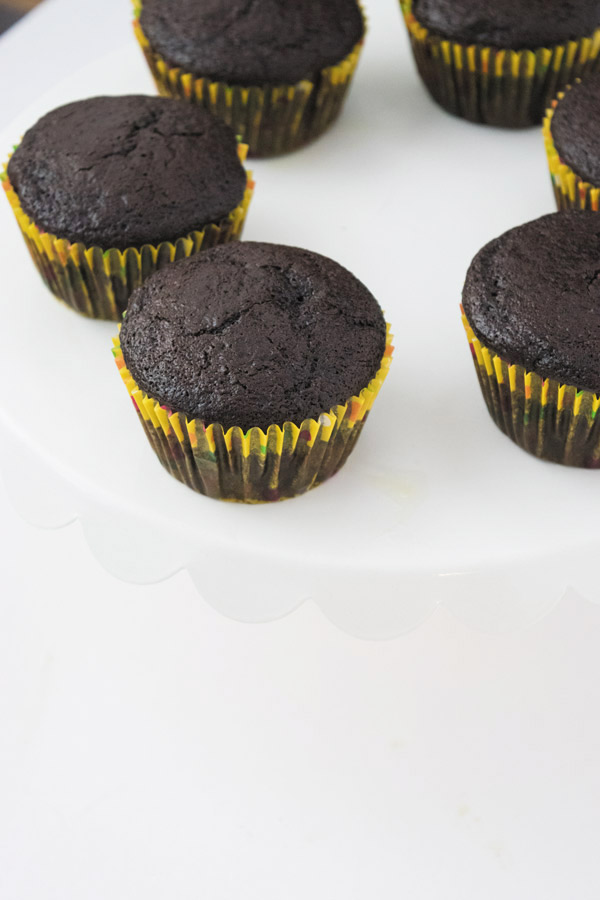 These cupcakes are eggless (and the softest cupcakes ever!!). I used this recipe for my cupcake base and as always it turned out perfect! If you are craving cupcakes or expecting people over, please please make these! They need just one bowl and 30 minutes! Yup they are seriously easy to make and while they bake, you can work on your frosting!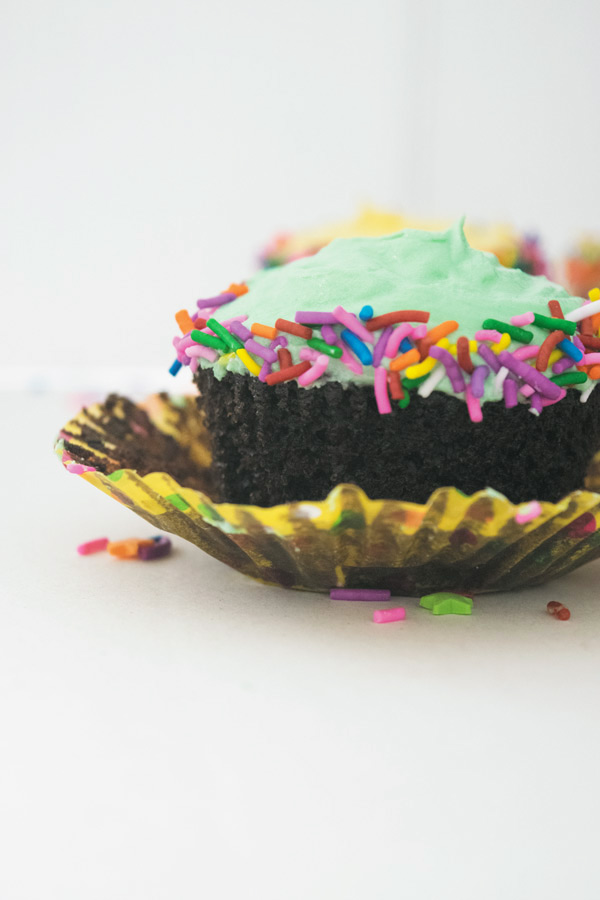 The frosting is super simple too, just make sure you have some softened room temperature butter on hand! If not, I will tell you how to soft it quickly in microwave , just enough so it comes to room temperature! It's a cheat method but it works! And if you are planning to make something sweet for Saint Patrick's day, you can totally make these with the green colored frosting!
These never last at our place, today I made a few for friends but looks like someone is not at all in the mood to share!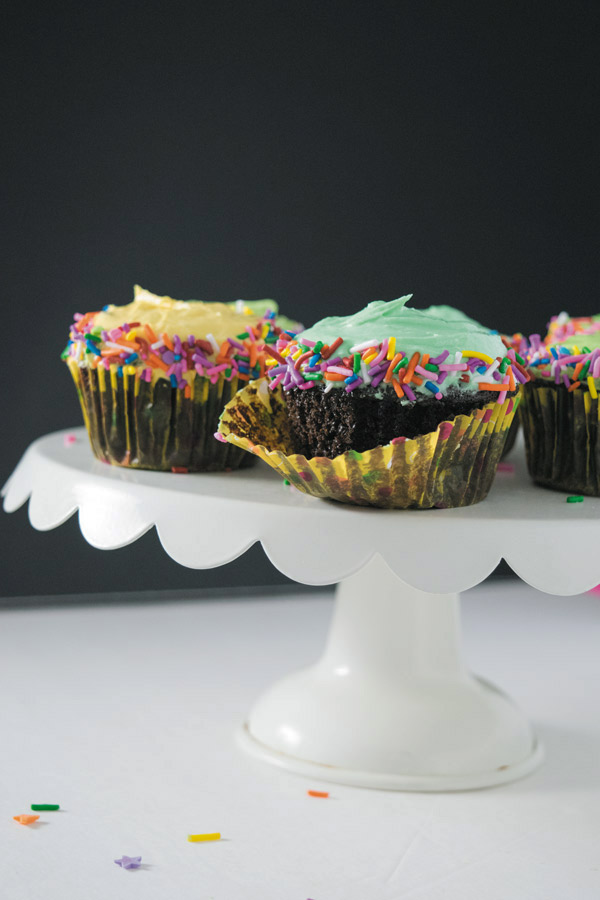 I wanted to make these cupcakes as easy as possible so everyone no matter at what cooking level can attempt these and that was one reason I went with a really simple flat top icing. It's super easy – just smear a good amount of icing on top of cupcakes and that's it. To make them pretty coat the sides with your favorite sprinkles and you are ready to take over the world with these beauties!
Yesterday was women's day. Did you all do something fun? I took a day off (yes!!) and did nothing but watched my favorite show and finished a box of  Little Debbie Strawberry shortcakes! Have you tried those? Do you like them or no? I am crazy for them and totally wait for my cheat day so I can eat them all in one day! Seriously after finishing that box, I feel I need to hit the gym twice in a day!
Ok so go make these!! Please and when you do, don't forget to take a picture and remember to tag your pictures #naivecookcooks.
 Follow along for a lot more delicious treats and life happenings on INSTAGRAM ||FACEBOOK||PINTEREST ||TWITTER ||GOOGLE+ || BLOGLOVIN || YouTube
One Bowl Easy Chocolate Cupcake Recipe
Ingredients
1 batch of CHOCOLATE CUPCAKES
Vanilla Frosting :
1 stick unsalted butter, softened at room temperature
1 tsp vanilla extract
2 cups powdered sugar
Pinch of salt
1 tbsp milk / water
Sprinkles
Instructions
Click on the chocolate cupcakes link &Make the chocolate cupcakes as described.
Once done, let them cool on a cooling rack.
Meanwhile make your frosting.
In a bowl cream softened butter for good 2-3 minutes until soft & fluffy. You want it to be really creamy.
If you don't have room temperature butter, put it in a bowl and place in microwave. Heat it in intervals of 5 seconds until it's just at room temperaute. Make sure you don't melt the butter or frosting won't come out right!
Once butter is ready, add powdered sugar,salt, vanilla extract and milk/water and mix for another 3-4 minutes until light and fluffy.
Now you can use the frosting as it is or add drops of your favorite food color!
I divided my icing in 3 batches. In one batch, I used 2 red + 2 yellow food color drops, in another 2 green food colors, in third 2 blue colors drop.
Frost the cupcakes. I went with a really simple flat top method. All you do is place a good amount of frosting on each cupcake and then using a flat spatula, even it out. Then I went ahead and added sprinkles on the side.
 Some more my favorite cupcakes ->>