Lentil Samosas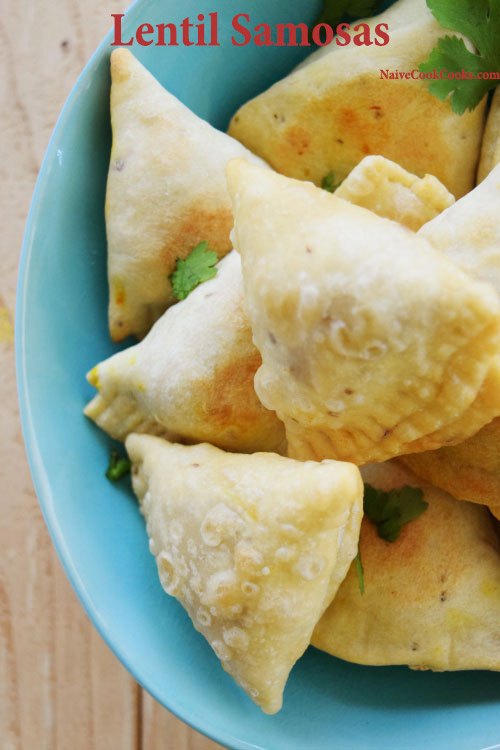 1 tsp oil
½ tsp cumin seeds
2 green chilies, finely chopped
½ cup finely chopped red onion
1 cup boiled & drained split pigeon peas (you can find split pigeon pea lentil in any big grocery store or Indian store. I have even seen them in walmart in Asian food aisle!)
Salt to taste
¼ tsp red chili powder (more or less as per taste)
½ tsp turmeric powder
½ tsp garam masala
½ tsp coriander powder
½ tsp mango powder or lime juice
¼ tsp fennel powder (optional)
1.5 cups all purpose flour
1 tsp salt
1 tbsp oil
½ cup chilled water
½ tsp carom seeds
2 tbsp water
1 tbsp all purpose flour
In a skillet, add oil. Once hot, add cumin seeds and let them sizzle. Now add green chilies & onions. Add salt and saute them for 5-7 mins on medium heat. Now add lentils (that are already boiled & drained completely) along with all the spices. Stir them around so they are evenly coated with spices. Taste and adjust seasoning as per taste. Keep them aside to cool.
Now in a bowl add flour, salt, carom seeds and oil. Using hands mix the dough so the oil is distributed in the flour. Now add chilled water starting with ¼ cup and proceeding as needed. Knead it into a soft supple dough. Keep it in a bowl and let it sit for 15 mins.
Simply mix water and flour and keep aside.
Break the dough into 8 even size balls. Take one ball at a time. Rub the rolling surface with a little oil and roll first ball into a circle. We are looking for not-too-thick & not-too-thin thickness. Cut the circle into half which gives you two semi circles. Now keep the semi circle dough on the rolling surface with the round edge towards you. Bring the left corner halfway and bring the right corner on top of the left corner to see if they are making a proper triangle. Now take the right circle back to the initial position and apply paste on the left side which is siting in the center. Bring the left side on top of it and press it gently so it sticks. Now you have a triangle pocket. Open it gently and fill it with around 1 tbsp or more of the filling. Make sure not to overfill or it will pop out while frying! Now apply paste on the base of the triangle ( if I say so in technical terms!) and seal them. Now taking a fork, I like to seal the base but you can even use your hands.
I have some pictures on top which should help you.
Repeat the same way with the rest of the balls. You will end up with 16 samosas.
If you want to fry these, place a pot with oil almost halfway filled. Heat it up. To check if the oil is ready for frying, after say 5-6 mins drop a very small piece of dough (a pinch of dough actually) and if it comes up as soon as it hits the oil, this means your oil is ready. Keep the flame to medium-high and fry 2-3 at a time until golden brown on both sides. Drain them and keep on paper towel to soak up the excess oil.
Pre heat oven to 400F.
Grease a baking sheet. Spray oil on the samosas both back and front or simply brush oil on the samosas. Transfer samosas to the baking sheet and bake for 10 mins and then flip and bake for another 7-10 mins or until nice & golden brown!
Serve with ketchup or cilantro chutney. (I simply add a bunch of fresh cilantro, few green chilies, salt, ¼ tsp cumin seeds, 1 tsp ginger and lime juice to taste in a food processor and process until smooth along with some water. Adjust salt, lime juice as per your taste!)