Layered Mexican Dip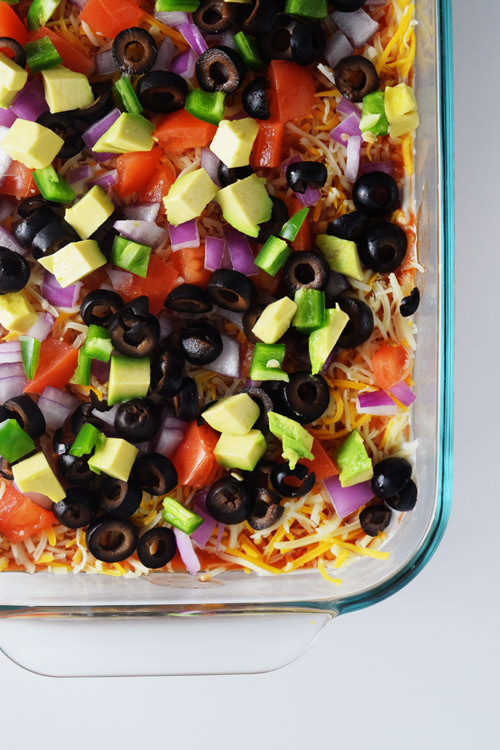 1 can of Old El Paso Refried Beans ( I used Fat Free version, 16 oz can)
¾ cup low fat sour cream
1 can of Old El Paso Enchilada Sauce (10 oz)
1 cup shredded Mexican blend cheese
1 tomato, chopped
½ red onion, chopped
¼ cup black olives
1 Avocado, chopped
½ jalapeno, chopped
Salt to taste
Open both refried beans and sauce can and empty them into 2 separate pots. Add a little salt to the beans and 2 tbsp water and mix.
To the sauce, add salt to taste and bring it to a boil.
Now take a glass dish or any dish where you are going to be making this dip.
Layer the beans in the first layer.
Add sour cream on top of beans in a smooth layer.
Now add half of this sauce on top of sour cream layer.
Now add shredded cheese on top of sauce layer and then top it off with tomatoes, onions, jalapenos, olives & avocado.
Sometimes I even like to add a few more tbsp of this enchilada sauce on top to give more flavor.
At this point, you can cover the dish and chill in fridge overnight.
Serve with lots of tortilla chips!