Simple Tips & Tricks on how to organize kitchen for a more efficient you!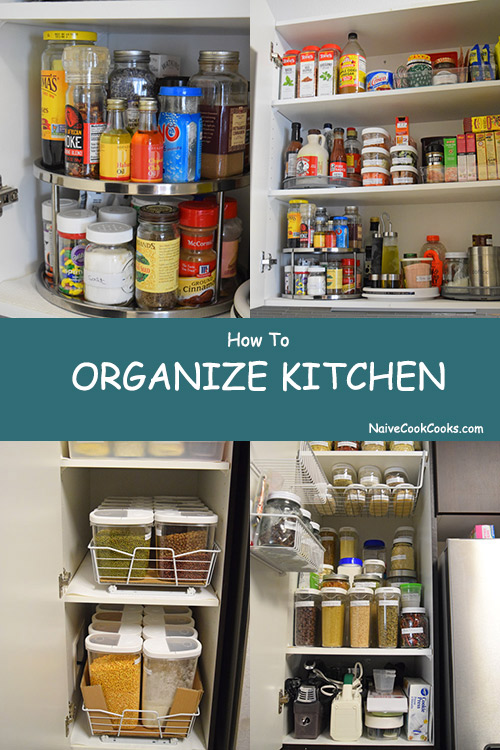 Hello friends!! Yes it's still a food blog with recipes but I thought since for cooking, you do need a proper arranged kitchen so why not show you how I have mine arranged!
This time we spent 3 days (!!) and arranged our kitchen in a proper, clean fashioned way and to be honest, since then cooking has been so much fun and the main credit goes to my mom (aka Ronak's mom) with whose help & ideas we were able to get this done. It was a ton of work, we were working on our kitchen until 2-3 AM every night and by the end of this project, our body ached and we were soo tired but it was all so worth it!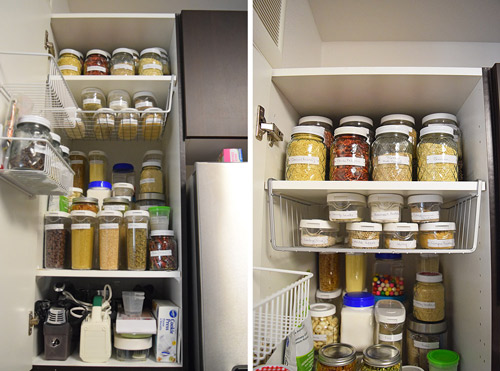 We were lucky this time as our kitchen has tons of cabinets which makes a life of food blogger so so much easier. I have so many grains, spices, pots/pans, gadgets that at one point we thought even these many cabinets won't be enough! But luckily we were able to fit it all and in a very clean uncluttered manner.
The PIC  above shows one of the long cabinets we have ->> This cabinet came with two shelves. As you see the middle one was the largest one, so we decided to buy  SLIP ON RACK for shelves which we bought from Marshalls. I got these small sized plastic containers with lids from Ikea.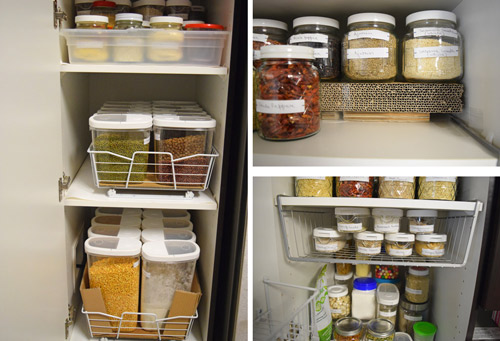 In the pic above on the right side, as you can see to give some height to same height jars, thick cardboard is used. This helps me to be able to see the jars behind.
In the pic above on the left hand side, in the top shelf we used a plastic basket which we were able to buy from ContainerStore. It is not sliding but I like to keep those spices or grains which I use rarely so it's only once in a blue moon, when I need to pull it out.
The bottom two shelves, sliding cabinets were added which we got for around $27 from Home Depot. We got medium and a larger size version of those small containers from Ikea and they are reasonably priced @$1.99, @$2.99 & @$3.99. If you are on a tight budget, then I would suggest buying plastic containers from Dollar Tree. Ther are super sturdy and I myself used them for good 4 years without any problem.They come in translucent containers with a blue lid in two sizes.
Now for the more used up ingredients such as tea, coffee, oil, baking needs, etc we added Carousel Trays which we bought from Bed Bath & Beyond. It really makes life so much easier as I just need to turn them around and I can pick whatever I need. I absolutely love it.
ONE SUGGESTION though : lot of you might not have access to all these stores, so panic not! I suggest using with what you have on hand and what's easily available near you. You can get an idea here and always do what best suits your needs.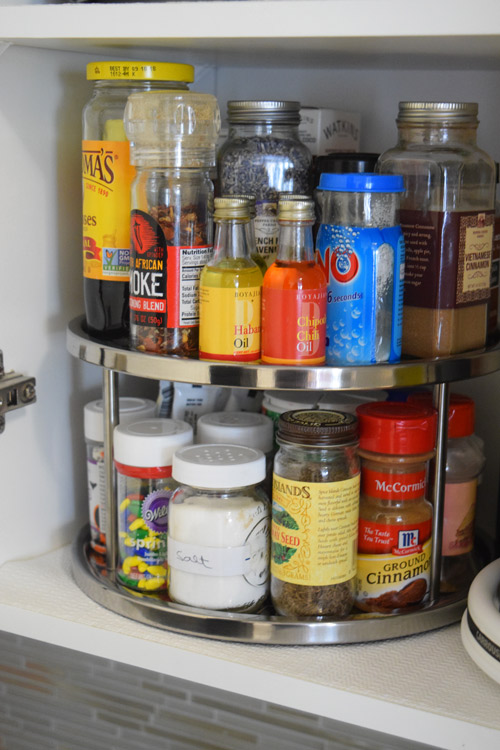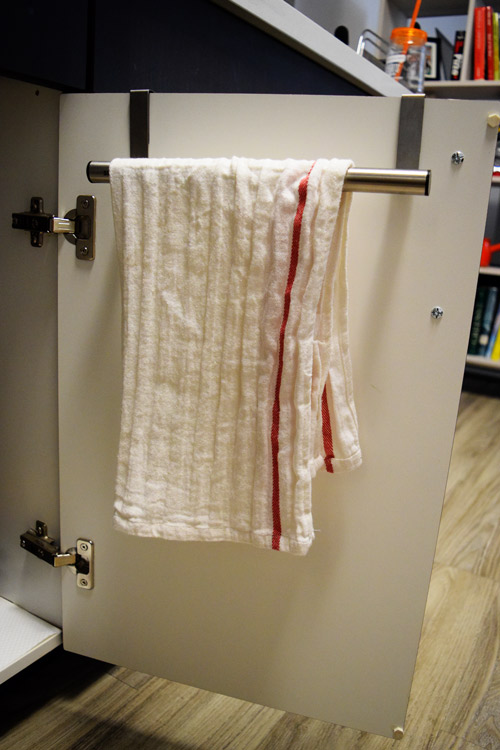 And BONUS tip : These small Over The Top Door bars are perfect to hand you kitchen towels.
So, NOW I would like to know what are your KITCHEN ORGANIZATION tips & tricks?? Do pour in all your ideas and comments!