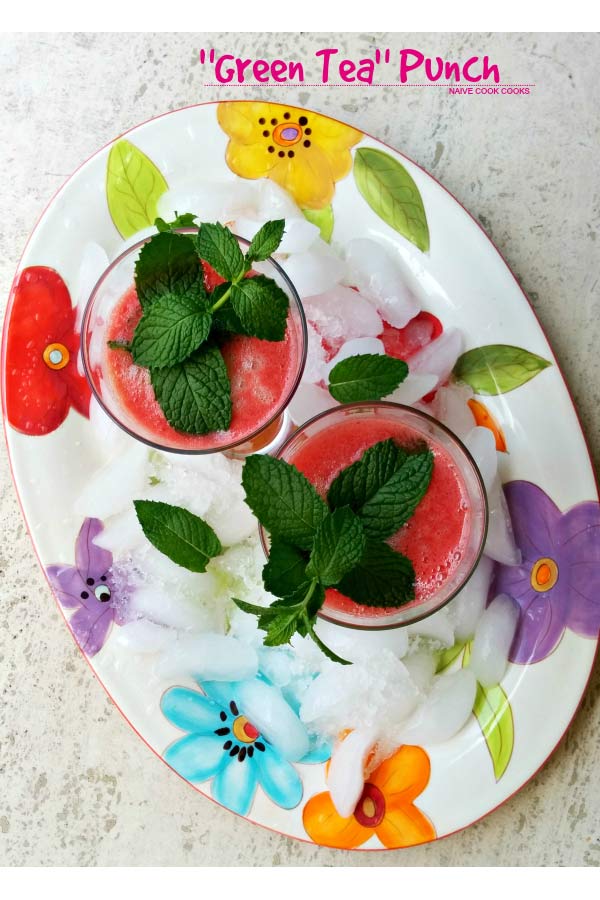 This Punch!!
You might think that I say this a lot but this green tea punch – I am telling you, you want to keep inhaling it. That's what I was doing last night. The inspiration for this punch was in my head for quite some time. I don't remember where but I remember reading the word punch somewhere. Punch led me to think of a party where my aunt made a fruit punch and I remember her refilling the bowl often as everyone totally loved having a punch in their hands!! That was sort of my first punch ever after a looong time and I loved it for its refreshing flavours and yes it had tons of soda too which I can drink anytime. Ohh and if I come to your place, please always always offer me black soda!! Ahem.
I know jerry finds it weird but I have a thing for black colored sodas. I just love them!!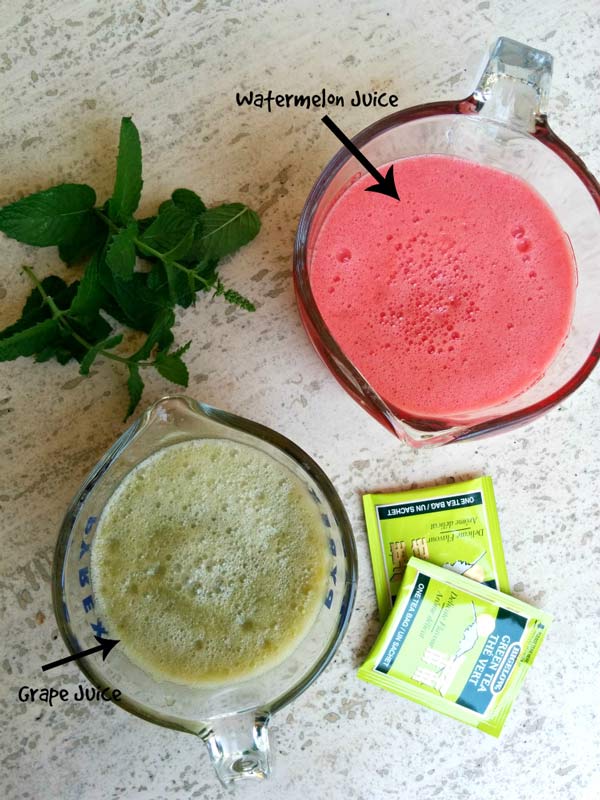 While doing some research for punch, I realized it's originally a mix of fruit juices, fruits, spices, lemon, sugar and water but with times recipe has been modified and adapted to individuals needs. Remember those punches you would drink during college years?? Made with the cheapest ingredients and not to mention tons of cheap booze!!
So fellas punch days are here again but this time, this is a no guilt punch trip we are taking and hopefully we can tag on to this for sometime too!!
Made with fresh watermelon juice, fresh green grape juice and green tea & mint honey syrup – this drink not only keeps you cool but makes you feel good about yourself too!! Talking about cutting back on refined sugars – do it !!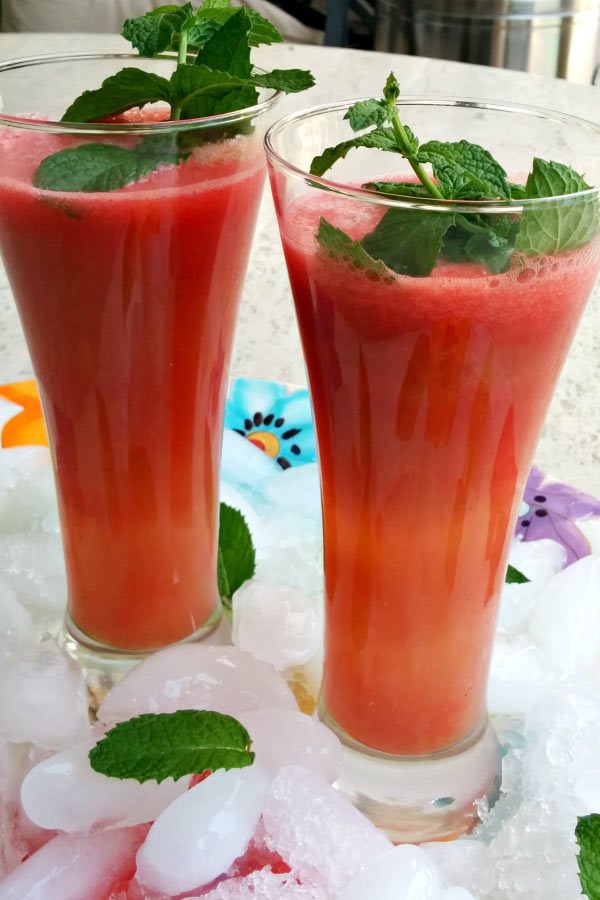 On another note I have been enjoying reading Ayn Rand again. Truth be told I was in love with her writing since I read fountainhead but sadly that was the only book from this author I read and now after almost 5 years, I got my hands on another of her classics "We the living". It's addicting and it has been coming in the way of my work!! Totally not fair.
I miss those old good days of summer vacations where I would spend whole day just reading. Gosh, growing up sucks sometimes.
I think today I am going to do it.
This drink and this book!!! Bliss.

Green Tea Punch
Ingredients
2 cups green seedless grapes, juiced
6 cups watermelon chunks, juiced
3 cups water
10-15 fresh mint leaves
¼ cup honey
2 good green tea bags
Lots of ice
Juice of 1-2 lemons/limes
Instructions
Juice green grapes and strain. Similarly, juice watermelon and strain. Keep aside.
Now in a pot, bring water to boil. Once boiled, turn off the heat and to it add mint leaves, green tea bags and honey. Stir and let it sit covered for 20-30 mins.
Now mix both juices, green tea flavored water . Add lime/ lemon juice. Stir and let it chill for 4-6 hours covered.
Serve chilled over ice.
More Drink Recipes: