Healthy Palak Paneer is made with indian cheese cubes simmered in a pot full of luscious creamy spinach gravy and served over a bed quinoa.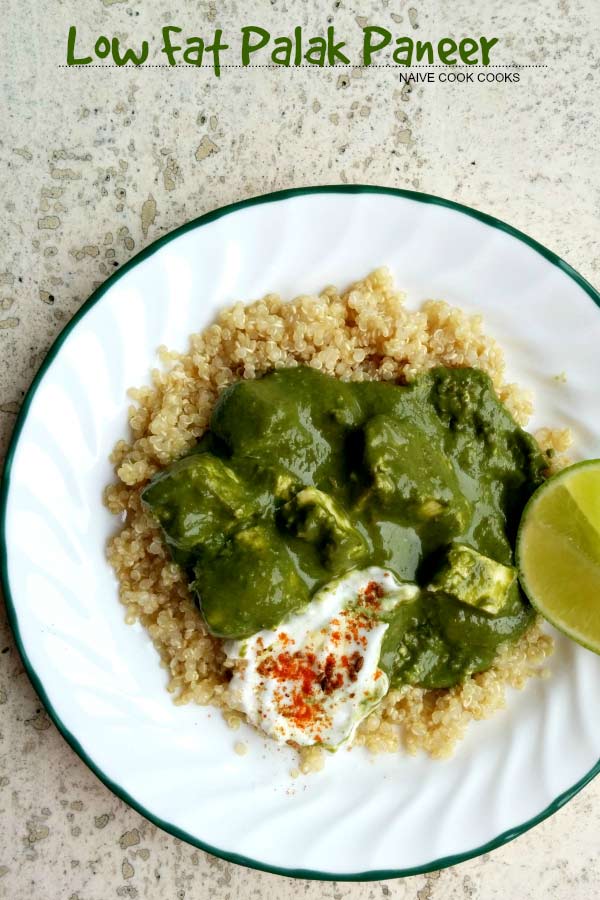 Sounds delicious, right?!I don't know about you but lately this has been one meal I have been craving almost every week. I was trying to throw hints at Jerry hoping he will understand that all I wanted to eat this weekend was a big bowl of this goodness but instead we went out and ended up ridiculous amount of money on food that was just edible with no flavours at all! Palak paneer as called in India is typically a dish from Northern states of India and growing up, it was served at least 2-3 times a month for dinner. My mother will sometimes add potatoes in place of paneer but my favorite was always the one with paneer.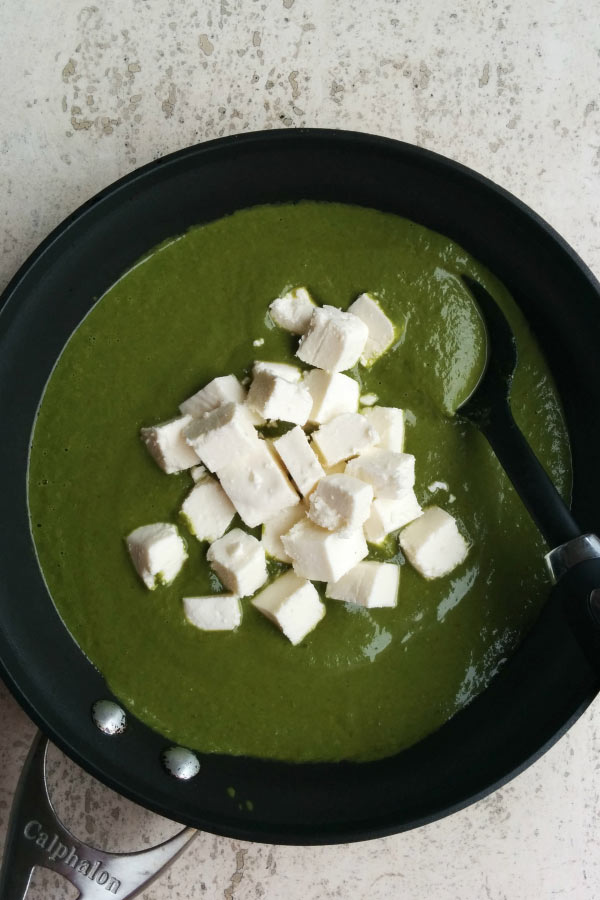 Since I developed interest in cooking, I have made it quite a few times but never before was I able to get it right. It does sound kind of weird as I grew up eating it but you know how things you take for granted or assume to be the simplest often turn out to be difficult. This recipe for me comes in the easy category but still there was something I was doing wrong every time.
Finally with the help of YouTube (serious!!), I got it right and it has been on my mind since then!!
I am planning on making it again this week and eating it while watching full season 1 of mixology on Netflix! Have you seen that show?! Jerry recently discovered it and we have been hooked. Light hearted kind of silly but perfect after a tired work day! It's a story of 10 different people in a bar and it shows what goes on in their lives during a night in a bar.
Make sure you make a big batch of it as it freezes beautifully and serve with either store bought or homemade naan and lots of quinoa or if you are not into that sort of thing rice!
Happy Monday!

Healthy Palak Paneer
Ingredients
4 cups packed, fresh spinach leaves, washed
2 tsp olive oil or any good cooking oil
4 cloves
1-2 cinnamon stick
2 bay leaf
4 cardamoms, green
½ tsp cumin seeds
4-5 cloves garlic, chopped
1medium size red onion, chopped
½ tsp salt
1 Tbsp ginger-garlic paste
½ tsp turmeric powder
1 large tomato, chopped
1 tsp cumin powder
1 tsp coriander powder
½ tsp red chili powder
½ tsp fenugreek leaves, powder them by crushing in between hands. ( you can omit if you don't have any)
4-5 green chilies, chopped
¼ cup yogurt
2 cups paneer or Indian cheese
Salt to taste
Instructions
Take a pot filled with water and bring it to boil. Once boiling add spinach leaves. Let them cook for a minute and take them out using a strainer. Add blanched spinach leaves in a blender and blend until smooth paste forms.
Keep aside.
In a pot, add oil.
Once hot, add cloves,cinnamon,bay leaf and cardamoms. Add cumin seeds. Once they stop sputtering, add chopped garlic. Sauté it for few mins until golden and fragrant. Add chopped onions and ½ tsp salt and cook them until they get nicely browned. Salt helps to squeeze out water from onion. Add ginger-garlic paste and sauté for few mins until raw aroma goes away. Add chopped tomatoes and cook until they break down. Add turmeric, cumin,coriander,red chili and fenugreek powder. Add green chilies and salt to taste. Stir to mix all the spices. Add spinach purée and cook for another 5-7 mins to let the flavours develop. Take it off heat. Add yogurt and blend it again if you like a smooth creamy gravy. Return it to the pot and add paneer cubes. Taste and adjust seasoning if needed. Warm just before serving.
Serve with hot naan and rice or quinoa.
More Indian Recipes: