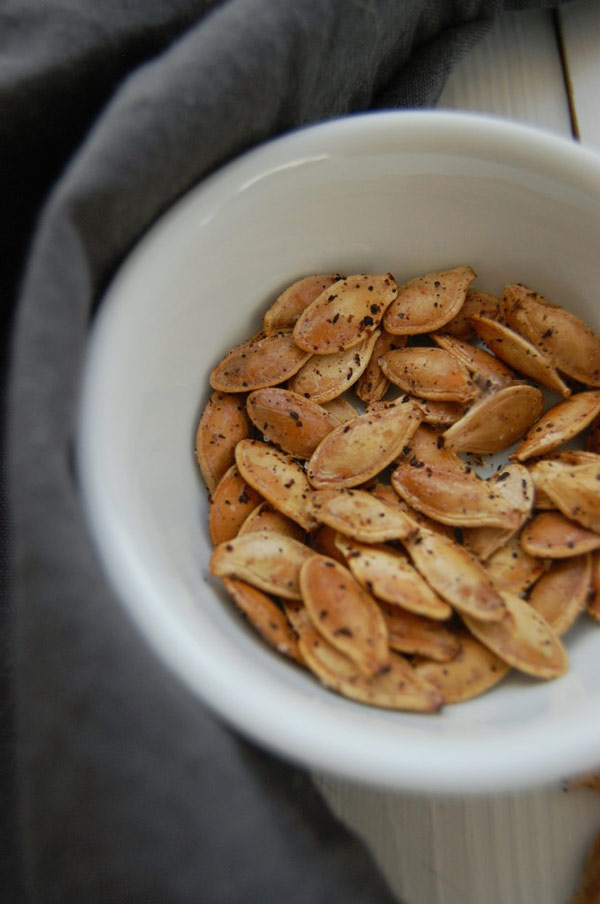 I won't take you on a long ride today  instead I will get to the point and yes I have something to tell you. I made my own roasted flavored pumpkin seeds. I know it might sound so cheesy and yes they are super easy. But you see I never made these before and for that matter never bought a pumpkin or scooped out the seeds and took the energy to wash them, dry them before, ever. So while I had them washed and cleaned like weeks ago, I totally forgot about them until today. Today while cleaning, I realised I need to do something with them and so I roasted and they are the best roasted pumpkin seeds I have ever eaten. Not lying. I have a packet of roasted pumpkin seeds  from store and on comparing both, I found the store bought seeds have  a super tough skin while the one roasted at home are so soft that you can literally eat them with their skins on.
Pumpkin seeds are a great source of minerals such as manganese, magnesium, phosphorus along with other minerals in small amounts. They also have powerful anti-inflammatory properties. Munching on a handful of these provides your body with about 9gms of protein along with other minerals. So make halloween more fun and healthy by snacking on these crunchy pepitas.

How to Roast Pumpkin Seeds
Ingredients
Seeds from 1 pumpkin
Salt to taste
1 tsp red chili powder
1 tsp grapeseed oil or any other high heat oil
Instructions
Scoop out the seeds from pumpkin. Wash them in a colander and lay them on a baking sheet and let them dry for a day or two. Once completely dry, add oil, salt and red chili powder . Mix it well together and bake it in a 350F pre heated oven for 12-15 minutes. Keep an eye as they burn easily.
Once cool, store in airtight container.
Notes
You can do zillion of flavors with these babies. Go creative and make all sorts of flavor.
More How To Recipe: