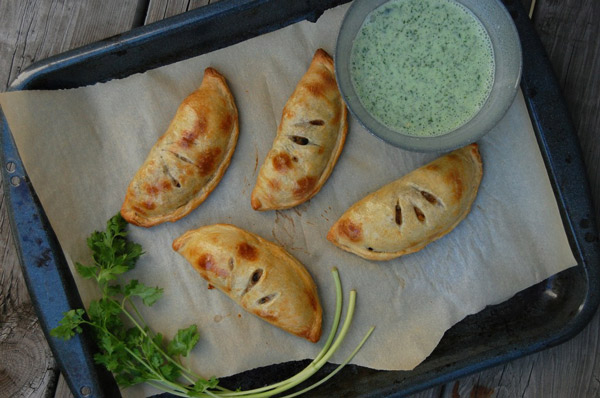 Weekends play this game on my mind. They leave me feeling sluggish, sloppy and most of all unorganized and at times kind of moody. Sometimes I wonder if it's the female hormones or just me. Lately I have getting this tendency of going bananas at the slightest hint of disarray. I wait till the last moment to take care of tasks and this is something I absolutely hate about myself and is one of the main reason why I get moody.
This habit of mine, I drag it to cooking as well. Often I get ingredients for a certain recipe and wait till the last moment to give it a try. Sometimes I end up throwing the wilted greens and often find promising myself to become more cautious next time. Sometimes, while posting also suffers and one example of this habit is the current post. I baked these Black Bean Sweet Potato Empanadas quiet a while back and they were absolutely delicious. Healthy, filling, tasty and a promise of warm brunch/ lunch/dinner in minutes. They have been sitting on my computer's folder marked "to be posted" and finally today is the day, they see light.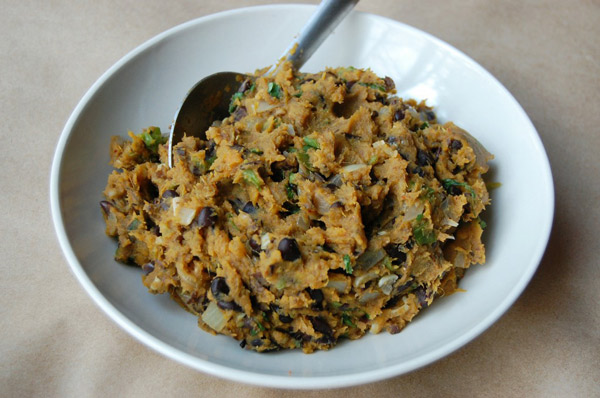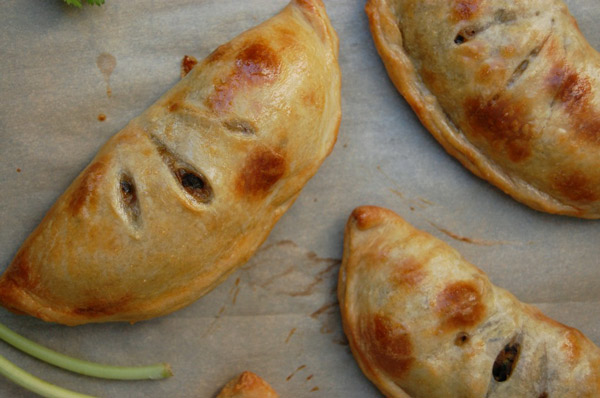 I love the fact that they freeze well and make up for a quick hot meal at moments notice. The cilantro – yogurt sauce here plays an essential role. Don't take it as a mere sauce and don't even think of skipping it. It takes few minutes to put this sauce together and it takes these empanadas to an all new dimension.
So give these a try this weekend and freeze some for weekdays.
Black Bean Sweet Potato Empanadas
Sweet Potato & Black Bean Empanadas Author: Naive Cook Cooks Serves: 10
Ingredients
For dough
2 cups unbleached all-purpose flour (You can do half whole wheat and half all purpose as well)
¾ tsp salt
⅓ cup canola oil
¼ cup cold water
1 large organic egg, lightly beaten
1 tbsp apple cider vinegar
For Filling
1 medium- big sweet potato, boiled, peeled and mashed
1 poblano pepper, grilled or softened in microwave, chopped
1 cup dry black beans, washed, boiled
1 tbsp cilantro, chopped
1 tsp olive oil or ghee or coconut oil
4-5 garlic cloves, chopped
½ cup chopped yellow onion
Cumin powder to taste
Red chili powder to taste
Salt to taste
1 egg, beaten for egg wash
Cilantro - yogurt sauce
¼ cup yogurt, organic
¼ cup, chopped fresh cilantro
2-3 green chillies or add the amount according to the hotness you can handle
3-4 garlic cloves
Salt to taste
Lime juice as per taste
Instructions
For dough
In a bowl, mix flour, salt and whisk it.
In another bowl, combine oil, water, cider vinegar and egg and mix. Add the dry ingredients to wet ingredients and stir until it all comes together. Knead lightly until you get a smooth dough. Wrap in plastic wrap and let it chill for at least an hour.
For Filling
In a bowl, add sweet potato and mash it using back of spoon or fork. To it add chopped poblano pepper and cilantro and mix.
In a skillet, heat oil and to it add chopped garlic. Saute it for few seconds and add chopped yellow onion. Saute it until soft. Add black beans along with salt , cumin and red chili powder. Cook for few minutes and add this mix to sweet potato mix. Mix it all together and taste and adjust seasoning if needed.
Arranging:
When ready to bake, preheat oven to 400F.
Take the dough out of the refrigerator and keep it covered so it doesn't dry. Take a small piece from dough and roll it into a circle around 5" diameter or cut in a circular shape using cookie cutter if using any. Put few tsps filling on half side of the circle. Bring the other empty half side over the filling covered half and pinch the sides together to make a seal.
Place the empanada on a parchment paper covered sheet. Cover with a towel until getting others ready. Once all empanadas are ready to be baked, using pastry brush, brush the tops with egg wash for a golden crust. Bake in oven for up to 16 minutes or until golden.
Cilantro - yogurt sauce
Throw all the ingredients in a mixer and mix until you get a fine smooth sauce. Add water if using greek yogurt. Taste and adjust salt and lime juice.
Serve empanadas with cold sauce.
More Make Ahead Recipes: