Simple recipe for a delicious BASIC INDIAN GRAVY (Punjabi Style) which goes with all sorts of meats, paneer (Indian Cheese) and vegetables.Quick, easy, healthy (with no cream!) and tastes way better than any restaurant version! (Gluten Free)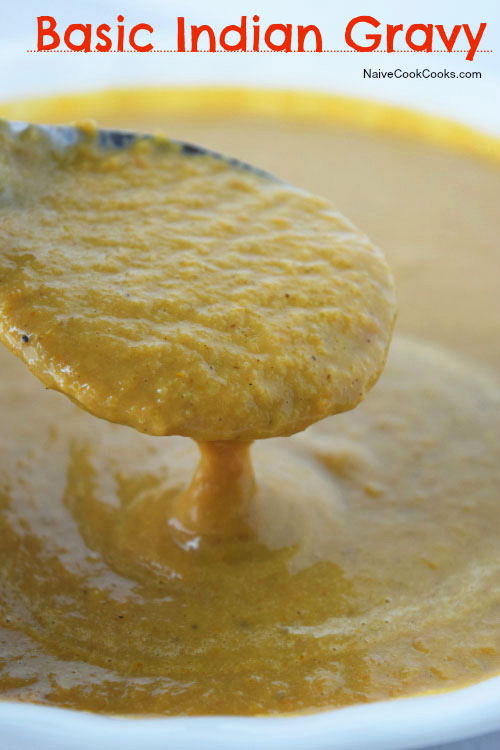 Hellooo Monday! How are you guys today? Did you guys have a good weekend? This weekend I started watching Chef's Table on Netflix and I am blown away! I have always loved those sort of documentaries but I never saw this one! It's a masterpiece and if you are into good food based documentaries, you NEED to watch this!
This weekend I cooked nothing on Fridays & Saturdays! Can you even believe it? It was total 2 days off from the kitchen as I simply had no intention of cooking and my mind was sort of not at all in any creative place! All I wanted was sleep and eat (basically a big bag of cheetos!) with lots of wine & my favorite dip and watch chef's table! Totally addicting!
Yesterday we cooked a simple yet totally delicious Indian meal for dinner. My brother who is here for his college summer break literally lives on meat (This guy can't eat any vegetables! Can you relate?!!). So Jerry decided to cook him fusion swordfish & shrimp in this gravy. It smelled heavenly and though I love fish, I can't really handle fishy smell which sometimes swordfish can have so I just  licked the fish from the sides to taste (I know how classy!! ;)) and the tastes were amazing. Wait for the recipe coming tomorrow!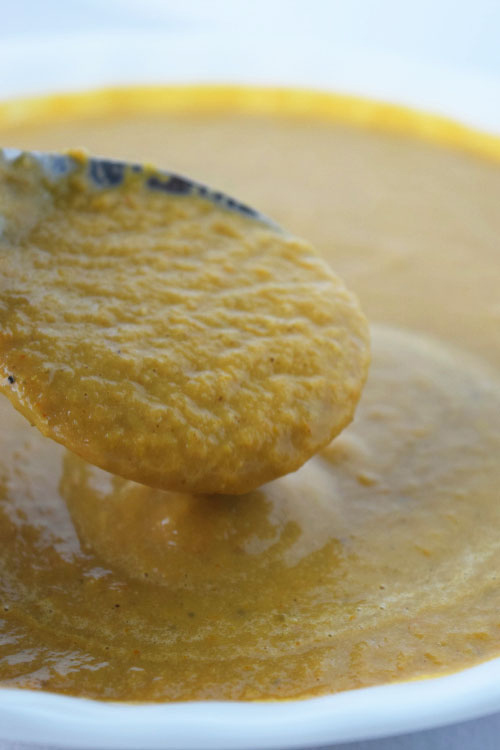 I am always looking for a good basic Indian gravy which goes with mostly all sorts of meat, paneer & vegetables and finally I perfected one! You can't even guess how happy I felt when it came out perfect!
So you need to BOOKMARK/SAVE/PIN or whatever way you like saving recipes do that with this recipe as it's a gem and trust me I am not saying this cause I am a food blogger and blah blah blah. If you are too intimidated cooked Indian gravies, let me tell you that this comes out perfect, is foolproof as ingredients and spices are really simple and tastes even better than restaurant version and the best part: There is no cream in the gravy unlike restaurant versions even though it's creamy which keeps it guilt free and totally healthy!
 Just. Look. At. It.
Help in spreading the word!
Follow along for a lot more delicious treats and life happenings on INSTAGRAM || FACEBOOK || PINTEREST || TWITTER

How to Make Basic Indian Gravy
Ingredients
2 tsp olive oil
4 cloves
2 bay leaves
1 tbsp garlic paste
1.5 tbsp ginger paste
1.5 cup chopped red onion (You can even use yellow or white onion)
¾ tsp cumin powder
2 tsp coriander powder
½ tsp red chili powder or as per the spice level you want
2 cups tomato puree (From around 3 big tomatoes or use canned)
¼ tsp cinnamon powder
½ tsp garam masala
½ cup water
2 tsp white granulated sugar
½ cup milk (I used low fat 2%)
Salt to taste
Instructions
In a deep pot, heat olive oil on med-low gas. Once warm add cloves and bay leaves and let them sizzle for few seconds. Add ginger & garlic paste and cook it by stirring around for 1-2 minutes until raw smell goes away. Now add onions and let them cook until they start to soften about 5-7 mins. To it add cumin, coriander powder and chili powder and stir it around for about 30 seconds. Now add tomato puree and cook it on med-low so the raw flavors go away for about 5-7 mins. Keep stirring in between so it doesn't stick. Now turn off the gas and let it cool for 2-3 mins. Transfer it to your blender (BUT make sure you pick up the cloves & bay leaves and throw them away as we don't want to grind them).
Blend it until you get a smooth gravy. Transfer it to the same pot and add water, cinnamon powder, sugar and salt to taste.Stir it around and cook for 1-2 mins. Now slowly add milk and stir it around. Cook it on low for 3-5 mins and add garam masala. Taste and add the meat or cheese or vegetables of your choice.
**If you are adding a thick cut meat, I like to cook the meat separately and then at the last stage add it to the gravy. For vegetables like bell peppers you might want to let them simmer for some good time if you want the crunch to go away. You can always add some more water to the gravy and let it simmer on low with the vegetables.
Notes
You can make this gravy ahead of time and can even be frozen in an airtight container or ziplock bags.
More How To Recipes: