Caribbean swordfish & shrimp in Indian curry. Sweet & spicy flavors work so good here and when served over fresh basmati rice, it's a meal that's healthy yet totally divine!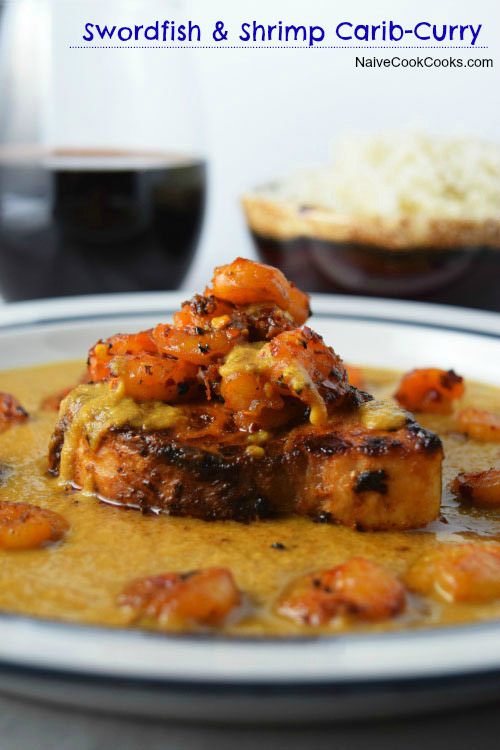 Remember about the basic Indian curry I talked about yesterday? This Caribbean swordfish & shrimp in that delicious curry is like a flavor explosion in your mouth. Jerry is very good when it comes to making seasonings on the spot and he was the one who marinated this swordfish & shrimp. Sweet swordfish and spicy shrimp in a Indian basic curry sauce makes for a unique flavor combination.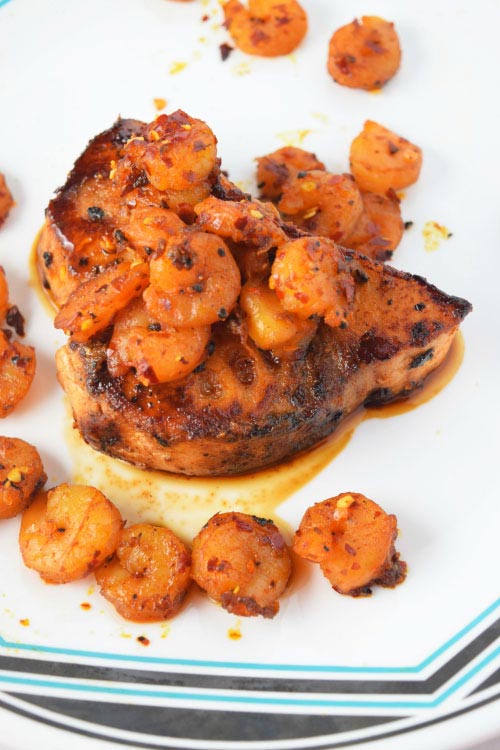 Here like I said yesterday, curry can be cooked in advance and the day you decide to make this dish simply marinate the meat and cook it separately and then add hot curry over it.
So GOOD!
Served over hot freshly made basmati rice, this swordfish shrimp recipe is a meal fit for the kings. Yesterday was my cousin's graduation and all day we were busy getting her ready, being part of the ceremony  and having a huge dinner at the end that all I wanted was to sleep till late today and do nothing! Wish it was weekend again! Well I suppose that's my subtle way of telling you why I am little late in posting today!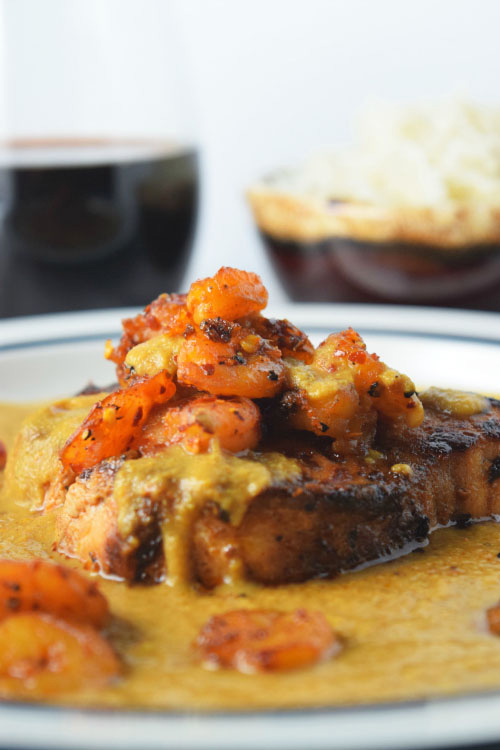 But weekend or no weekend, make this!
Help in spreading the word!
Follow along for a lot more delicious treats and life happenings on INSTAGRAM || FACEBOOK || PINTEREST || TWITTER

Swordfish and Shrimp Caribbean Curry
Ingredients
**You can double, triple or as much as you want increase the amount of swordfish fillets & shrimp according to the number of people.
1 swordfish fillet
1 tbsp olive oil
1 tbsp white sugar
Pinch of salt
½ tsp paprika
¼ tsp cumin powder
½ tsp black pepper
Around 25 small cocktail shrimps or 3-4 large shrimps
2 tsp olive oil
¼ tsp red chili powder
¼ tsp paprika
¼ tsp garlic salt
1 tsp black pepper
½ tbsp chili flakes (add according to your taste)
½ tsp turmeric
¼ tsp cajun seasoning
1 tsp salt
Instructions
In one ziplock, add all the ingredients for swordfish fillets and mix. To it add the fish fillets and mix it around using hands so the seasoning is all over the fish. Close the packet and place in refrigerator to marinate for 1-2 hours.
In another ziplock do the same with shrimp & its seasonings.
Heat a nonstick skillet and add little oil. Add the fish fillets and cook them on medium-low without touching until it's nicely cooked. Flip and cook on the other side and then using tongs make sure to cook the sides. You will start to see change in color.
Now add some more oil in the same pan and add marinated shrimps. Cocktail shrimps need to be cooked only for few seconds on each side but if using big shrimps then cook them more until cooked through.
Serve the cooked swordfish & shrimp with the Indian Curry.
**Basic Indian Curry recipe is in yesterday's post. Link is at the end of the post.
More Seafood Recipes:
https://www.naivecookcooks.com/parmesan-crusted-tilapia/