How to Make Basic Indian Gravy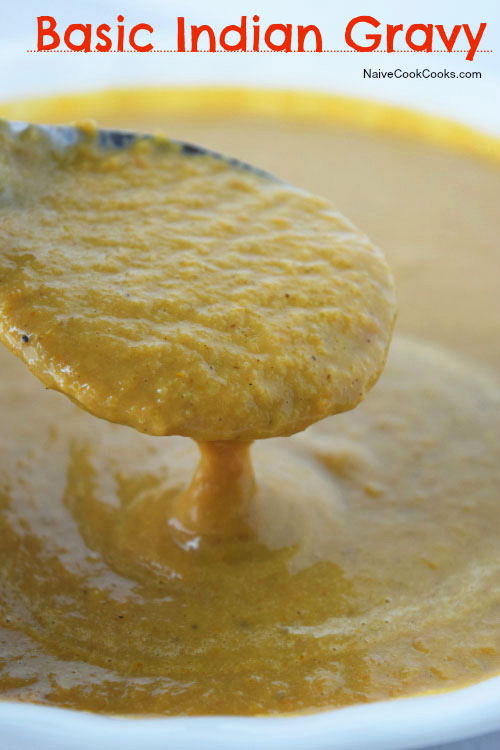 2 tsp olive oil
4 cloves
2 bay leaves
1 tbsp garlic paste
1.5 tbsp ginger paste
1.5 cup chopped red onion (You can even use yellow or white onion)
¾ tsp cumin powder
2 tsp coriander powder
½ tsp red chili powder or as per the spice level you want
2 cups tomato puree (From around 3 big tomatoes or use canned)
¼ tsp cinnamon powder
½ tsp garam masala
½ cup water
2 tsp white granulated sugar
½ cup milk (I used low fat 2%)
Salt to taste
In a deep pot, heat olive oil on med-low gas. Once warm add cloves and bay leaves and let them sizzle for few seconds. Add ginger & garlic paste and cook it by stirring around for 1-2 minutes until raw smell goes away. Now add onions and let them cook until they start to soften about 5-7 mins. To it add cumin, coriander powder and chili powder and stir it around for about 30 seconds. Now add tomato puree and cook it on med-low so the raw flavors go away for about 5-7 mins. Keep stirring in between so it doesn't stick. Now turn off the gas and let it cool for 2-3 mins. Transfer it to your blender (BUT make sure you pick up the cloves & bay leaves and throw them away as we don't want to grind them).
Blend it until you get a smooth gravy. Transfer it to the same pot and add water, cinnamon powder, sugar and salt to taste.Stir it around and cook for 1-2 mins. Now slowly add milk and stir it around. Cook it on low for 3-5 mins and add garam masala. Taste and add the meat or cheese or vegetables of your choice.
**If you are adding a thick cut meat, I like to cook the meat separately and then at the last stage add it to the gravy. For vegetables like bell peppers you might want to let them simmer for some good time if you want the crunch to go away. You can always add some more water to the gravy and let it simmer on low with the vegetables.
You can make this gravy ahead of time and can even be frozen in an airtight container or ziplock bags.
Recipe by
Naive Cook Cooks
at https://www.naivecookcooks.com/how-to-make-basic-indian-gravy/