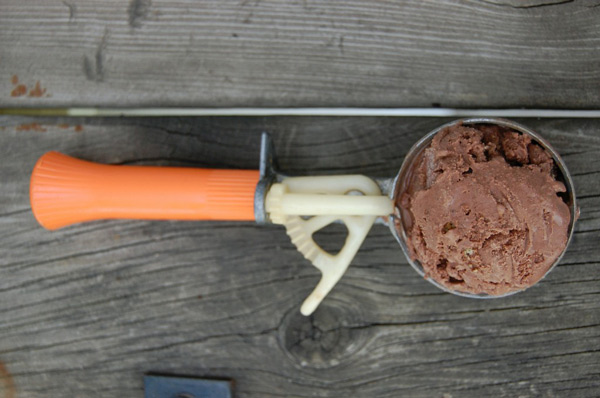 Today it's about ice cream. I wanted you guys to wake up and see this the first thing in the morning, think about ice cream all day at work and get forced to make it tonight. . I know it is torture. But that makes the wait worth every minute, isn't it? Remember my ice cream obsession which started with mint ice cream and than went on to the creation of one of our all time favorite  strawberry oreo ice cream obsession. If that makes you think even for a second, that I must be tired and fully well satisfied than let me tell you that you are dead WRONG.
Summers are almost gone here and that makes me worried sometimes. First and foremost, I love getting tons and tons of fresh sunlight in our apartment and it breaks my heart that there won't be any more in the near future for atleast good 3-4 months. It gets harder to shoot let alone to cook. Usually by the time my dishes are ready, it is almost past afternoon but summer has always been supportive and there have been days when I  have taken pictures successfully at around 8PM . Secondly and this is kind of  important in my list right now, we are again forced to sweat  in enclosed gyms while having other bodies sweating around us. Have I ever told you how much I loathe going to gyms when there is fresh running ground available just steps away from  home.
By far, this is the quickest and the easiest ice cream recipe I have encountered and by far, tastiest as well. Chocolate ice cream on its own is perfect and reminds you of the creamy heavenly chocolate ice creams you get in the stores. Add ons are, I suppose a bit of a personal preference. I enjoy it both ways but Jerry liked it on its own better. So it is totally upto your preference to add cookies or not. Trust me, no judging.
Eggless Chocolate Chip Cookie Ice Cream
Ingredients
¾ cup good cocoa powder
½ cup granulated sugar such as cane sugar or others, preferably organic
⅓ cup packed dark brown sugar
pinch salt
1 cup whole milk, preferably organic
2 cups heavy cream, preferably organic
½ tablespoon pure vanilla extract
1 cup chopped chocolate chip cookies or other goodies. You can add chocolate chips, brownies and much more. Possibilities are endless. (I used this recipe). You can buy from market if you are short on time.
Instructions
In a bowl, whisk together cocoa, both sugars and salt. Add milk and using a whisk or hand blender, mix until all the cocoa and sugar dissolves. Add heavy cream and vanilla extract and mix gently. Refrigerate covered for at least 2 hours or up to overnight.
Process the ice cream according to the instructions of the ice cream maker.It usually takes 15-20 minutes to get to soft serve consistency. Towards the last 2-3 minutes, add the add ons if adding any. Freeze it in an air tight container. Serve in 2-3 hours or immediately as soft serve. Stays good for up to a month in freezer.
More Dessert Recipes: