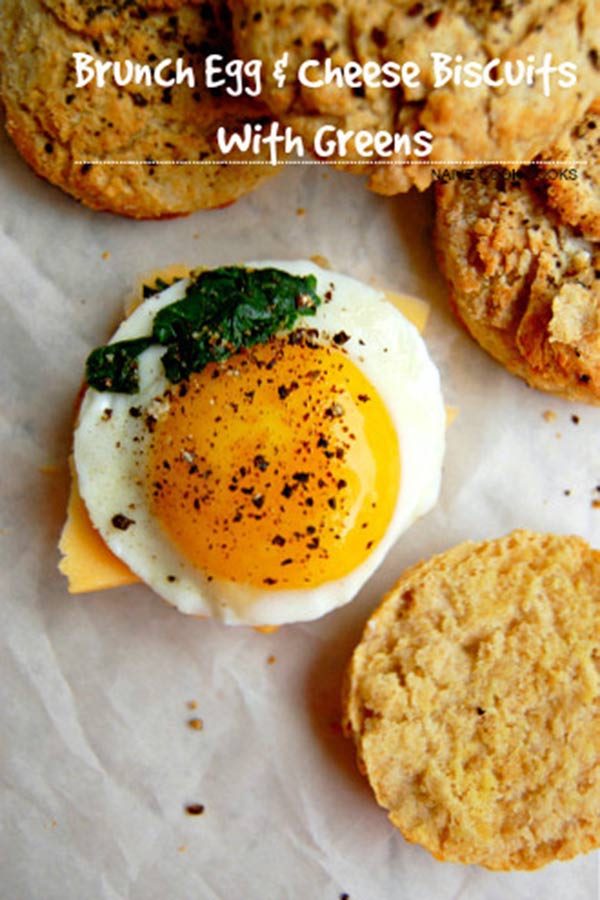 What makes a lazy stay-in-bed types day more enjoyable?? Big batch of these fresh warm from oven black pepper biscuits with your choice of garlicky greens, beautiful perfectly cooked eggs and few slices of cheese and yes, you guessed it right – big pot of coffee! Egg & cheese will taste equally amazing with these cheddar biscuits I made a while back but this time I wanted to keep things healthier since it's a brunch recipe and mostly I am saving up my calories for the coming holidays!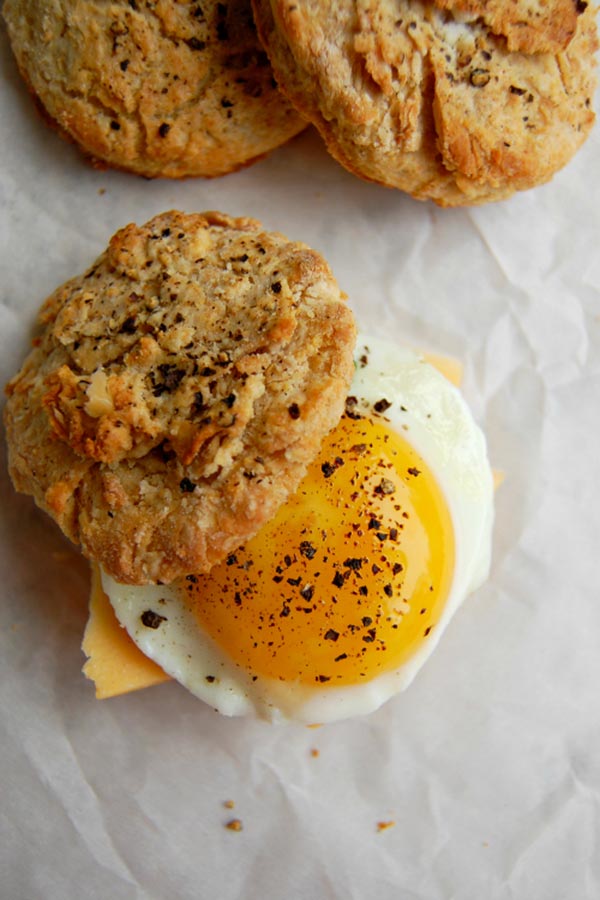 These biscuits are almost healthy as they got whole wheat flour so that means you get good dose of fibre and with garlicky greens taking care of your greens intake too, these make for a good almost healthy brunch. Ohh and that sprinkle of good black pepper on top just makes them too hard to resist.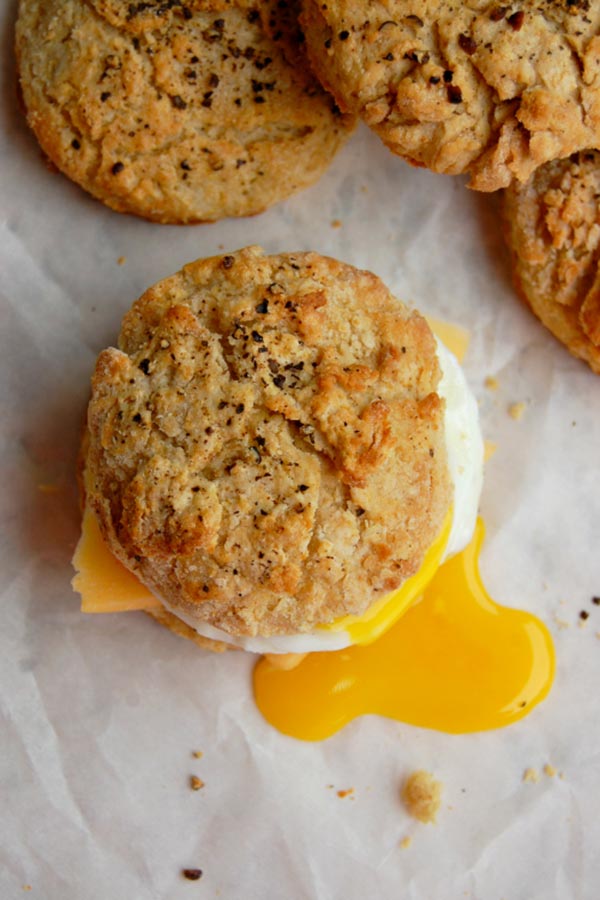 This will be a great brunch recipe on thanksgiving day as they are really quick and easy to make and you can even make them a night before and in the morning just pop them in the toaster and serve them with your choice of fillings, say eggs, cheese slices, greens, crispy bacon, cranberry chutney. The possibilities are endless.
Look at how gorgeous that yolk flowing down the biscuit looks. It's almost like an art piece! So while I am off to visit my family and have loads of fun with my extended family, you go ahead and make your sunday morning brunch glorious!
Just stunning, right?? I know it sounds creepy but I am just in love with that oozing yolk!! I am thinking of getting it framed for my work place!

Black Pepper Biscuits With Garlicky Greens, Eggs & Cheese
Perfect Lazy Sunday Brunch Recipe :Whole wheat black pepper biscuits, garlicky greens, eggs & cheese.
Ingredients
2 cups all-purpose flour
2 cups whole wheat flour
4 teaspoons baking powder
1 teaspoon baking soda
1 teaspoon salt
12 tablespoons cold unsalted butter, cut into small pieces
1½ cups cold buttermilk + few tbsps extra (I added 1.5 cups and then added 1 tbsp at a time until I reached a stage where I was able to gather the dough together)
½ cup heavy cream for coating the tops
2 tablespoons coarsely ground black pepper
Garlicky greens
3-4 cups chopped greens of your choice (I used spinach)
4-6 garlic cloves, chopped fine
1 tsp olive oil
Salt to taste
Cheese slices (I used sharp cheddar)
Eggs
Instructions
Preheat oven to 450 degrees F.
In a bowl mix both flours, baking powder, baking soda and salt. Grate the chilled butter over the top of the flour mixture and mix using fingers until it resembles a coarse meal. Add the buttermilk and stir until it comes together. Make sure you don't over work the dough or you will end up with hard biscuits.
Transfer the dough onto a lightly floured counter. Pat the dough into a 10 by 12-inch rectangle about ¾-inch thick. Use a 3-inch round cutter (or your favorite size cutter) to make 8 biscuits then place them on the lined baking sheet. Press together the scraps of dough, and repeat process. Brush the tops with cream and sprinkle with black pepper. Bake the biscuits for 12 to 15 minutes or until lightly golden brown. Remove from the oven and let them cool a little before serving.
Garlicky greens
In a pan, add oil. Once hot to it add garlic. Saute and to it add greens and cook until they wilt. Season with salt.
Cook egg the way you prefer.
Cut the biscuit in half. Add a slice of cheese, some garlicky greens, egg and little more greens. Close and devour immediately. I like adding some habanero hot sauce on top too for a kick.
Notes
Black pepper biscuits recipe is adapted from Bobby Flay's black pepper biscuit recipe from Food Network.
They can be served for dinner too for moping up that amazing gravy you are planning on making for the holidays!
More Breakfast Recipes: