Switch your Friday Night Indian food take-out with this easy lightened-up and so doable Malai Kofta.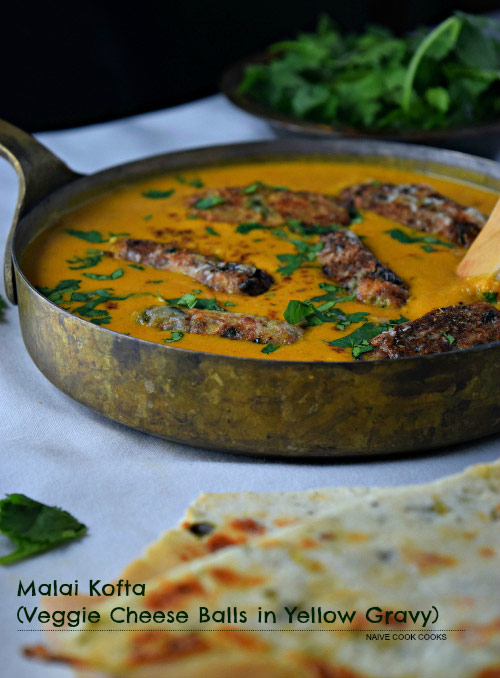 Most of the time cooking an elaborate Indian meal is something I never look forward to and thankfully we both share lot of similar interests in food so Indian food is rare around here. Even though we have Indian roots but we like to indulge our taste buds into cuisines of all sorts and my work revolving around food most of the time, gives me ample opportunity to play around with all sorts of food items.
But then there are days I just loathe cooking (it's funny how work becomes boredom somedays, even though it is something I love love doing all the time. Creating recipes, food photographing, writing and working on side projects, it gets out of hands some days and then all I want to do is stay away from kitchen as much as possible.). But then there are days I go all out and create our favorite Indian delicacies.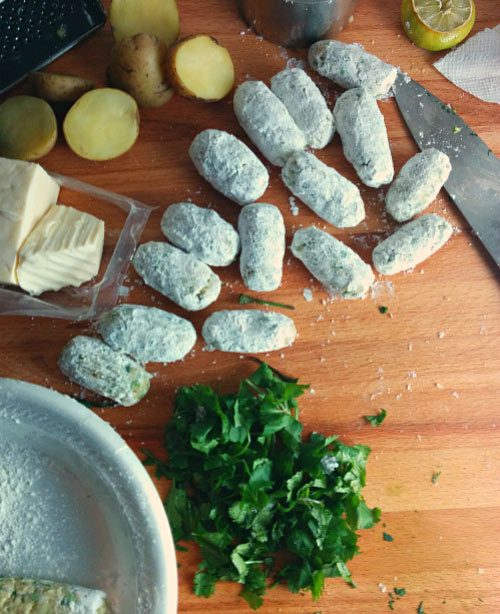 This recipe is Indian comfort food at it's finest. I have been making it for sometime now but this time I switched up things a bit. If you have been following, you might remember this version of malai kofta which I posted a while back. ( Remember how weird my photography was back then?! Ha, I sure have come a long way but there is still a ton to learn! Phew) .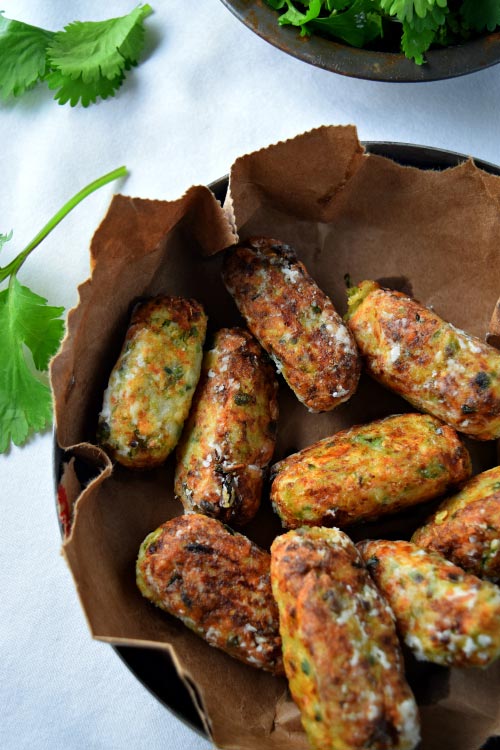 This time I lightened up the recipe by using fat free half & half instead of full fat cream and sneaked in some veggies into the fried balls. I know you might wonder if you can bake these instead? To be honest I have not tried baking these but if you guys do, please leave your experience in the comments below. I would love to know how they turn out.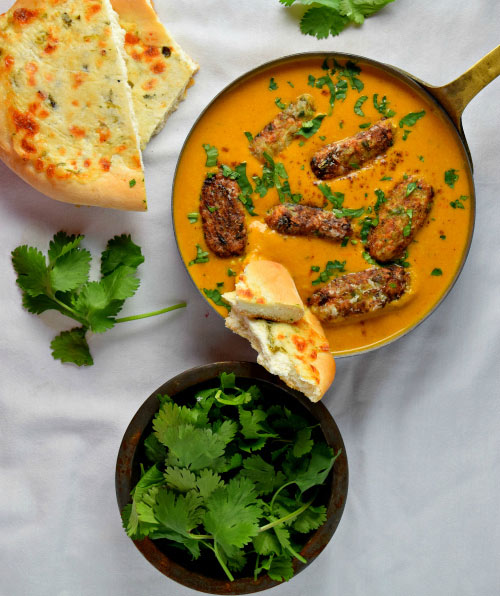 If you have all the ingredients on hand, you should be done with this recipe in an hour otherwise 2 hours at the max. It's basically 2 steps : Getting the veggie cheese balls ready which involves shaping and frying and secondly, making the gravy. Serve this with your bread of choice (store bought or you can use naan recipe from here. Lot of times, I use whole wheat instead of all purpose in this naan recipe and we love them.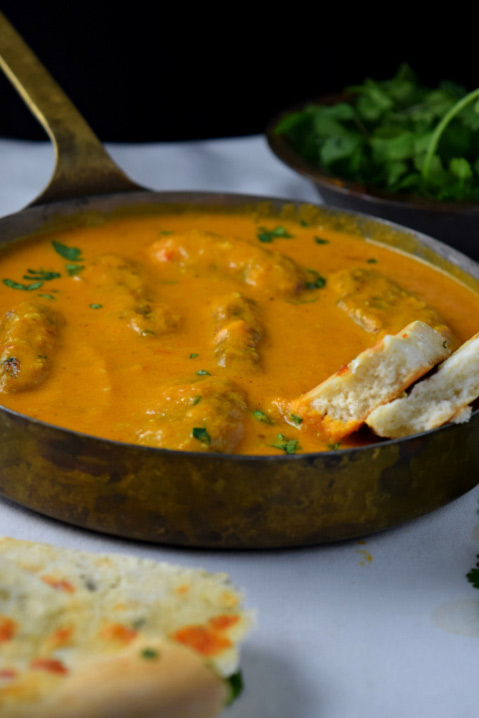 I am looking forward to getting some rest this weekend. What about you all? Any special plans?
Best Malai Kofta ( Veggie Cheese Balls in Yellow Gravy)
Switch your Friday Night Indian food take-out with this easy lightened-up and so doable Malai Kofta.
Ingredients
Veggie Cheese Balls
1 cup boiled and shredded potatoes
1 cup shredded paneer (Indian Cheese)
1 cup boiled & mashed mixed veggies ( I used ½ cup cauliflower and ½ cup green peas. You can easily use carrots, green beans.)
Paste from 2-4 green chilies or as per taste
1- 1.5 tsp coriander powder
½ tsp cumin powder
½ tsp red chili powder
1-2 tbsp chopped cilantro
Salt to taste
Corn starch for coating
Vegetable oil for frying (I used canola oil)
*You can also use mixed variety of nuts if you are into that sort of thing.
Yellow Gravy
2 tsp olive oil
1+1/4 cup red onion, chopped
½ tsp salt
1 tbsp ginger paste
1 tbsp garlic paste
½ tsp turmeric powder
2 tomatoes, chopped
½-1 tsp red chili powder or as per taste
2 tsp coriander powder
1 tsp cumin powder
1 tsp olive oil
1 tsp cumin seeds
½-3/4 cup fat free half & half
2 tbsp very finely chopped cashew nuts (I like giving them a quick chop in the food processor)
1-2 cups Water
1-2 tsp sugar
Cilantro for garnishing (optional)
Instructions
Veggie Cheese Balls
In a bowl, add shredded boiled potatoes, shredded paneer and mashed up veggies.
*After boiling the veggies, strain and squeeze them in a cheese cloth so that all the excess water drains out. Make sure they are nicely squeezed before you add them to the bowl as water in veggies will make it hard to form the balls.
Add all the spices starting from green chilies to salt and mix using hands. Form them into tight balls wither round, oblong or any shape you fancy.Take some corn starch in a plate and roll the balls one at a time in corn starch so they get nicely coated. Keep aside.
Heat oil in deep pot. To check if oil is hot, drop a small piece from the veggie cheese balls. If it sizzles immediately, it means oil is hot enough. Keeping the gas at medium-low, add few balls at a time and fry them until golden brown. Transfer them to a paper towel lined plate. Repeat until you are done with all the balls. Keep them aside.
Gravy
In a deep heavy pot, add oil. Once hot, add onions and saute. To onions, add a pinch of salt as it will help the onions to give out moisture which will help them in cooking faster. Once onions are golden brown, add ginger paste, garlic paste. turmeric and stir. Cook for few minutes and add chopped tomatoes. Along with it, add red chili powder, coriander powder, cumin powder. Stir it all around so the spices get cooked through. Add 1 cup of water and bring it all to a boil. Let it simmer for 7-10 minutes. Turn off the gas and transfer the sauce to a high speed blender. Be VERY CAREFUL as it's really hot. Blend the sauce until smooth.
To the same pot, add oil and cumin seeds. Once they start to sizzle, add the blended sauce back to the pot. To it add fat free half & half, cashew nuts, water, salt to taste and sugar. Bring it to a boil and taste. Adjust spices as per taste. If you feel flavors are missing, some salt, sugar and half & half will make it right.
Just before serving add the balls in hot gravy and serve garnished with freshly chopped cilantro.
Serve with Indian bread and rice.
Notes
For weekday dinner, gravy and balls can be made during the weekend. Once completely cooled, keep them separately in airtight containers. Before serving, warm up the gravy and add the balls to the hot gravy.
More Indian Inspired Recipes: