Greek Salad are the perfect warm weather salad with simple ingredients!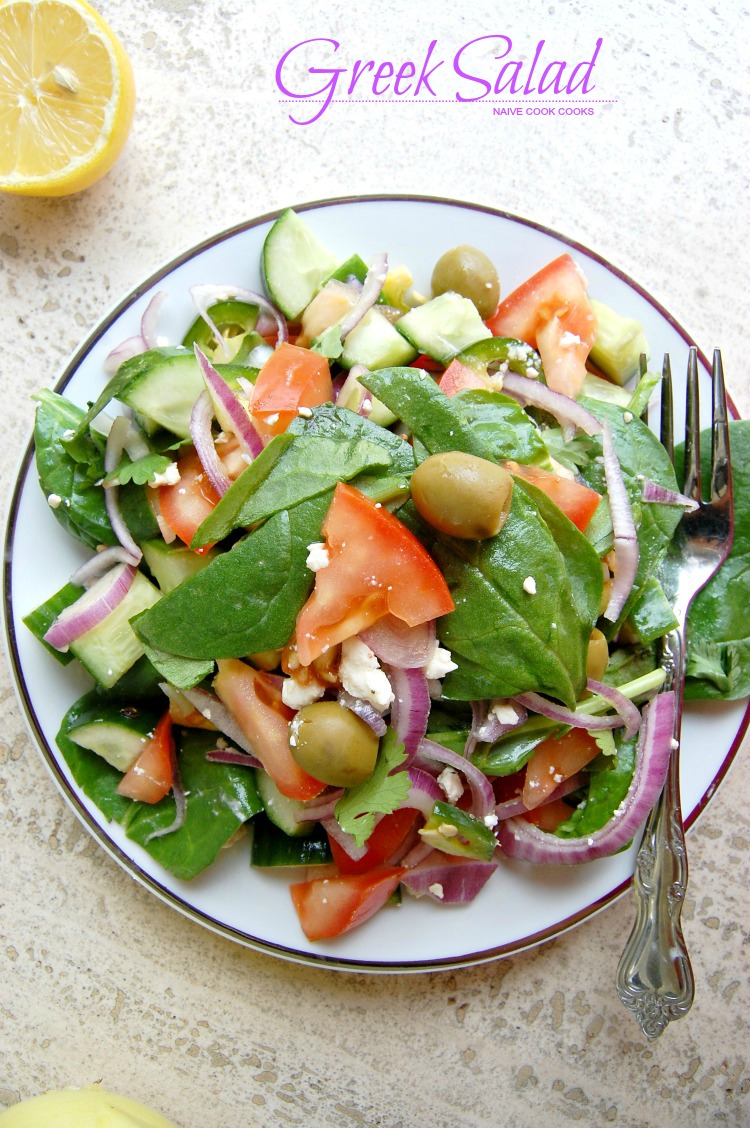 The first time I had Greek Salad in my life was when I visited Greece. Weird as it may sound but I never really had proper Greek salad before. I was quite surprised with the simplicity of this salad. We often find ourselves with leftover cucumbers, tomatoes and onions lying around and I more than often  run out of ideas to put them to use.
This salad screams summer and is the perfect salad for rising temps!
 Perfect salad to take to picnics, to take to work for lunch or as a low calorie but filling alternative to salads with those fattening dressings. The best part is that it maintains its crunch without the dressing for a quite a long time and so perfect to as a make ahead salad.
It saves the day when I have no inspiration for cooking and to me when its 90 degrees outside, this cool salad keeps me sane.
You can serve it along with some meat, grilled veggies, flat bread with feta or it even tastes good with some gravy and rice. I served this along with avocado egg rolls.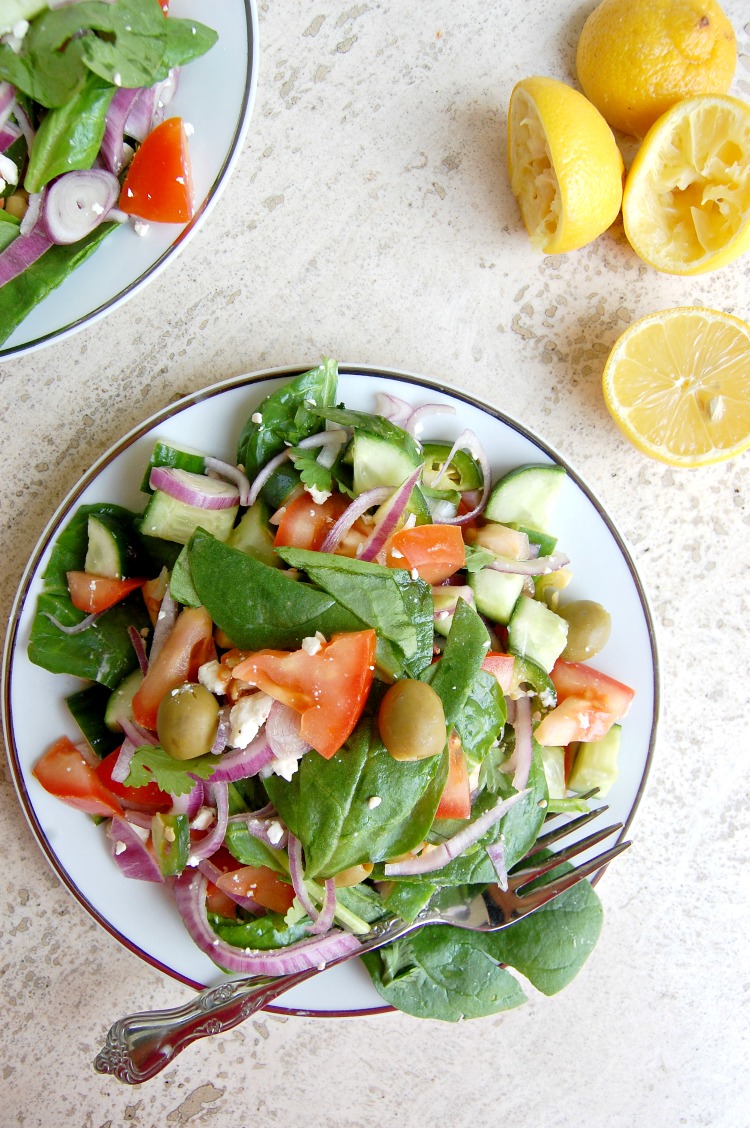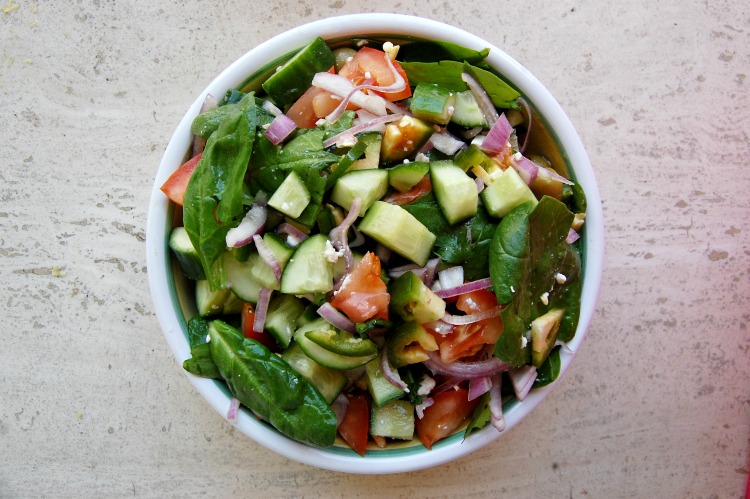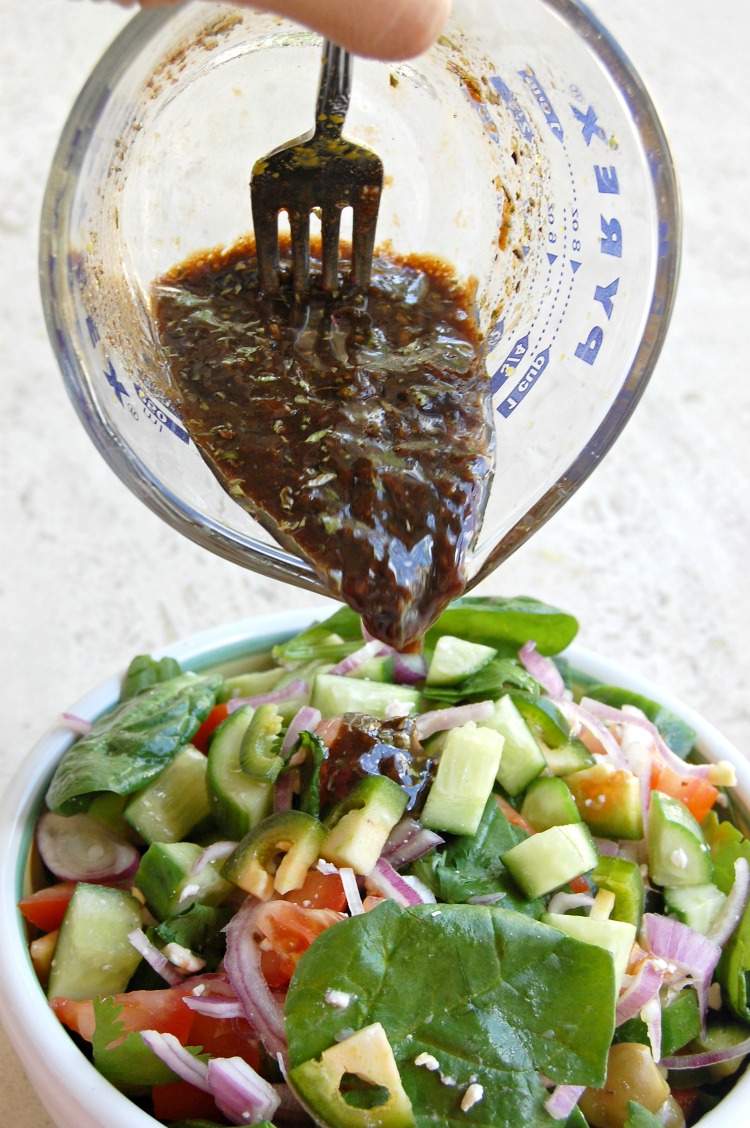 Greek Salad
Ingredients
Veggies
2 small persian cucumbers,chopped
1 tomato, chopped
½ large red onion, chopped
handful of spinach leaves
8-10 green or black olives
4-5 Tbsp fresh feta cheese
Dressing
2 Tbsp balsamic vinegar
1 tsp lemon juice
1-2 tsp maple syrup or honey or sugar
Salt to taste
Black pepper to taste
1 Tbsp olive oil
1 tsp oregano, dried
Instructions
In a bowl add cucumbers, tomato, red onion, spinach leaves and olives. In a separate bowl, add all the dressing ingredients and whisk until combined properly. Just before serving add dressing to the salad. Mix properly and add feta cheese. Serve.
More Salad Recipes: