Spicy Indian Cheese (Paneer) cooked with veggies & spices & topped on a crispy tortilla to make the ultimate easy weeknight pizza!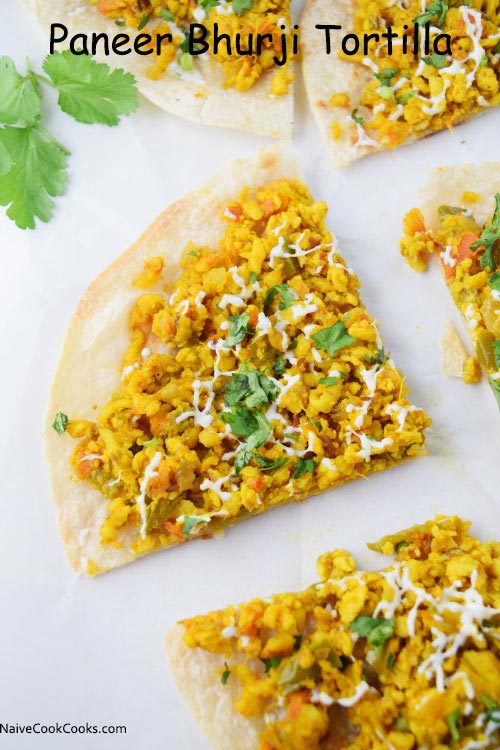 Meatless Monday is here!
Today we are talking about fusion food, you know the sorts where you see crepes being turned into tortillas for enchiladas or putting samosa filling over a ready made french bread or stuffing enchiladas with thai fillings & then topping it with a creamy coconut sauce! I think you get the idea!
Today it's all about two of our favorite food groups! Cheese + pizza. But with a healthy twist & packed with tons of flavors! This meal is idea for the soon to be starting game days and it is totally make-ahead sorts of meal! So win-win if I say so!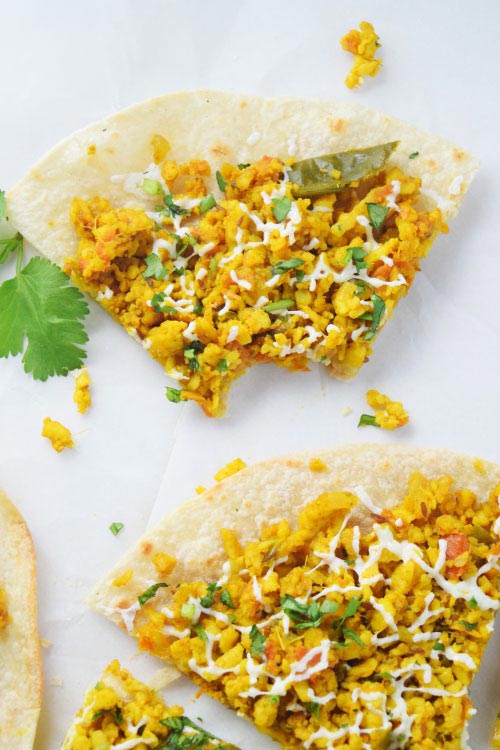 This pizza is my dream pizza as around here we love paneer bhurji. Paneer Bhurji is basically to separate words. Paneer = means Indian Cheese & Bhurji = means Scrambled. Here we grate our cheese and then it is cooked with veggies & spices to make such a fragrant & delicious scrambled cheese recipe that seriously I always end up eating quite a good amount in the name of taste tasting!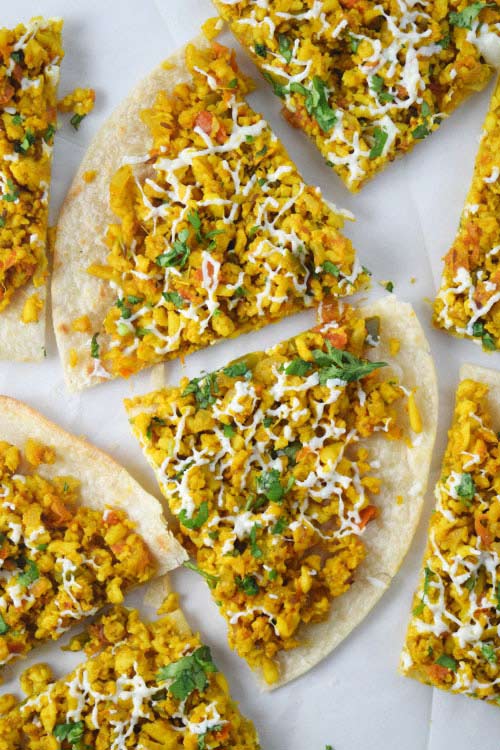 Served on a crispy tortilla and sprinkled with some mozzarella cheese, this is a wholesome meal option & a perfect game day appetizer or even back to school kids treat! Paneer bhurji can easily be made 2-3 days in advance and then used whenever you need. I sometimes even make it way in advance and then pack it tightly in a ziplock & freeze it for later use. Works like a charm!
Help in spreading the word!
Follow along for a lot more delicious treats and life happenings on INSTAGRAM || FACEBOOK ||PINTEREST ||TWITTER ||GOOGLE+

Paneer Bhurji Tortilla Pizza
Ingredients
Paneer Bhurji
2 tsp oil
1 tsp cumin seeds
2 tsp green chili paste or 3-4 chopped green chilies
1 tbsp ginger paste
1 tbsp garlic paste
1 cup finely chopped onion
Salt to taste
⅔ cup finely chopped bell pepper
(1+2/3) cup finely chopped tomatoes
1 tsp turmeric
½ tsp red chili powder or to taste
2 tsp ground dry coriander powder
1 tsp garam masala
12 oz (360gm) Indian Cheese (Paneer) (Very easily found in Indian grocery stores or speciality stores)
For Assembling
6 Flour tortillas
Paneer Bhurji
Few tbsp finely shredded mozzarella cheese
Instructions
In a skillet, warm oil. To it add cumin seeds and let them pop. Add green chili and stir around for a min or two on medium-high flame. Add ginger & garlic paste & cook until raw smell is gone. Add onions and pinch of salt and cook on low flame until onions are halfway cooked. Now add bell peppers and keep cooking for another 7-10 mins on low flame until bell peppers are cooked through. To it add tomatoes and stir around. Cover and cook for 12-15 minutes until tomatoes are cooked through and given out some liquid. Stir it around and once everything is cooked through, add turmeric, red chili, coriander, garam masala and salt. Mix it and taste. Adjust spices as per taste. To it now add the grated paneer and cook for another 5-7 mins covered until paneer absorbs all the flavors! Taste again and if as per your taste, switch of the gas and let it cool.
Now after it cools, at this point you can either store it for later use or go ahead & make pizza.
Take a tortilla and lay it on a baking sheet. Transfer it to a preheated 350F oven and cook for 3-5 mins until sort of crispy. Now spread a generous amount of paneer bhurji all over it and some shredded mozzarella. Transfer it to the oven again and cook for another 5-7 minutes or until crispy to your liking!
Cut using a pizza cutter & serve!
More Paneer based recipes?
https://www.naivecookcooks.com/malai-kofta
https://www.naivecookcooks.com/low-fat-palak-paneer/