Enjoy a perfect slice of this easy Apple Cinnamon Cake with your evening tea or grab a slice with coffee on the way to work!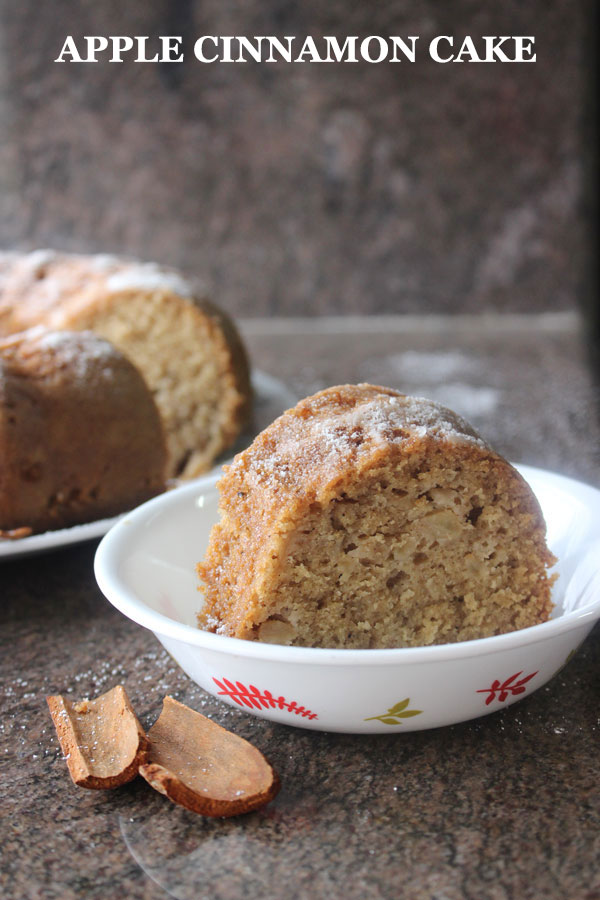 We are back with another fun recipe from Kaveri. This cake is her newest creation and I can't wait to make it myself. Apple cake has a special place in my heart as when I started this blog and I was naive cook in truest sense, I baked my very first Upside Down Apple Molasses Cake which was so good that I ate it all by myself, as Ronak who is not much into fruits in his desserts had just a slice! 😛 It's been years since I baked a apple cake and now I can't wait to try my hands at this!
This cake has lots of finely chopped apple pieces mixed in the batter which gives it a real apple cake feel and not the one where you don't even see a piece of apple in the cake! Soft, melt-in-mouth texture, apple cake is one of the many apple desserts I love making.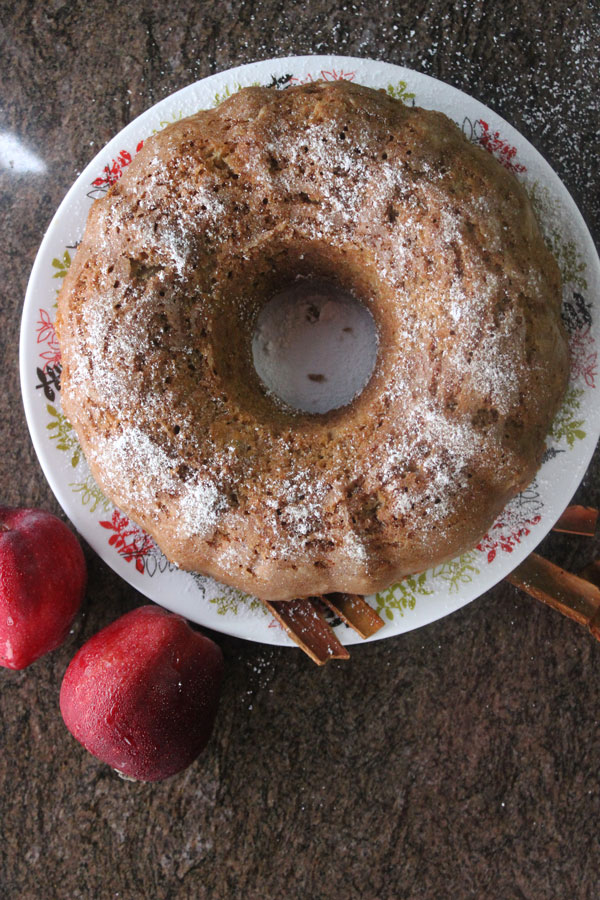 As much as this cake is fun for all your summer get togethers, it's equally great for when the weather starts to get a bit chilly. A slice of this cake with your morning coffee on the way to work or a slice of this with your evening tea time break would be just the best thing to do! I just can't wait for the weather to get cold!I have always loved winters and can't wait to have snow everywhere and bake all day long! See apple and cinnamon just automatically take me to winter wonderland 😛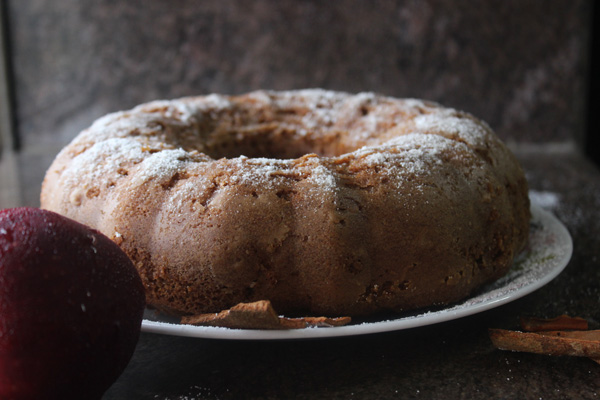 Go ahead and give this cake a try as you will seriously love it!
If  you enjoyed this recipe, don't forget to FOLLOW me on  INSTAGRAM ||FACEBOOK||PINTEREST ||TWITTER ||GOOGLE+ || BLOGLOVIN || YouTube
Apple Cinnamon Cake
Ingredients
Apple Cinnamon Cake -
2 .5 cups all-purpose flour
2 teaspoons baking powder
1 teaspoon salt (skip if using salted butter)
½ teaspoon baking soda
1 tablespoon cinnamon powder
1 cup butter or oil
1.5 cups light brown sugar. You can even use white sugar, your cake will just be
lighter in colour
½ cup milk
1 teaspoon apple cider vinegar (you can also white vinegar)
3 eggs
2-3 medium apples, peeled and chopped
Instructions
Apple Cinnamon Cake -
Preheat oven to 180 degrees C. Grease a bundt pan and keep aside. Alternatively, you may also use any two 7 inch pans.
Add the vinegar to the milk and let it stand for 5 minutes until it curdles.
In a bowl, sieve together the flour, baking powder, salt, baking soda and cinnamon and mix.
In another large bowl, add the softened butter/oil, brown sugar, eggs, and buttermilk.
Using an electric mixer, beat all ingredients together until well combined.
Add the flour mixture into this in three additions, until everything is well mixed.
Make sure not to over mix.
Add thechopped apples into the batter and gently mix.
Pour batter into prepared pan.
Bake for about 50-60 minutes until the toothpick inserted into the center comes out clean.
Let the cake cool in the pan for about 30 minutes, then invert the pan to release the cake.
 Some more APPLE based dessert recipes ->>