Make Deep Dish Pizza at home with a secret ingredient that keeps the dough soft & chewy! This is the best deep dish pizza you will ever make at home !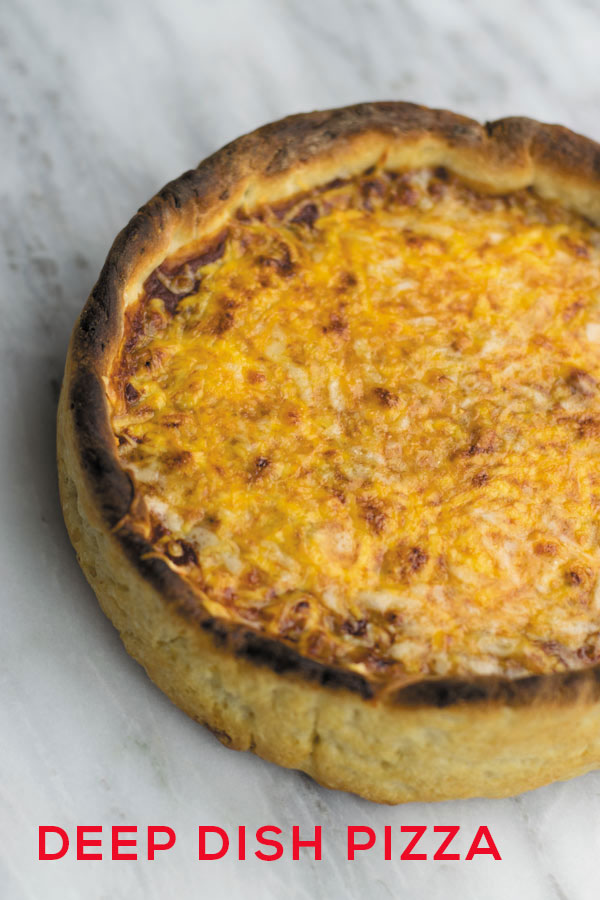 Monday always seems so hard after 2 days of doing nothing! Weekends are always always meant for comfort food and what better than the classic deep dish pizza?! Whenever we visit Chicago, this is one pizza e know we have to order like Every. Single. Time. I mean how can you not?! A thick pizza crust with loads of cheese topped with a yummy pizza sauce. Simple and classic but so good!
I have been wanting to learn how to make it for a long time now and this weekend I decided to finally perfect it! The thing with real Chicago style pizza is – even though I absolutely love eating it but it's so heavy that after a slice I can never eat anything else for hours! The crust is buttery and rich, there is tons of cheese which is all really good and delicious but I wanted to create the exact same pizza but with a slightly lighter crust! You know the kind where you eat 2 slices of a pizza pie and still you feel you are ok and not dying from all the food you just ate!
While I was looking at different recipes from magazines and online and comparing my notes, I saw in one if the deep dish pizza recipes boiled & shredded being added to the dough which was supposed to trap in the moisture which pizza bakes and not leave the crust hard or dry but keep it soft and chewy! It was something really new to me so I gave it a try. We both were so skeptical about it but it turned out amazing!
This pizza friends is meatless (but you can totally add your favorite meat such as pepperoni or chicken which would be great!) and I kept it simple just a classic cheese pizza but you can even add some olives, onions, bell peppers, jalapenos if you want!
So let's see how to make this really easy Deep Dish Pizza which will be a hit with your family and  next time serve your guests this pizza and see the look on their faces!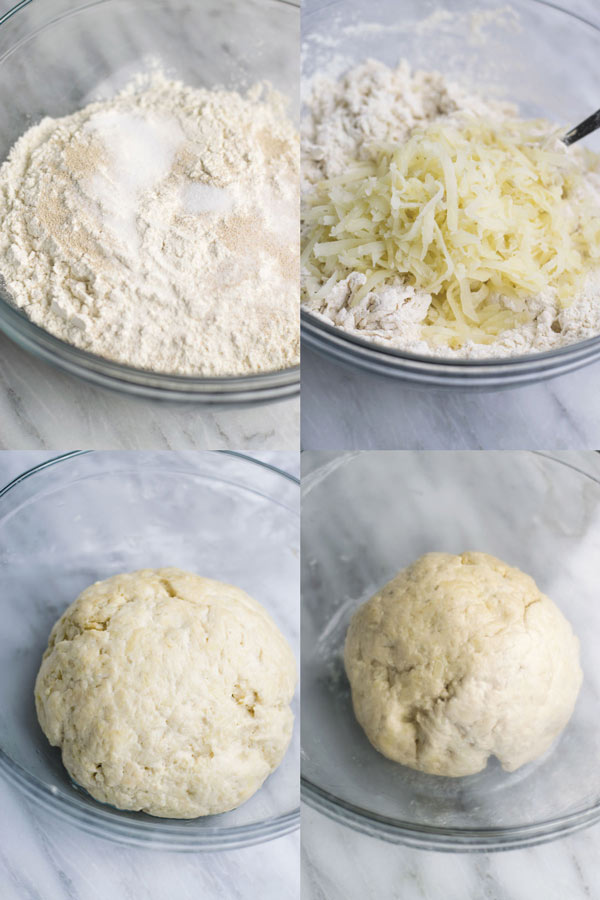 The dry ingredients for the dough are mixed, shredded boiled potato is added and then dough is kneaded adding water. The dough is rested until it doubles.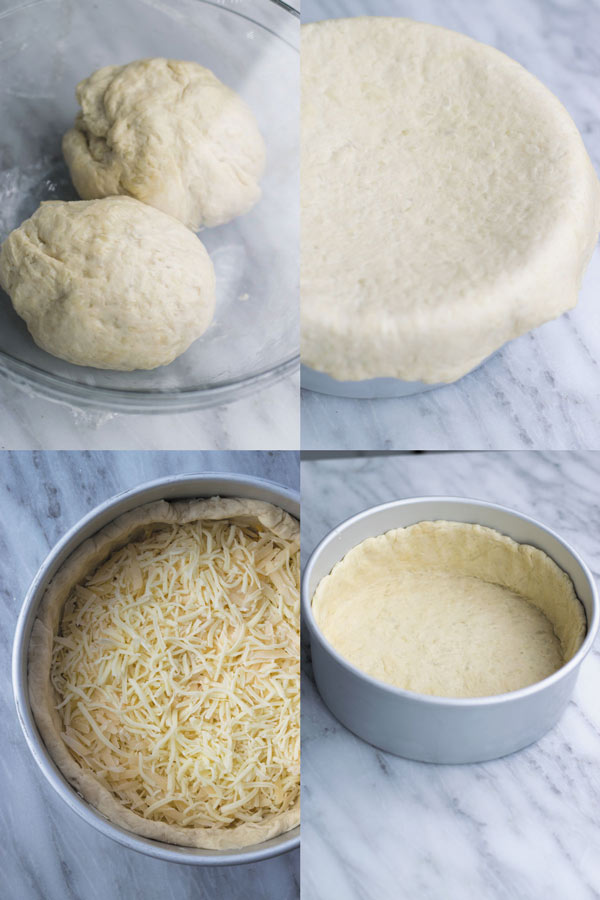 This dough makes 2 medium size about 8″ each deep dish pizzas . If you are planning on making just 1 pizza, then freeze the dough as explained here. A deep baking pan such an 8″ cake pan is greased generously with oil and butter. It might look a lot of oil and butter used to grease the insides of pan but we need that so the crust doesn't stick to the pan and the outside of the crust gets nice crusty! The dough is rolled into a 10″ circle and then placed on top of the pan and using your hands press it into the pan bottom and sides. Make sure to poke some holes in the crust so crust doesn't fluff up while baking. Then unlike a traditional pizza where we add sauce and then cheese, here we add a generous amount of cheese, preferable mozzarella and cheddar and then sauce and it's baked!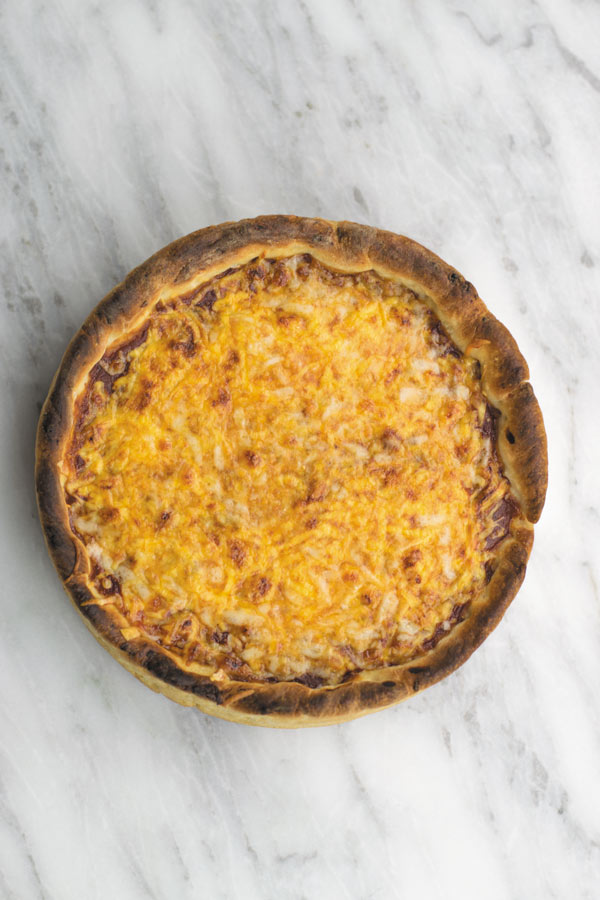 If you try this pizza, remember to click pictures and post on social media using hashtag #naivecookcooks so I can see your creations!
If  you enjoyed this recipe, don't forget to FOLLOW me on  INSTAGRAM ||FACEBOOK||PINTEREST ||TWITTER ||GOOGLE+ || BLOGLOVIN || YouTube
Deep Dish Pizza Recipe
Serves:
2-8" deep dish pizzas
Ingredients
1 potato, boiled, peeled and shredded
3.5 cups all purpose flour (about 17.5 ounces)
1.5 tsp instant yeast
1¾ tsp salt
1 cup warm water (about 110 degrees)
2 tbsp extra virgin olive oil
Prepping the deep dish pan:
2 tbsp olive oil, divided
2 tbsp unsalted butter, divided
Toppings:
2 cups mozzarella cheese, shredded
½ cheddar cheese, shredded
½ - 1 cup parmesan cheese, shredded
Pizza Sauce (homemade or store bought)
Instructions
Boil potato. Once boiled, take it out of hot water and let it cool don until cool enough to touch. Peel and shred it into a bowl. Keep it aside.
Place one oven rack to the highest position while the other to the lowest position in the oven, heat the oven to 200F. Once the oven beeps that it has reached to 200F, keep it on for 10 more minutes and then turn off the oven. We are doing this to create a warm environment where we will leave our dough to rise.
In a bowl, add flour, yeast and salt and stir. Add warm water and mix. Add 1.5 cups lightly packed shredded potato to the dough and 2 tbsp oil and mix until the dough comes together into smooth ball. Coat a clean bowl with oil and place the dough ball there and cover tightly with plastic wrap. Keep it in already warmed up but now off oven and let it sit for 1 hour or until it almost doubles.
Meanwhile make sure you have your shredded cheeses ready and sauce ready.
Now once dough is ready, break it into 2 balls and keep it covered into a bowl. Take one ball out at a time and roll it into a 10" circle. Add 1 tbsp olive oil and 1 tbsp softened butter into a 8" deep dish pan where you will be baking the pizza. Rub this oil + butter mix all at the bottom and on the sides of the bowl and place this rolled out dough into this pan. Using your fingers, press this dough into the base and sides of the pan gently but firmly so it sticks to the sides. Now cover this using a plastic wrap and let it rise for 30 mins.
Preheat oven to 500F and keep your pizza stone if using at the bottom oven rack. In case you are not using a pizza stone, keep an inverted rimless baking sheet on the lowest oven rack.
After 30 mins, using a fork, poke the dough so it doesn't rise while baking.
Lower the oven temperature to 425F. Add all the shredded cheeses and then top it with pizza sauce about ⅓ - ⅔ cups and then place it on the hot baking stone/baking sheet.
Bake for 30-35 minutes in which time your crust should be cooked and cheeses should be melted.
Then add few more tbsps of cheese on top of sauce and then place it on the top oven rack and turn the oven to broiler setting. Broil for 2-3 minutes NOT MORE or you will have burnt pizza!
Cut in wedges using a pizza cutter and enjoy!
 Some more delicious PIZZA recipes ->>