This shop has been compensated by Collective Bias, Inc. and its advertiser. All opinions are mine alone. #TryThePie #CollectiveBias

December! How are you guys holding up?  Today, we are doing something different. Rather than talk about new recipes, I thought why not change the course of things a bit? Let's talk about life. Ok nothing serious but things that have been happening lately, things I have been trying hard to succeed at and all that crazy stuff.
2015 went by so fast and even though I had plans of posting lot of new recipes and I sort of did succeed, I feel I still want to share like so many recipes with you guys and all during this holiday season! Does this sound too crazy?
I have been trying really hard to maintain a schedule, say, posting on certain specific days of the week and there are weeks I am successful at posting on those particular days, then there are days when I completely lose track. All my food blogging friends out there, tips please?!! #helpneeded
At the end of this year, this baby blog ( which is not so much of a baby anymore!) will complete a whole 3 years! I started it in August of 2012 but I rarely posted until around mid of 2014 when I started to get serious about this blogging thing and glad I did because even though it drives me insane at times, I would not do anything besides this! I am glad I found what I truly love and it makes me happy to call this as my job.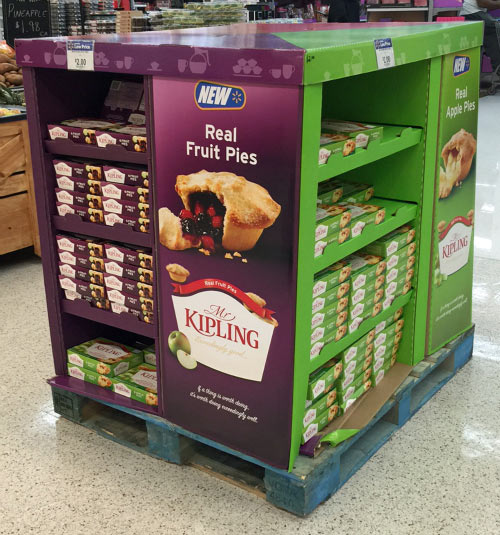 Now onto something new I tried and I was able to finish all 14 boxes of it in a very short period of time! Ok, I did share some of it!
Presenting to you my friends, my newest love, Mr Kipling Pies!
So I was introduced to these by a dear friend some time back and later when I got the opportunity to work with them, I was beyond excited! If you know me, you might know how much I love making dishes from scratch but if I can find something that tastes exactly like homemade, I am all about it!  
These are premium quality pies made with real fruit pieces (fruit pies) and contain no trans fat so you know these are worth a try!
These pies are the bomb, friends! They come in 4 flavors :  
Apple pie

Mississippi Mud pie

Cherry pie

Fruit pie
I gave some boxes to my family and friends and everybody had their own personal favorite. For me it was Apple Pie. It tastes just like my homemade apple pie and they're delicious warmed up, too. I even like their Mississippi Mud pie but I might be little biased towards Apple pie!
Now the only sad part is that Texas Walmarts are going to carry these pies for a very SHORT PERIOD of time during holiday season, so I suggest you next time when you go grocery shopping at Walmart, do check these out and grab a bunch before they run out! They freeze well. You can freeze them and take them out a night before gatherings, thaw them and there you have pies that will taste just like homemade!
What are you guys cooking these days? I know it's holiday season, and at least for me it's all about delicious comforting food and yes lots of sweets!
Apart from my pie obsession, I am all excited for holidays and lots & lots of cooking and eating!
So go to your nearby Walmart and get these before they run out!! 
Check back tomorrow for another delicious Holiday recipe!