Easy Cashew Sugar Cookies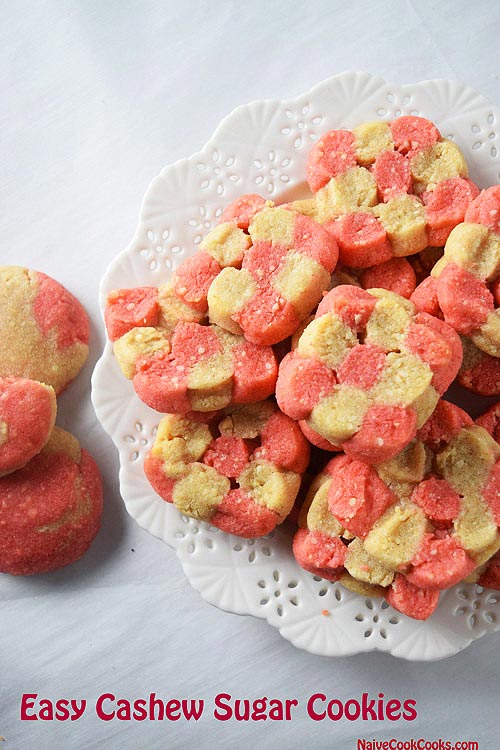 1 cup all purpose flour
½ cup cashews (grind them to powder consistency)
⅛ tsp baking soda
¼ tsp baking powder
¾ cup sugar
1 stick (1/2 cup) unsalted butter, room temperature
1 tsp vanilla extract
1 tbsp Almond Breeze Almondmilk Cashewmilk
Red food coloring (optional)
Grind cashews to a powder like consistency. In a bowl mix cashew powder, all purpose flour, baking soda and baking powder and stir.
Cream butter and sugar until mixed. Add vanilla extract and mix. Now add dry ingredients to wet ingredients and mix. To it add 1 tbsp Almond Breeze Almondmilk Cashewmilk and stir until a soft dough forms. Divide the dough in half. And to one half of the dough, add few drops of red food color and mix until it is evenly colored.
Wrap each dough in separate plastic wraps and let it sit in refrigerator for 30 minutes.
Take out one dough at a time and break it into 5 balls. Roll each boll onto a floured surface to a medium thickness long rope.
Now do the same with the other ball of dough but make only 4 balls.
Now you will have 5 ropes of one color and 4 ropes of other color. Now as you can see in picture stack the ropes together.
First stack : pink-Plain-pink
Second stack : plain-pink-plain
Third stack : pink-plain-pink
You can reverse the colors too if you want.
Now make sure they are sticking to each other and very carefully place second stack on top of first and then third stack on top of second. Now press them hard from all sides using hands until they all are very close together. Wrap in plastic wrap and freeze for 30 minutes.
Preheat oven to 375F.
Remove plastic wrap and cut log into medium thickness ½' - 1" cookies. Lay them on parchment lined paper and bake for 6-7 minutes. Cool completely on wire rack and store in covered container for upto a week or so!
Recipe by
Naive Cook Cooks
at https://www.naivecookcooks.com/easy-cashew-sugar-cookies/