Love is in the air so what better way than making homemade conversation heart shaped sugar cookies!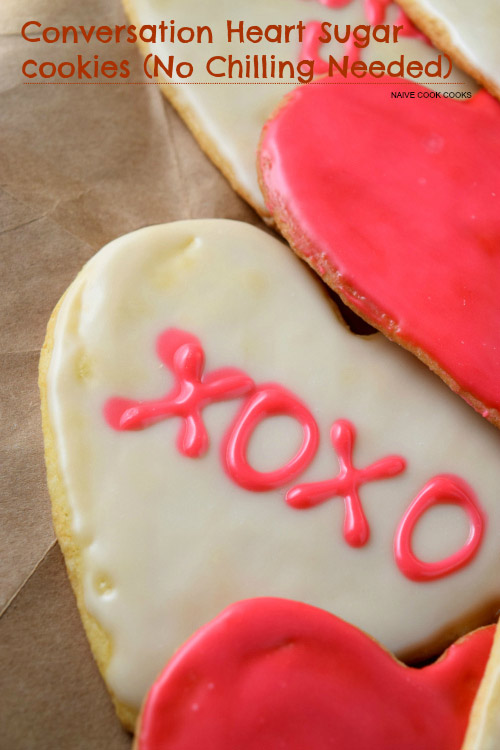 Yes I said Sugar Cookies. Don't you wait until Christmas time to make these chewy delicious (did I tell you NO WAIT TIME?!) sugar cookies!
There are many common interests we both share be it travelling, cooking, trying out different cuisines, meeting with friends and among them this is our favorite. Eating sugar cookies after every meal until there are no more left. That too fresh homemade sugar cookies. I used to think making from scratch sugar cookies is a big task but then once I got a hang of it, I realized it is really simple and way better than getting those frozen packets of sugar cookie dough (man, those preservatives!).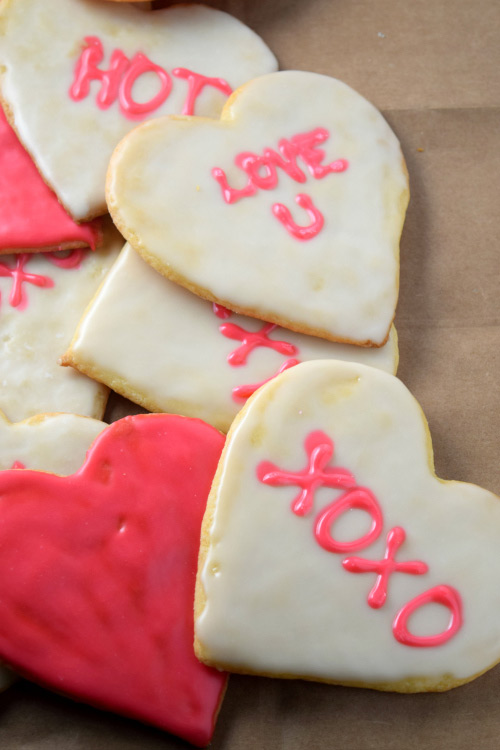 Until last year, I used to stick to making sugar cookies only during holidays in particular around Christmas time but then suddenly I realized why do that?! Why wait for one particular time of the year when you can enjoy these year around!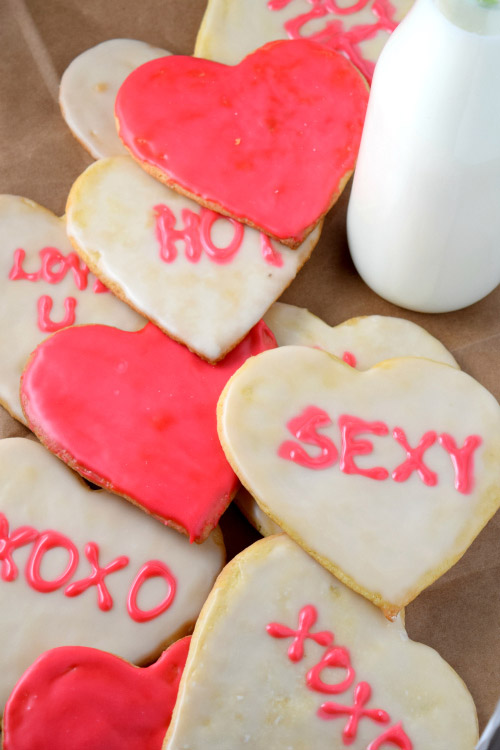 I mean how cool is that when you can send conversation cookies to your loved ones and express your love by cookies! I say best valentines gift ever. These cookies stay soft and fresh for up to a week in airtight containers or Ziploc bags.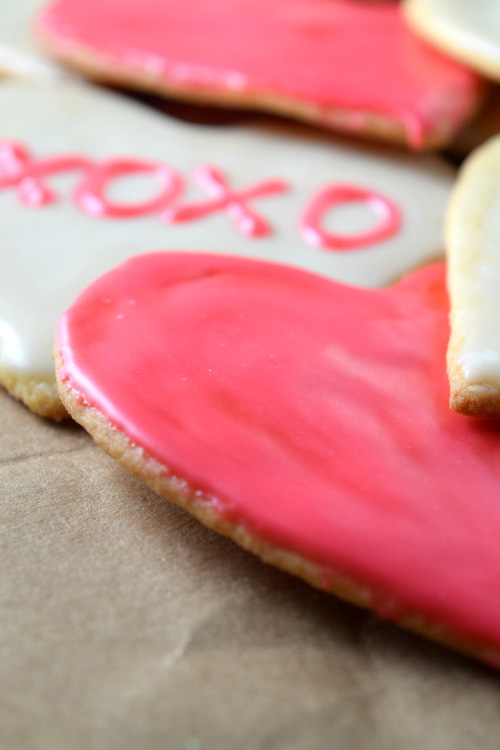 You can literally go crazy with what you want to write on these. One important thing I learned while writing on the icing on these cookies is that don't wait for the icing to set dry. Once you coat the cookies with icing, start writing almost immediately. You will be saved with what is called bleeding as you can see from the pictures. They will still taste darn delicious if you see little smudging but it will just make them look much prettier if done nicely!
From start to finish these cookies took me 2 hours max and I had almost 16-18 giant size heart shaped cookies. I used the same sugar cookie dough recipe I used for making christmas cookies and the best part no chilling needed!
Conversation Heart Shaped Sugar Cookies
Love is in the air so why not express your love with these homemade quick & easy conversation sugar cookies!
Author:
How to Make Oven Baked Fries
Ingredients
Cookie dough
1&1/4 cups + 2 Tbsp unbleached all purpose flour
½ tsp baking soda
¼ tsp baking powder
1 stick unsalted butter, softened
¾ cups white granulated sugar
½ egg, stirred
½ tsp vanilla extract
1-2 Tbsp milk (any fat content)
Icing Recipe
2 cup powdered sugar
4-6 Tbsp water
4 tsp light corn syrup
1 tsp vanilla extract
Food coloring (I used red to make pink color)
Instructions
Sugar Cookies
Preheat oven to 375F.
In a small bowl, stir together flour, baking powder and baking soda. Keep it aside.
In a large bowl or bowl of stand mixer if using, cream butter & sugar until smooth. Beat in the stirred egg and vanilla. Slowly add the dry ingredients and keep stirring. Add enough milk to make the dough come together, just soft enough but not wet.
Gather the dough on a floured surface. If it feels too sticky, add few tsps of flour, starting by 1 tsp at a time and kneading very little. Divide the dough into 2 balls. Roll out the dough to desired thickness. I like rolling the dough to a medium thickness (Not too thin and not too thick) to get a chewy soft cookies but it's totally about preference. Cut out desired shapes using cookie cutters and transfer the cut out cookies to a lined baking sheet. Bake cookies by rotating the tray halfway for about 6-8 minutes depending on your cookie thickness. I suggest keeping an eye and as soon as you see the top getting little bit golden, take them out. (You can bake just 1 cookie as I do initially to test and get a hang of your oven!). It always helps. Learnt after burning 2 whole batches of these cookies (I ended up baking the cookies for a total of 6 minutes with rotating halfway to achieve the perfect chewy soft cookie texture). Let them cool on baking tray for few minutes and then transfer to a cooling rack for cooling completely.
Icing the cookies.
In a disposable glass or bowl (if using or regular), add white powdered sugar. To it add water 1 tbsp at a time and keep stirring. Add corn syrup and vanilla extract and stir again until smooth. If you feel the icing is too thick, you can add more water slowly. If too thin, add powdered sugar.
Divide the icing in 2 disposable glasses if going to add colors. Add red color in one of the icings and mix well. Keep adding red food color drop at a time and mixing until you reach the desired pink color you are going for. Remember that a drop of food coloring goes a long way so start by adding a drop, mixing really well and to reach your desired color move ahead by adding color drop by drop.
To apply icing on the cookies, I find it easiest to do in ziplock bags. As shown in the picture in my earliert "sugar cookies from scratch post", in a clean glass stuff one corner of the zip lock bag and add the icing. Twist the bag around that corner and cut a very very small hole on that corner using scissors. Make sure the hole is not too large or it will be hard to make outlines.
Decorate the cookies. I like making outlines first and then filling or flooding the cookies by squeezing some icing in the center of the cookie and spreading it using back of a spoon.
Next if you are going to write to make conversation cookies, Take your pink icing ziplock and start writing (make sure the cut you make in the corner of your ziplock is way smaller than what you made when you were flooding the cookies with icing.)
Let the icing set overnight. No need to cover the cookies. Next day once icing is all set, store the cookies in an airtight container.
Notes
These stay fresh easily upto a week to 10 days or may be more. Make sure to keep them in airtight containers or ziplock bag tightly sealed.
Sugar cookie recipe from my
" From scratch sugar cookies"
.
More Cookie Recipes: