Easy Baked Dessert Nachos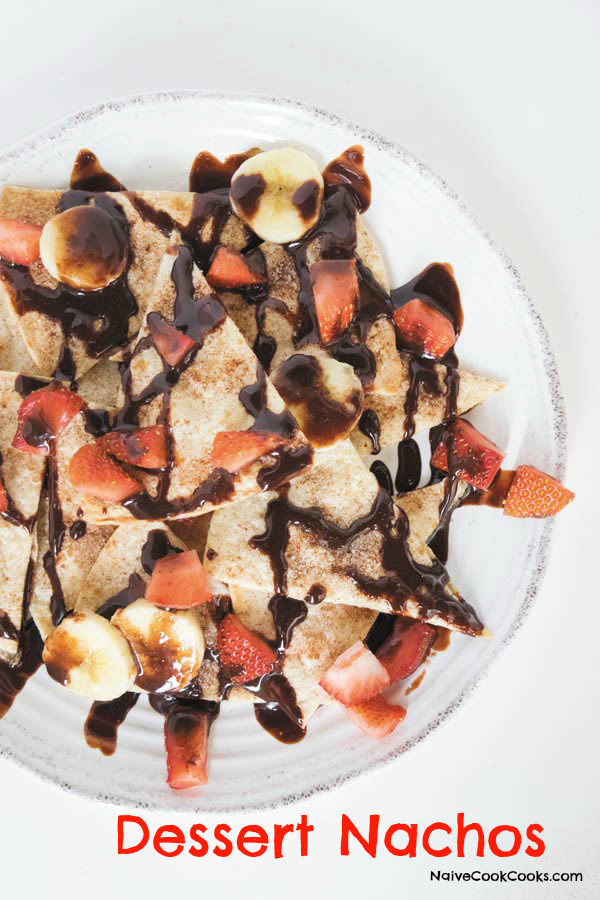 2 large soft tortillas
Melted butter for brushing on tortillas
2 tbsp granulated sugar
1 tbsp cinnamon powder
½ cup milk
¾ cup white powder sugar
½ cup cocoa powder
1 tsp vanilla extract
For serving :
Fresh fruits such as strawberries, bananas, blueberries, mangoes.
Whipped cream
Pre heat oven to 350F.
Brush both the sides of each tortilla with melted butter. Cut the buttered tortillas into triangles. Place them on a parchment paper lined baking sheet without overlapping.
In another bowl, mix sugar and cinnamon. Sprinkle the tortilla chips with this cinnamon sugar generously.
Bake for 11-12 minutes. Once you take them out, let them cool. They will get crispy as they cool down.
Meanwhile chop your fruits and make chocolate sauce.
For making chocolate sauce add all the ingredients except vanilla in a put and bring it to a boil.Cook it for 3-5 minutes until thick. Stir in vanilla and let the sauce cool down. It will thicken up as it cools down.
Now once ready to eat, place cinnamon sugar chips in a plate, drizzle with chocolate sauce and add chopped fruits, more chocolate sauce and whipped cream! Enjoy.
Recipe by
Naive Cook Cooks
at https://www.naivecookcooks.com/easy-baked-dessert-nachos/