It's time for M&M's® Pecan Pie Pizza! Soft & Chewy Sugar Cookie Crust stuffed with M&M's® Pecan Pie & Pecans and served with a dreamy  Pillsbury™ Creamy Supreme® Cream Cheese Icing. Easiest Fall Dessert ever!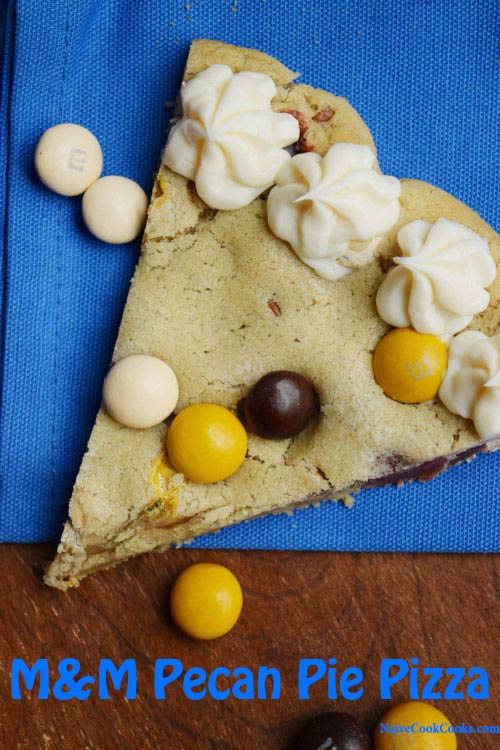 You know what every hump day means?!! Eating the most delicious dessert pizza, atleast that's what it means for me today because I have a giant M&M's® Pecan Pie Pizza sitting and staring at me and making me want to eat a slice with my morning tea! Is that even allowed?! Well there are pecans in there which are basically considered health food (sort of!) so I suppose it justifies this whole eating desserts for breakfast thing!
It's finally cooling down here and I can see fall is almost here! I went to Walmart the other day and I was surprised to see pumpkins all around! That made me realise that I need to put my pumpkin recipe thinking cap on place now! For us winters are the best time of the year. Especially I love how everything starts to slow down around fall and people start to get into the holiday mood – lots of great food, family time. For me it especially means making/eating tons of delicious comforting foods and sitting on couch with a big mug of coffee (yes I will take coffee over hot chocolate any day!) and reading my gazillion of books which I need to start at some point (though I am lucky to get such days these days!).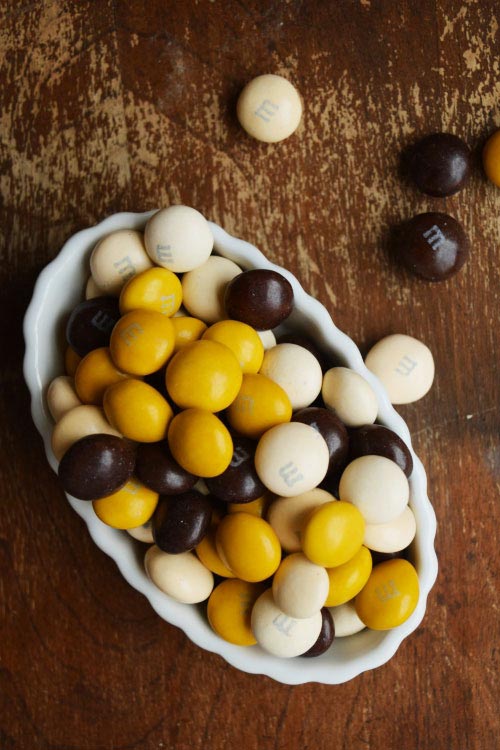 So back to this dreamy dessert pizza! I saw the other day that there is a new M&M's® Pecan Pie flavor on the shelves in walmart! My first reaction was like what?! That's crazy! But I ended up buying not just one as I was supposed to for recipe creation but 4 packets of these ridiculously delicious M&M's® Pecan Pie flavor. It's like fall in your mouth! I knew the best use to make these delicious M&M's® shine would be to create a pecan pie into pizza form with lots of pecans (if you are into that sort of thing!) & obvious choice M&M's® Pecan Pie so here we are with a delicious soft & chewy pecan pie pizza with a SOFT CHEWY SUGAR COOKIE crust with M&M's® Pecan Pie and pecans stirred inside the dough and baked until just cooked and then piled up with more toppings because well why not? and served with this easy Pillsbury™ Creamy Supreme® Cream Cheese Icing.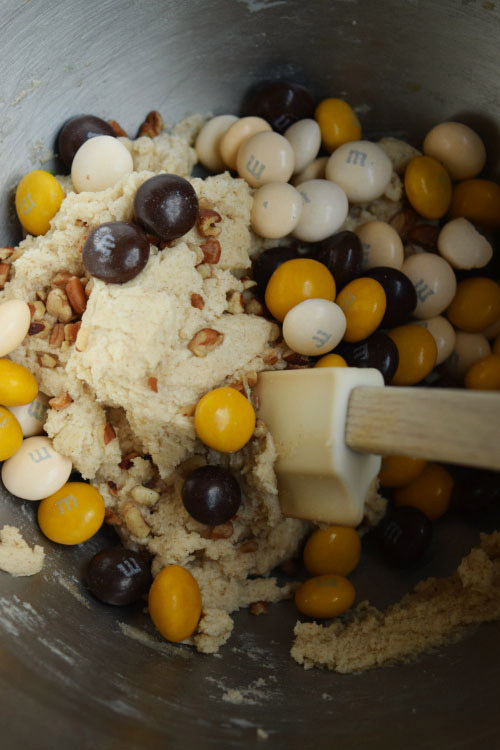 Yes I am using icing from a can?! I know I am not much of a can food person and if you follow me here, you might know that I try my best to create recipes from scratch! But when short on time & still craving a delicious treat, it goes without saying that Pillsbury icing is my go to choice. So I will say that this is really easy delicious dessert for potlucks or taking for a friend's place! Simple easy ready in under an hour!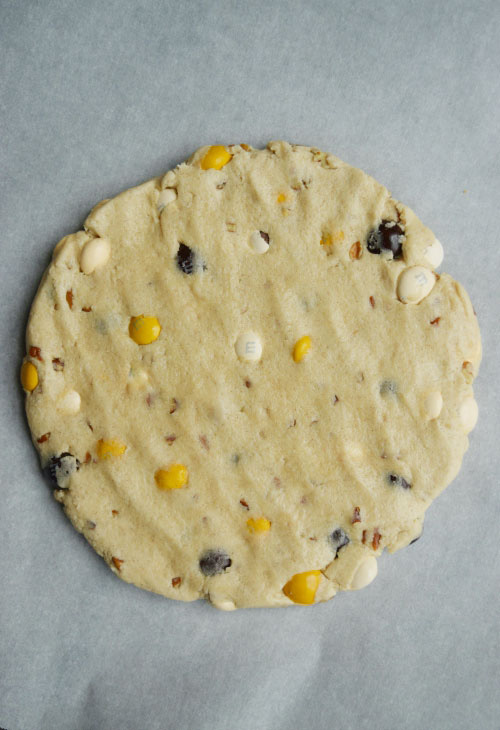 Here are some step by step pictures to make it easier for you. This takes start to finish 1 hour and everybody went nuts after eating this! It's seriously good stuff!
Mix all the dry ingredients in a bowl and keep aside.
In another bowl ( bowl of stand mixer if using a stand mixer or another large bowl if using your hands to mix), cream butter & sugar. To it add eggs, vanilla extract and mix. Now add the dry ingredients and mix until dough comes together and then fold M&M's® and pecans.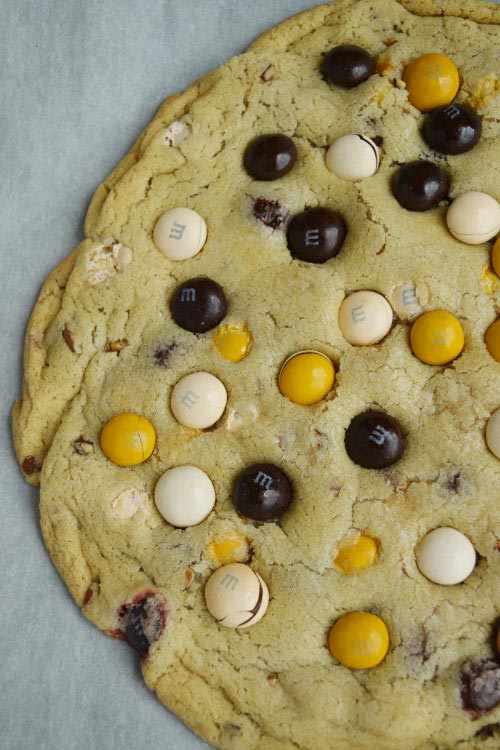 Turn the dough on a baking sheet lined with parchment paper and using your hands to pat it down into a circle around 1/4′ thick.
Bake and top it with more M&M's® for aesthetics and yes for taste!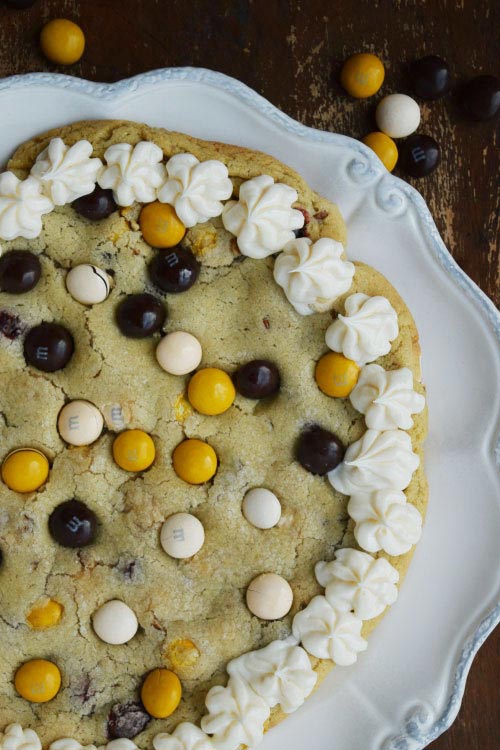 Follow along for a lot more delicious treats and life happenings on INSTAGRAM || FACEBOOK ||PINTEREST ||TWITTER ||GOOGLE+
M&M's® Pecan Pie Cookie Pizza
Ingredients
½ cup + 2.5 Tbsp unbleached all purpose flour
¼ tsp baking soda
⅛ tsp baking powder
1 tsp cinnamon powder
½ stick unsalted butter, softened (4 tbsp)
6 Tbsp white granulated sugar
¼ egg, stirred (You can REPLACE EGG by chia seeds egg : For making 1 chia egg, mix 1 tbsp powdered chia seeds + 3 tbsp water and let it sit until thick for about 15 mins. Use ¼ of this in place of egg)
½ tsp vanilla extract
1 Tbsp milk (any fat content)
¾ cups M&M's® Pecan Pie
1-2 tbsp pecan pieces or more/less as per taste
1 cup Pillsbury™ Creamy Supreme® Cream Cheese Icing
Instructions
Preheat oven to 375F.
In a small bowl, stir together flour, baking powder, baking soda & cinnamon. Keep it aside.
In a large bowl or bowl of stand mixer if using, cream butter & sugar until smooth. Beat in the stirred egg or chia egg and vanilla. Slowly add the dry ingredients and keep stirring. Add enough milk to make the dough come together, just soft enough but not wet. Stir in pecans & ½ cup M&M's®
Place dough on a parchment paper lined baking sheet and using hands flatten it out into a circle about ¼" thick. Bake for 8-10 mins rotating halfway. Take it out. It might feel sort of uncooked but don't worry as it will harden as it cools. After about 5 mins add the remaining ¼ cup M&M's® and push them down on the surface.
Once completely cool, pipe frosting.
Enjoy with a chilled glass of Snapple Apple Juice.
P.S Sugar cookie recipe:
https://www.naivecookcooks.com/from-scratch-sugar-cookies