Double dose of chocolate makes these THICK & CHEWY Double Chocolate Chip Cookies irresistible! Hard to stop at just one, make a batch & you will never go back to another recipe!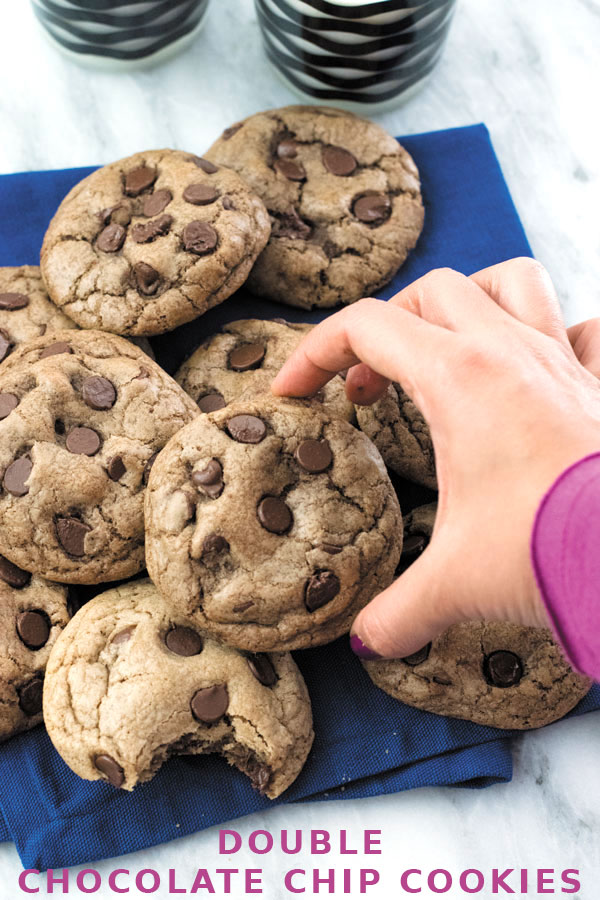 Happy Monday friends!! How was your weekend?! Mondays are always hard for me after 2 days of fun and today with weather being all gloomy I am in serious no work mode! Even though my mind knows that I have all this work to do, my heart wants me to watch THIS movie over and over again and do no work :P! I have always loved this movie but totally forgot about it until recently when this weekend at night I baked a big batch of cookies and we watched it while eating cookies! And a glass of cold milk, always! Ronak finds it weird that I always go for a glass of chilled milk whenever I am eating cookies or something sweet but to me that just makes the whole experience much more tastier!
So as I was saying I watched this movie again and again and even right now while writing this post, I have it playing in the background. I go through such phases where I am all over a particular movie/song and can't go without it for days and then all of a sudden, Boom, I am done with it for like years or sometimes forever! Is that weird?! 😛
These cookies friends! I got inspired to make these from my Old Fashioned Chocolate Chip Cookie recipe. Those cookies are thick, chewy with loads of chocolate and since I perfected them , both of us have never liked any other chocolate chip cookie better! So I thought it was about time that I give them a slight twist. How about making a chocolate cookie more chocolatey?! That's what I did when I added some cocoa powder. I sent a huge batch of these to our Uncle's place and hope that they enjoy these as much as we did!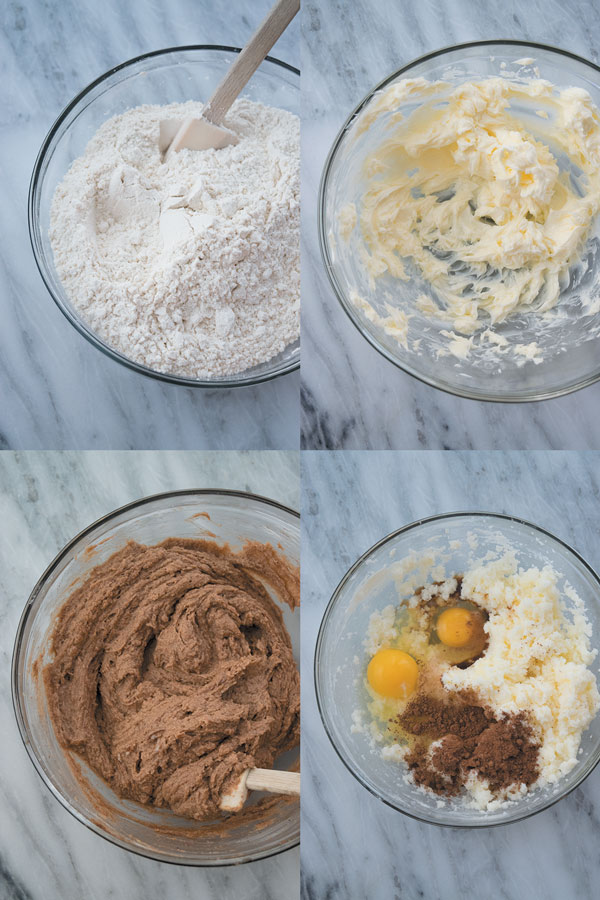 Making chocolate chip cookies at home is really simple, just basic ingredients. First dry ingredients i.e flour, salt and baking soda are mixed in a bowl. In another bowl soft room temperature butter is creamed and then mixed with sugar, cocoa powder, eggs, vanilla extract and mixed until smooth. Then flour mix and chocolate chips are folded.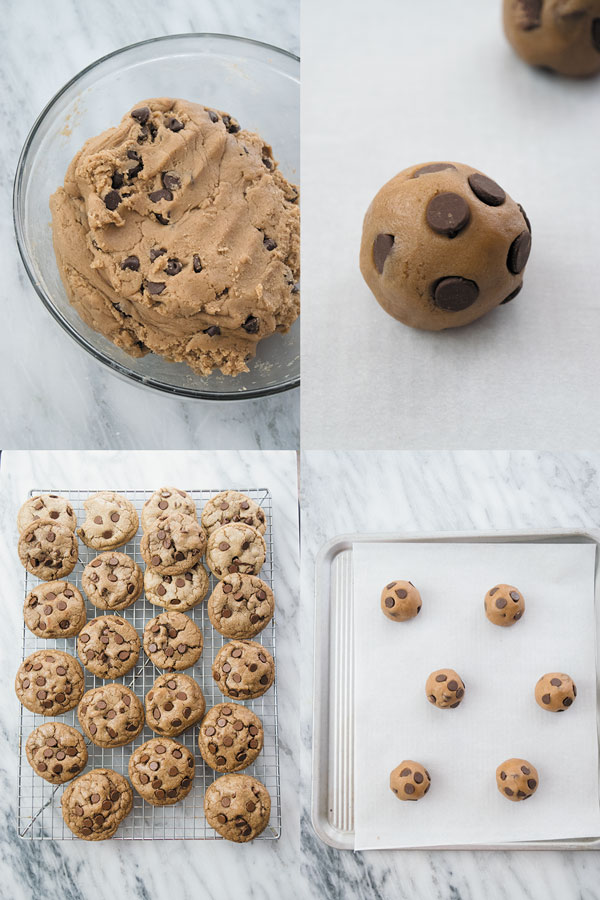 Make sure after you make the dough, you cover it tightly and chill the dough in fridge for 30 mins to overnight as that's what makes these cookies thick & chewy! So this step is a MUST. Then they are rolled into tight tall balls and baked on a parchment paper for about 11-13 minutes and cooled completely! So good with a glass of cold milk!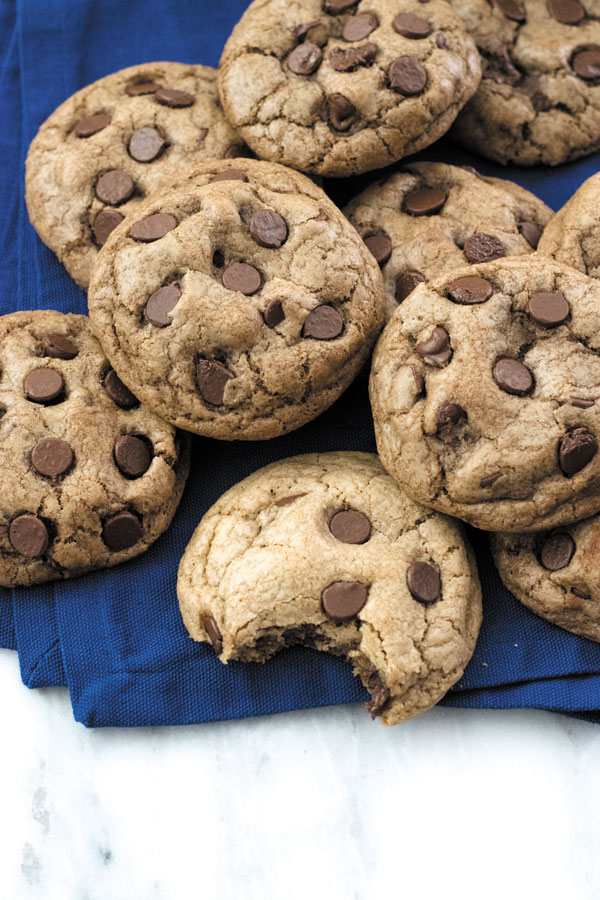 If  you enjoyed this recipe, don't forget to FOLLOW me on  INSTAGRAM ||FACEBOOK||PINTEREST ||TWITTER ||GOOGLE+ || BLOGLOVIN || YouTube
Double Chocolate Chip Cookies
Ingredients
Double Chocolate Chip Cookies -
3 cups all purpose flour (16.5 oz)
1 tsp baking soda
1 tsp salt
1 cup (2 sticks) unsalted butter at room temperature (226 gms or 8 oz)
2 cups white granulated sugar (13.5 oz)
2 large eggs
2 tsp vanilla extract
4 tbsp unsweetened cocoa powder
2 cups semi sweet chocolate chips (12 oz) plus extra
Instructions
Double Chocolate Chip Cookies -
Preheat oven to 375F.
Whisk flour, baking soda and salt in a medium size bowl.
In a large bowl, beat butter until light and fluffy. Add sugar to the butter and beat it until well blended. Add eggs, vanilla and cocoa powder. Beat until mixture becomes smooth and creamy. Add flour mixture to it and beat until just incorporated. Stir in the chocolate chips.
Cover the dough and let it chill in fridge for a minimum of 30 mins to overnight. This helps in making nice thick chewy cookies that don't spread too much.
Spray a baking sheet with non stick oil or use a parchment paper or baking mat over baking sheet. Roll around 2-3 tbsp cookie dough into a tight ball and place them on sheet at least 2-3 inches apart. Insert some more chocolate chips on the dough balls and Bake them for 11-13 minutes or until golden brown.
Let them cool on the baking sheet for a minute or two. Then transfer the cookies on a cooling rack and let them cool completely.
Store in airtight container at room temperature.
Best enjoyed with a glass of chilled milk.
Notes
Ami says:
Cookie recipe adapted from
HERE
.
Some more COOKIE recipes ->>