CPK Inspired BBQ Chicken Puff Pastry Pizza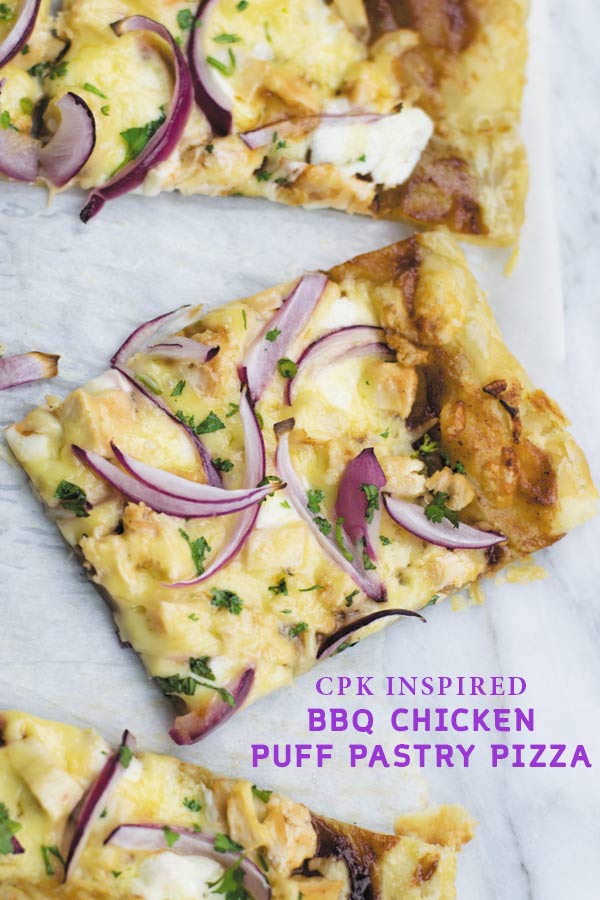 1 chicken breast
¼ cup of your favorite BBQ sauce
Salt & Black pepper to taste
1 sheet of Puff pastry or use my homemade Pizza Crust recipe
¼ cup of your favorite BBQ sauce plus extra
Chopped & cooked BBQ seasoned chicken
½ cup shredded mozzarella cheese
½ cup shredded smoked gouda cheese
⅓ cup red onion, sliced thin
Finely chopped cilantro, for garnishing
Preheat oven to 350F.
In an oven safe baking dish, place cleaned chicken breast. Sprinkle salt and pepper on both sides and add ¼ cup BBQ sauce all over the chicken. Using your hands rub the sauce all over and under the chicken breast. Bake in a 350F oven for 15 minutes. Flip the chicken breast and if it's dry add more sauce and bake for another 10-12 minutes or until chicken is no longer pink in the center where the thickest part is.
Let it cool enough to touch. Chop it into small pieces.
Increase oven temperature to 425F.
While chicken was cooking, make sure you get everything else ready to go.
Lay the thawed puff pastry on a parchment paper lined baking sheet and make sure to sprinkle flour all over the parchment paper. Spread BBQ sauce all over the puff pastry leaving about ½-1" borders all around. Add chopped chicken, then shredded mozzarella and shredded smoked gouda. Lay sliced red onions. Bake for about 15-17 minutes or until cheese is melted and bubbly and puff p[astry is goldenish.
Take it out of the oven and let it cool down for 5 minutes. Cut into slices using pizza cutter or knife and serve.
Recipe by
Naive Cook Cooks
at https://www.naivecookcooks.com/cpk-inspired-bbq-chicken-puff-pastry-pizza/