Easy 6 Ingredient Chocolate Peanut Butter Rice Krispie Treats are an easy make ahead back-to-school treats to make which are not only delicious but good for your kids health too!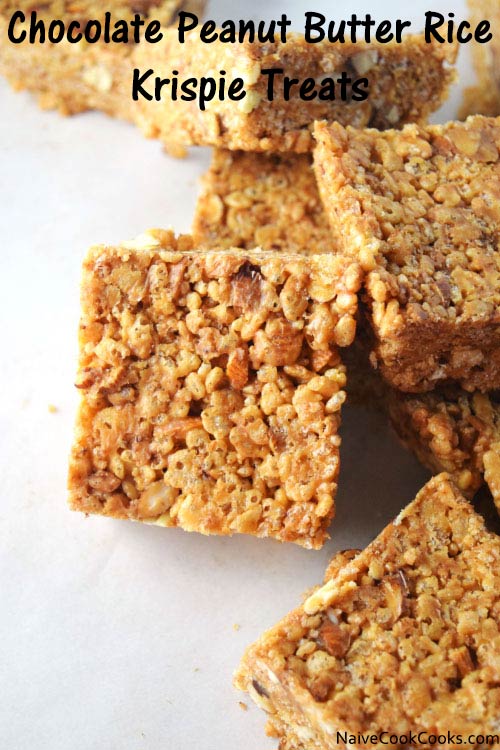 Helloo Hump Day!
I have something special for you all today! Yes first I have these ridiculously easy "6 INGREDIENTS only" Chocolate Peanut Butter Treats ( only whole ingredients, NO marshmallows!) which you can make & keep stocked up in your refrigerator at all times. They make for a really delicious after school treats for kids, or even after work treats when you are dangerously hungry and while in the process of fixing something quick to eat for dinner, you end up stuffing yourself with lots of  junk food! Sounds familiar?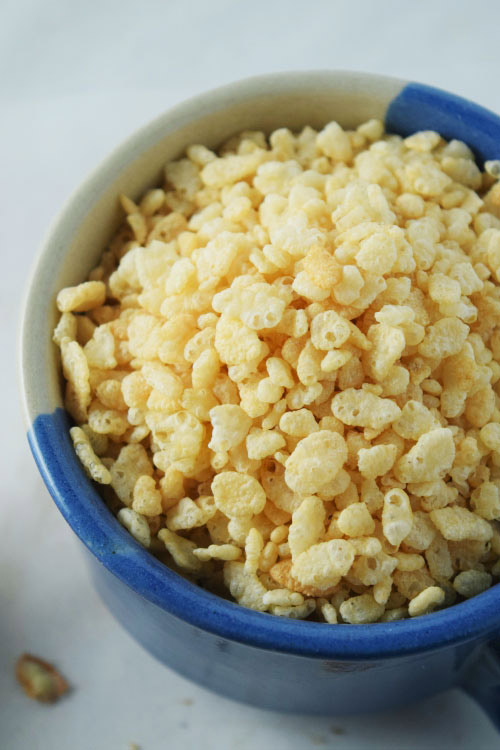 Atleast I have this problem. Even though I work from home & my office is basically my kitchen since I am almost all day there and a desk close to it where I do all my writing and other blog related stuff but days when Jerry comes home super late from work, I literally starve to death! I know it sounds funny but I try not to eat dinner until he comes home because it's just so much fun to eat dinner with him and those few hours are the worst for my body as I eat basically all the junk food in sight! But since I made these, things have been better!
These are so so easy to make not to mention really delicious and no funny ingredients!! Just simple honey, almonds, peanut butter, rice krispies, chocolate & pinch of salt is all there is! But these are super sturdy even without marshmallows and taste even better as well helooo GUILT FREE EATING!
For this recipe, PB & Co. were kind enough to send me some of their samples to create these delicious bars! We have been eating chocolate peanut butter from PB & Co. since a long time or basically for a good few years if I remember right because they taste the BEST! They have no artificial ingredients and to be more precise their products are made using only few basic ingredients unlike lots of other peanut butters which we find in grocery stores! Remember how in some of those the ingredient list is endless?!Well thankfully not here.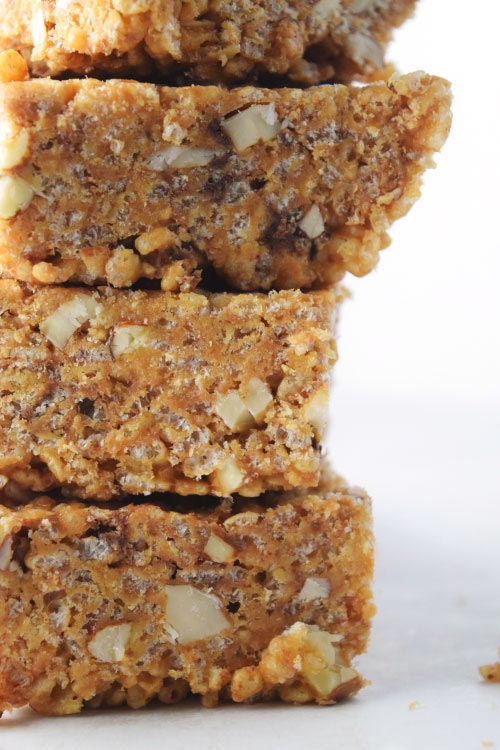 Since we love their products so much, I asked them to do a giveaway for you amazing readers! It's all because of you lovely readers and this blog won't be where it is today without YOU all. So here is a THANK YOU gift from me to you sponsored by our amazing friends at PB & Co.
Follow along for a lot more delicious treats and life happenings on INSTAGRAM || FACEBOOK ||PINTEREST ||TWITTER ||GOOGLE+

Chocolate Peanut Butter Rice Krispie Treats
Ingredients
¾ cup coarsely chopped almonds
3 cups rice krispies
Pinch of salt
¼ cup bittersweet chocolate chips (or your favorite chocolate chips)
½ cup PB & Co. Peanut Butter (I used maple peanut butter but you can use plain / crunchy Peanut Butter as well!)
⅜ cups honey
Instructions
Preheat oven to 350F.
Place chopped almonds on a baking tray and bake in preheated oven for good 7-8 mins. Take them out and keep aside.
In a bowl ,add rice krispies, roasted almonds, salt, chocolate chips and stir them around.
In a small pot, add peanut butter & honey and melt it on really really low gas until peanut butter & honey mixture is all smooth and melted.
Add this mix to your dry ingredients and start stirring. Keep mixing until all the ingredients are combined properly.
Now take a 8"*8" square baking tray and place a parchment paper. Add the mixture and using a spoon spread it around and pat it down tightly so its packed tightly in the space. Cover and chill in refrigerator for 2-3 hours. Take them out. Cut them into 9 bars and keep in an airtight container or ziplock bag in refrigerator!
More Dessert Recipes: