Chocolate Peanut Butter Rice Krispie Treats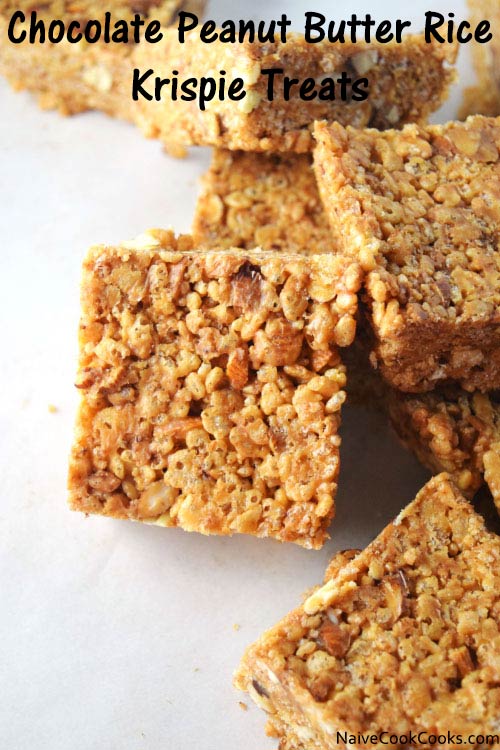 ¾ cup coarsely chopped almonds
3 cups rice krispies
Pinch of salt
¼ cup bittersweet chocolate chips (or your favorite chocolate chips)
½ cup PB & Co. Peanut Butter (I used maple peanut butter but you can use plain / crunchy Peanut Butter as well!)
⅜ cups honey
Preheat oven to 350F.
Place chopped almonds on a baking tray and bake in preheated oven for good 7-8 mins. Take them out and keep aside.
In a bowl ,add rice krispies, roasted almonds, salt, chocolate chips and stir them around.
In a small pot, add peanut butter & honey and melt it on really really low gas until peanut butter & honey mixture is all smooth and melted.
Add this mix to your dry ingredients and start stirring. Keep mixing until all the ingredients are combined properly.
Now take a 8"*8" square baking tray and place a parchment paper. Add the mixture and using a spoon spread it around and pat it down tightly so its packed tightly in the space. Cover and chill in refrigerator for 2-3 hours. Take them out. Cut them into 9 bars and keep in an airtight container or ziplock bag in refrigerator!
Recipe by
Naive Cook Cooks
at https://www.naivecookcooks.com/chocolate-peanut-butter-rice-krispie-treats/