Lentil Quinoa Veggie Bowl – Quinoa Khichdi is a warm, delicious and full of flavors. Packed with tons of veggies and two kinds of lentils which you can't even tell once it is cooked. Perfect for picky eaters!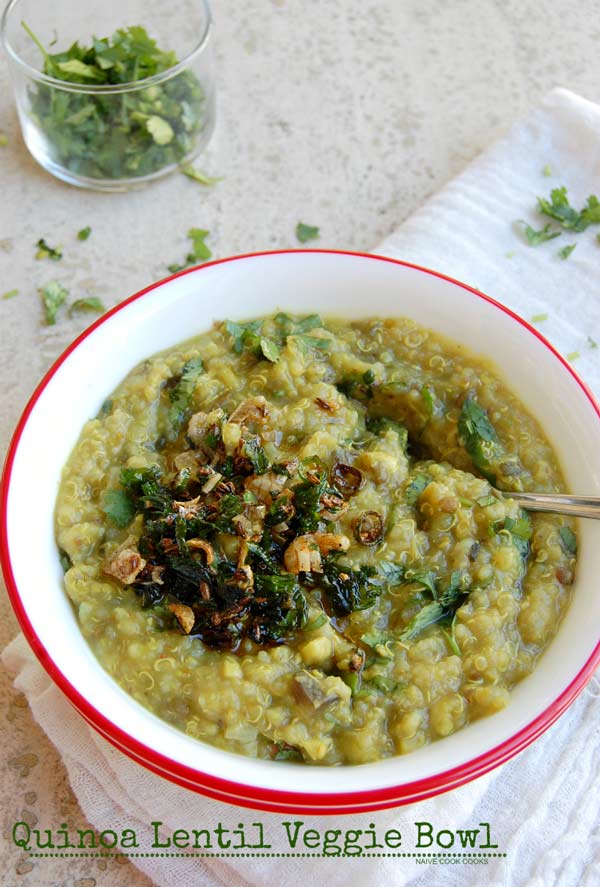 A bowl full of goodness. Weather is getting hot at least in this part of the world but there are days when the only thing I want to do is cozy up with my favorite book along with a big warm bowl of this quinoa dish with chilled yogurt on the side. You know that feeling, right? I love eating chilled yogurt with almost anything but if you are one of those not-too-yogurt-fan kind of person, you can totally go for sour cream. I won't judge.
This quinoa dish – packed with all sorts of veggies, lentils, quinoa and tons of flavor is one of the easiest and simplest weeknight meal recipes. You can easily throw all the ingredients in a pressure cooker or pot and cook it at your convenience.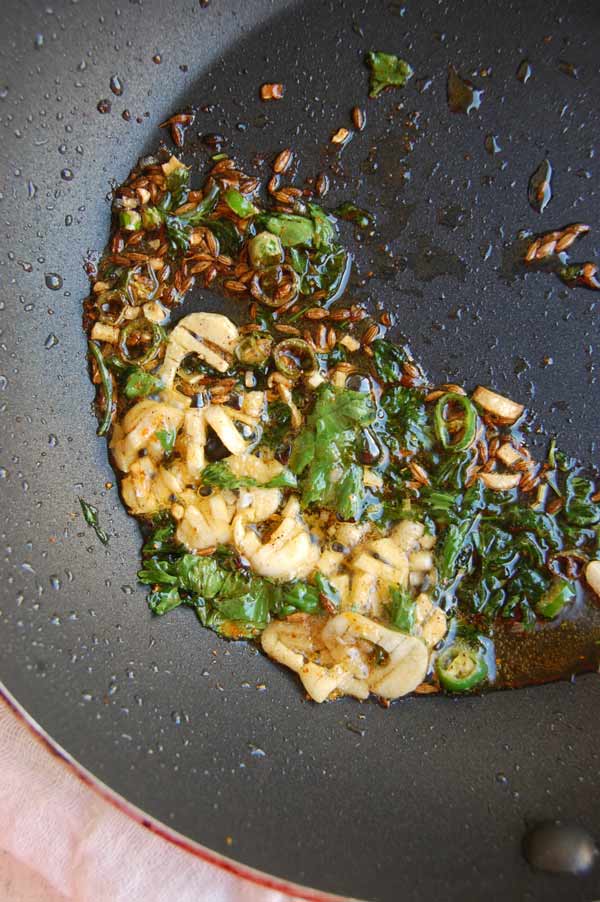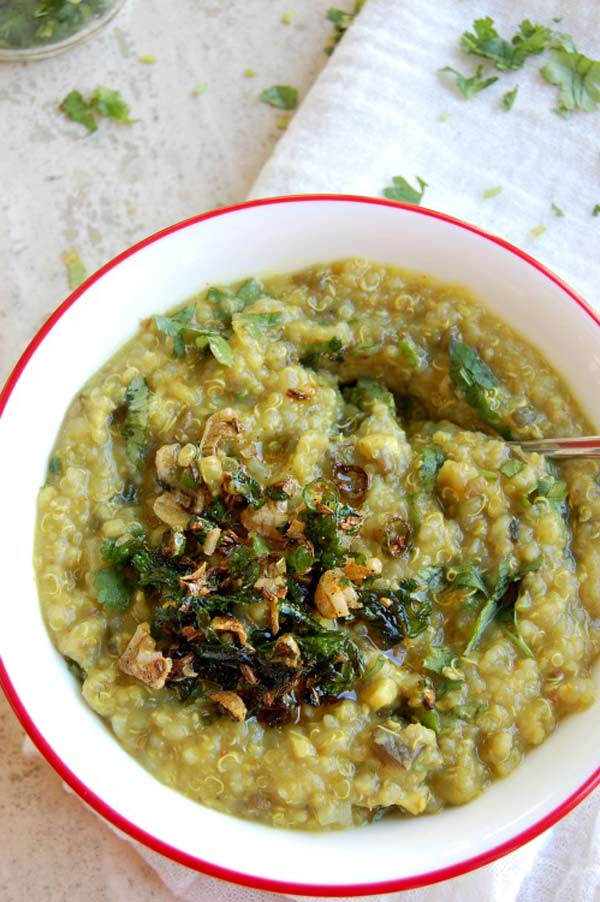 Best part? This recipe is totally customizable. You can add whatever veggies you have lying around, you can play with different lentils too though my personal favorites are the ones I used here. To make it nut free, you can omit peanuts. Easiest and truly wholesome meal to put together while relaxing and spending time with family.
You see this tempered garlic, green chili and cilantro. Do not skip it at any cost! You need to trust me here. It just elevates this dish and takes it to some other level and this oil makes it so aromatic. I like eating mine with tons of this tempering thrown on top and with some chilled yogurt on side. Ohh a glass of red wine too!!

Lentil Quinoa Veggie Bowl - Quinoa Khichdi
Ingredients
1 cup dry quinoa, rinsed with water
¼ cup green moong dal
¾ cup yellow moong dal
3 Tbsp Crushed peanuts
¾ cups eggplant, chopped fine
½ cup green peas
¼ cup carrots, finely chopped
¼ cup red onion, finely chopped
Handful spinach, chopped
5 garlic cloves, grounded
½ tsp ginger paste
1 tsp garlic, chopped plus additional for tempering
1 tsp ginger, chopped
5 Green chili, grounded or in paste form
½ tsp green chili, chopped plus additional for tempering
Salt to taste
Pinch of asafoetida
¼ tsp red chili powder
1 tsp coriander powder
½ tsp turmeric powder
6 Tbsp oil or ghee for tempering
1 Tbsp cumin seeds for tempering
Cilantro leaves for tempering
Yogurt (optional)
Instructions
In a pot, thrown in all the ingredients and to it add 4 cups of water.
If cooking in pressure cooker, close the lid and let it cook on low-medium heat. Let it whistle 4-5 times. Turn off the gas and let it sit until all the steam escapes by itself. Open and check. At this point you might need to add another 3 cups of water. Mix and adjust salt, green chili, garlic or ginger. Let it cook uncovered for few more minutes until you achieve desired consistency.
If cooking in pot, cover and bring to a boil. Lower the heat and let it cook for 45 mins to an hour and keep stirring occasionally to prevent it from sticking. Taste and adjust salt, green chili, garlic or ginger if necessary. If in between cooking it starts getting too dry, add water. Serve in big bowls with tempered oil and chilled yogurt.
Tempered oil
Add oil or ghee in a small pan. Once hot, add cumin seeds, garlic, green chili and chopped cilantro.
P.S Would love to know how you like eating quinoa? Sweet or savoury?