This shop has been compensated by Collective Bias, Inc. and its advertiser. All opinions are mine alone. #MejoresRecetas #CollectiveBias
Delicious Chipotle Turkey Tacos with zesty Cranberry – Tomatillo Salsa!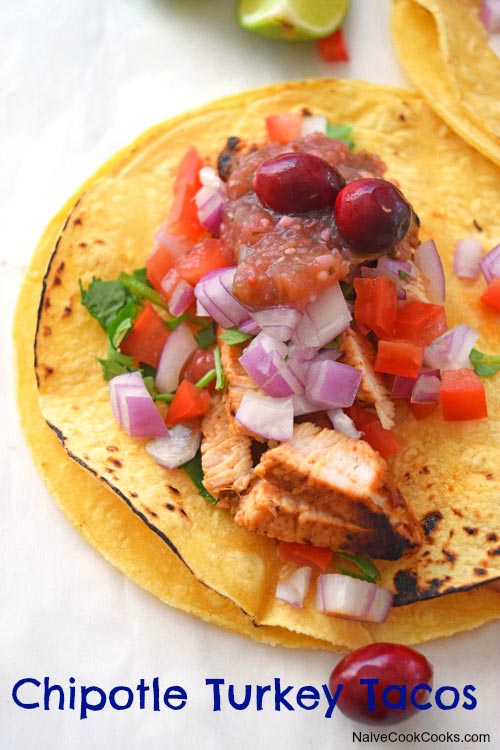 It's November and that means thanksgiving is not far away and that means I can talk about Turkey!! Around here we mostly eat chicken because that's what we love and find much healthier but it's funny how we neglect it's much healthier cousin turkey! But since it's November let's dive into turkey talk!
Today I got you delicious Chipotle flavored turkey tacos along with tangy spicy cranberry – tomatillo salsa! Yes you heard me right – we are doing everything fall here today! These tacos are really easy – all you need is few minutes before bedtime and simply throw turkey along with chipotle sauce in a ziplock bag and refrigerate. Now around dinner time, cook that turkey, watch it will smell so good for all that overnight sitting in that delicious sauce and meanwhile make you salsa and chop some veggies! There you have a delicious healthy dinner ready with minimal efforts!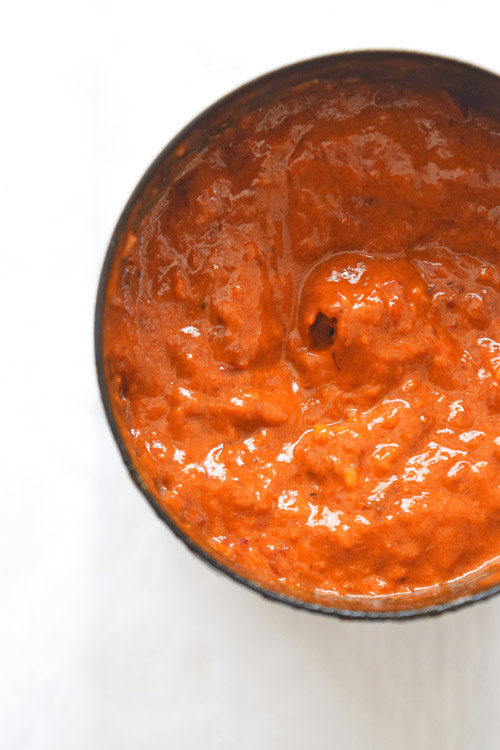 Now onto this salsa which you NEED in your life! It's like a more sophisticated version of salsa verde. Here tomatillos and fresh cranberries are softened by boiling in water and then everything is blended together and then cooked! I like it to be on the spicy & tangy side but you can totally add some sweetener if you wish!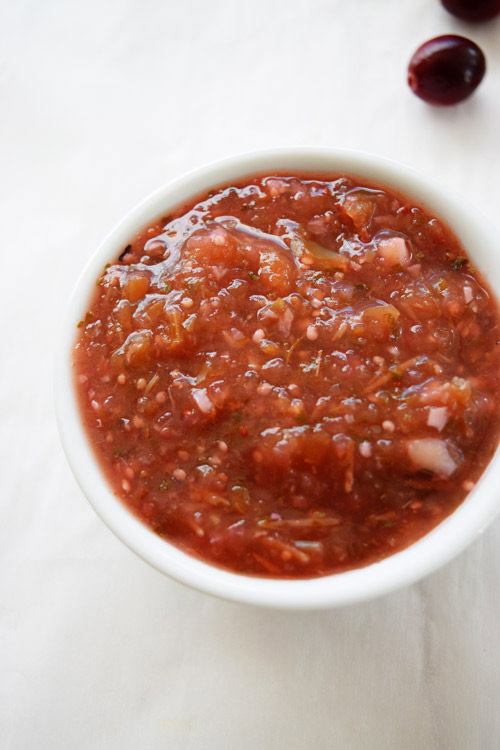 I used La Morena products for my chipotle sauce and salsa and I must say I am converted. I have been trying different brand of chipotles all my life but since trying these ones with NO PRESERVATIVES and so much better taste, I am going to be going back for more of these! And with the holiday season, we all need easy but delicious dinners and lately I have been using La Morena chipotle chilies, beans and salsas to throw a quick dinner for my family which I know is much healthier than eating outside as these products are preservative free!!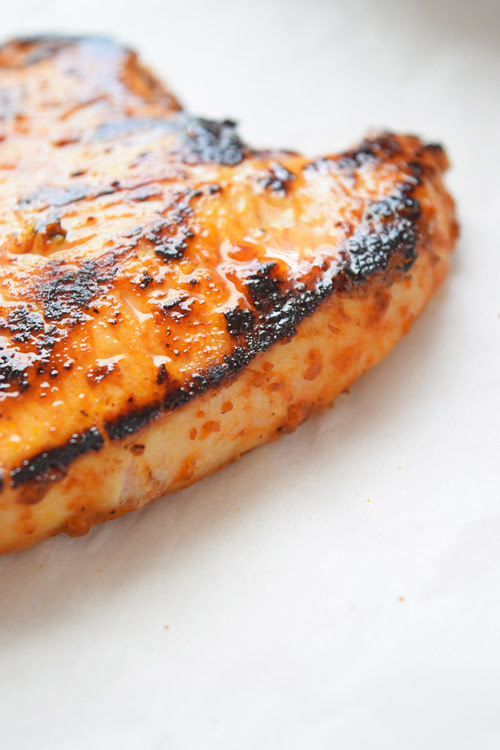 Don't forget to enjoy these delicious tacos with chilled Cola!
And if you are interested in more this sort of recipes, then do search using #MejoresRecetas hashtag!
Follow along for a lot more delicious treats and life happenings on INSTAGRAM || FACEBOOK ||PINTEREST ||TWITTER ||GOOGLE+
Chipotle Turkey Tacos
Ingredients
Turkey
1 lb turkey breasts
1 tsp salt
½ tsp black pepper
2 chipotle peppers (I used La Morena 7oz Chipotle Peppers, I can)
1 tbsp olive oil
¼ tsp paprika
4 garlic cloves
2 tbsp chopped red onion
1 tbsp adobo sauce ( I used the sauce from chipotle peppers can)
1 tsp honey
Cranberry Tomatillo Sauce
5 tomatillos
½ cup fresh cranberry
½ cup chopped red onion
1 jalapeno
¼ cup fresh cilantro
Salt to taste
1 tsp cumin powder
½ tsp oregano
6 garlic cloves
Salt to taste
Lime juice, optional
Sweetener if you want little sweeteness
Corn tortillas
Red onions
Tomatoes
Sour cream
Shredded cheese
Instructions
Add salt, pepper, chipotle peppers, olive oil, paprika, garlic cloves, chopped red onion, adobo sauce and honey in a blender and blend until you get a smooth sauce. In a ziplock, add cleaned up turkey breasts and to it add this chipotle sauce. Massage using your hands and let it sit in refrigerator for 4-8 hours.
Meanwhile, get your salsa ready. In a microwave safe bowl, place peeled tomatillos and cranberries along with some water and cook for 3-4 minutes in microwave. No add softened tomatillos, cranberries, red onion, jalapeno, cilantro, garlic cloves, salt, cumin powder, oregano in a food processor and blend until it's pureed but still somewhat chunky. Taste and adjust seasonings. You might want to add lime juice and/or honey or sugar as per your taste.
Transfer it to a pot and cook on medium heat for 5-7 minutes. Keep it aside.
Now cook turkey with little oil on a skillet and chop in pieces.
Assemble tacos by warming up the tortillas and placing some cooked turkey in there along with salsa, onions, tomatoes and cheese/sour cream! Enjoy with chilled beer.
More Simple Meals: