Chipotle Turkey Tacos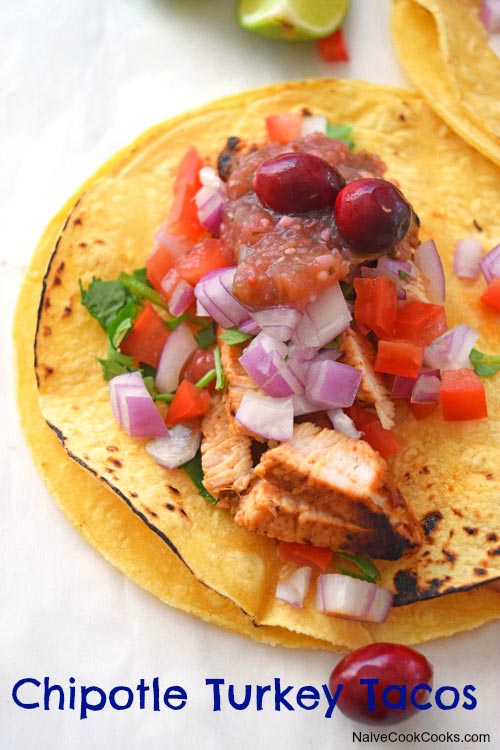 1 lb turkey breasts
1 tsp salt
½ tsp black pepper
2 chipotle peppers (I used La Morena 7oz Chipotle Peppers, I can)
1 tbsp olive oil
¼ tsp paprika
4 garlic cloves
2 tbsp chopped red onion
1 tbsp adobo sauce ( I used the sauce from chipotle peppers can)
1 tsp honey
5 tomatillos
½ cup fresh cranberry
½ cup chopped red onion
1 jalapeno
¼ cup fresh cilantro
Salt to taste
1 tsp cumin powder
½ tsp oregano
6 garlic cloves
Salt to taste
Lime juice, optional
Sweetener if you want little sweeteness
Corn tortillas
Red onions
Tomatoes
Sour cream
Shredded cheese
Add salt, pepper, chipotle peppers, olive oil, paprika, garlic cloves, chopped red onion, adobo sauce and honey in a blender and blend until you get a smooth sauce. In a ziplock, add cleaned up turkey breasts and to it add this chipotle sauce. Massage using your hands and let it sit in refrigerator for 4-8 hours.
Meanwhile, get your salsa ready. In a microwave safe bowl, place peeled tomatillos and cranberries along with some water and cook for 3-4 minutes in microwave. No add softened tomatillos, cranberries, red onion, jalapeno, cilantro, garlic cloves, salt, cumin powder, oregano in a food processor and blend until it's pureed but still somewhat chunky. Taste and adjust seasonings. You might want to add lime juice and/or honey or sugar as per your taste.
Transfer it to a pot and cook on medium heat for 5-7 minutes. Keep it aside.
Now cook turkey with little oil on a skillet and chop in pieces.
Assemble tacos by warming up the tortillas and placing some cooked turkey in there along with salsa, onions, tomatoes and cheese/sour cream! Enjoy with chilled beer.