Sinfully Fudgy Brownies super rich, fudgy and chocolatey with a shining crackly crust and a gooey fudgy interior! Best fudgy and decadent brownies you can make at home in under an hour!!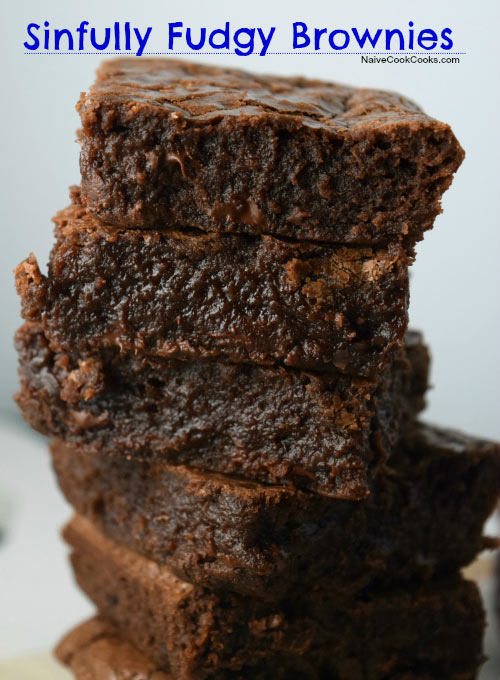 These brownies!
The BEST FUDGIEST BROWNIES in the entire world! I have been craving super decadent brownies lately but even though I love the store bought ones, this time it just wasn't enough. I was craving seriously delicious home-made from-scratch sort of stuff and these are exactly that.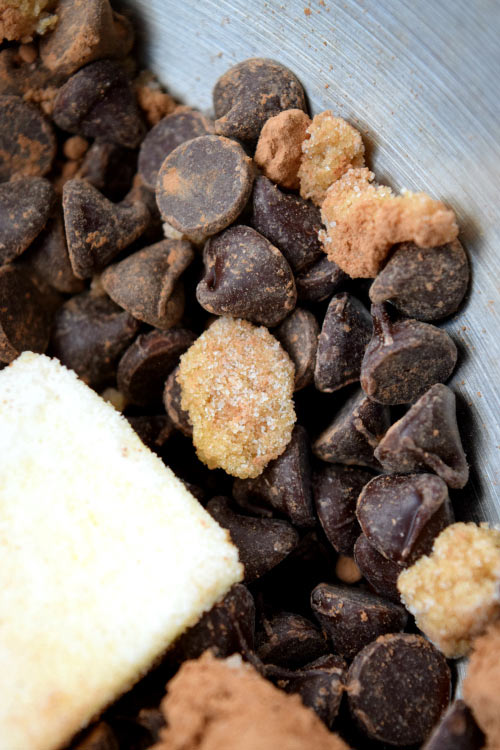 After 2 attempts I finally got them right. The first time they were delicious but little less sweet and sort of cake like. Though as you might know brownies are basically divided into 3 categories namely cakey, fudgy and chewy and those were cakey but I was looking for a really rich decadent sort of fudgey brownie treat . Finally I got them right in my second attempt. They are all my heart was craving for.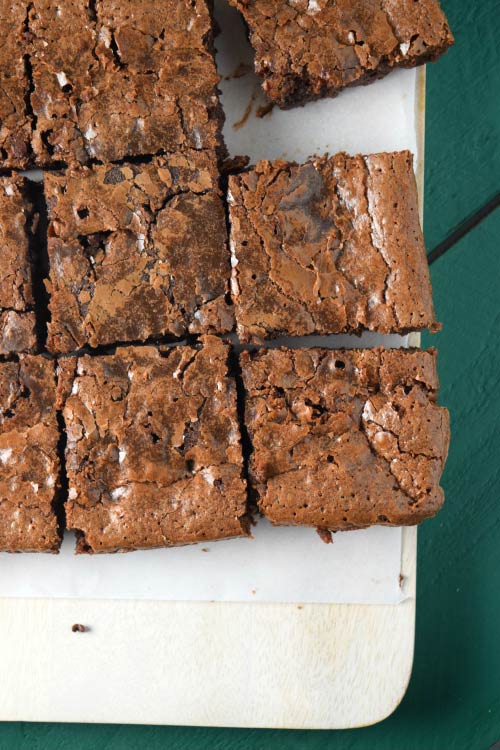 The top is shining crackling sort of crust and the interior is so moist and fudgey that once you bite into it, you simply can't stop at one. I know good and bad. Good that finally I nailed this recipe but bad as tomorrow this means extra workout. I think monday seriously needs these brownies. I mean who loves monday?! Not me!! These days weekends go by so super fast and I always always hate when sunday starts to end. So  lets make MONDAY BROWNIES a thing with these Sinfully Rich Fudgy Brownies!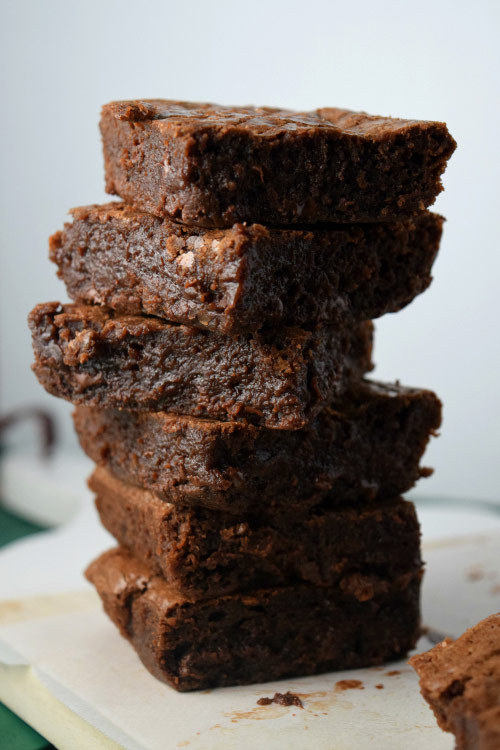 Help in spreading the word!
Follow along for lot more delicious treats and life happenings on INSTAGRAM || FACEBOOK || PINTEREST 

Super Rich Sinfully Fudgy Brownies
Super rich, fudgy and chocolatey brownies with a shining crackly crust and a gooey fudgy interior!
Ingredients
1 stick unsalted butter
2 tbsp cocoa powder
½ cup semi sweet chocolate chips
½ cup white granulated sugar
¼ cup brown sugar
¼ tsp salt
2 tsp vanilla extract
2 eggs
½ cup all purpose flour
½ cup semi sweet chocolate chips
Instructions
Preheat oven to 325F and move the rack in the center.
Line a 7*7 inch baking pan with parchment paper or aluminium foil with a little overhang so it's easy to pull out the brownies once cooked. Grease it with little oil.
In a bowl, add butter, both sugars, salt, cocoa powder and ½ cup semi sweet chocolate chips. Melt this mix over a bain marie basically just heat some water in a pot. Once it comes to boil, place the bowl with the above ingredients over it and continue to stir until it starts to all melt.
Once it's hot and everything is melted, take it off the boiling water bath and keep aside. Let it cool for 3-5 minutes. Once warm, add eggs one at a time and stir. Add vanilla extract and all purpose flour and stir until it's all evenly mixed.
Fold the remaining ½ cup semi sweet chocolate chips into the batter.
Pour the batter into the prepared pan and bake for around 25 minutes. I suggest checking the batter at around 20 minutes by inserting a knife in the center. If it comes out really wet, keep baking for another 2-3 minutes. Check again and if its still little wet, bake for another 2 minutes. If it's almost dry with only few crumbs, take it out of the oven and let it cool completely.
Once completely cooled, cut and enjoy.
More dessert recipes:
https://www.naivecookcooks.com/cheesecake-tortilla-french-toast/