2 Ingredient Candy Bark that will make for a perfect Halloween Treat!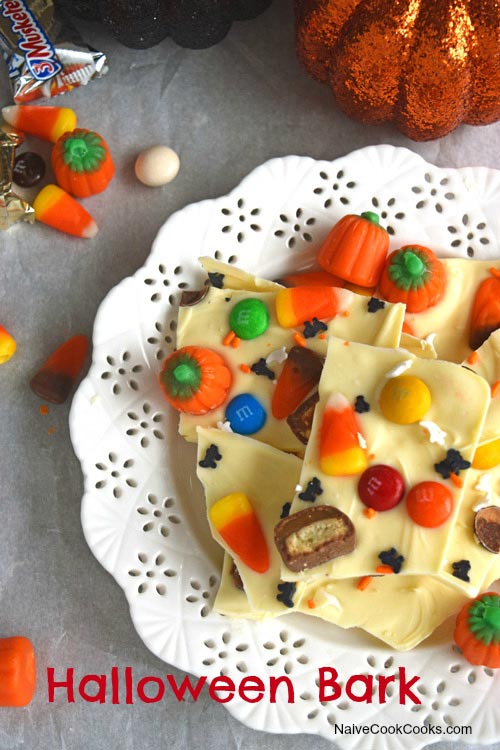 Friday and October!! Well believe it or not it's the best time of the year, atleast that's what I like to believe once we roll into October and until December, I look forward to this festive season. Lots of delicious treats (yes by now you might have guessed how much I love cooking & eating!), lots of baking & cooking, decorating for different holidays! I am way too excited!!These days since I have been cooking a storm I end up going grocery shopping almost multiple times in a week and it's so amazing! Everyday they have something new on display – the holiday decorations, treats, fall produce and what not and my favorite part – all the baking supplies. I simply can't get enough! And by the way do you feel the same about shopping at Walmart? How much stuff do they carry?! Well that sometimes want me to keep a strict budget just so I don't go way overboard with my grocery shopping!! Problems problems!!
Since these trips result in buying tons of things which I don't really need but somehow they end up in my cart, I decided to make this super easy CANDY BARK which is totally festive and looks so amazing and tastes way too delicious! I sneaked a piece of it while photographing and how gorgeous does all this candy looks?! Haha call me crazy!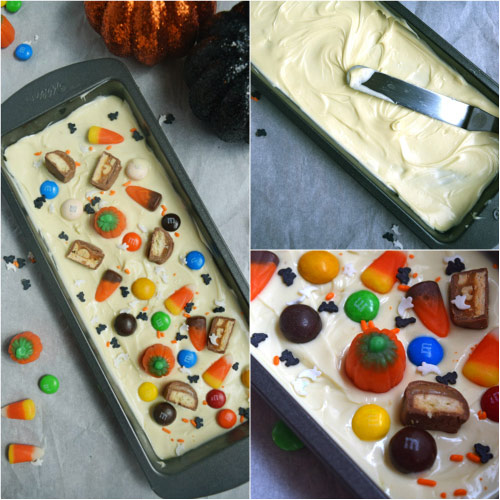 I had a giant bag of my favorite candies sitting at home which by the way I got from Walmart. I purchased the large bags of my favorite treats. That way I have leftovers which I actually look forward to having! I bought these combo bags of SNICKERS®, TWIX®, MILKY WAY® and 3 MUSKETEERS® at Walmart.
And once I made these barks, I decided to go ahead and make BOO Kits too!! Ha you might wonder what BOO Kits are?!! Well these are kits made for Halloween for BOO'ing your friends or family! Sounds fun?! It is even more fun to make your own BOO Kits like I did.
Like you can see in easy collage I made for you guys, I ended up buying some Halloween themed bags both plastic & paper for my BOO Kits and I filled up these plastic bags with candies and other Halloween related fun stuff which you think your friends/family might enjoy and then I placed these bags along with some cute looking mini soda cans in another big halloween paper bags. But wait for the best part!!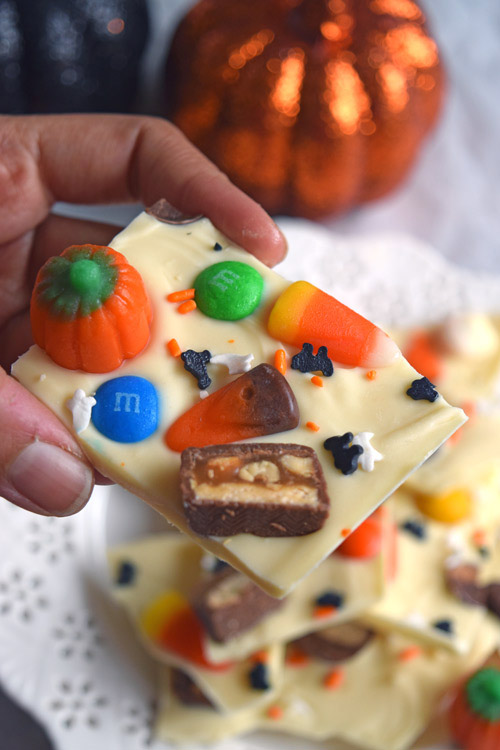 BOO Kit cards!! Yes you can print your very own BOO Kit cards and sign HERE.
Once you printed them just complete the following:
Cut out this "We've been BOO'd sign.
Fold the "You've been BOO'd" greeting card (page 2) and tape openings together.
Include the card and sign when gifting BOO bundles.And you are all set!!
Check out how they have these cute looking mini soda cans with Halloween monster faces?!I can't resist and ended up buying 2 whole packs!! Oh and I found that they have some coupons just in case you want to buy some of these!
Happy BOO'ing!!
P.S We are travelling right now so once back I will be announcing the results of the survey and the winner of $25 gift card!!
Follow along for a lot more delicious treats and life happenings on INSTAGRAM || FACEBOOK ||PINTEREST ||TWITTER ||GOOGLE+
Halloween Candy Bark
Just CANDIES is all you need to make these delicious looking candy barks!!
Ingredients
White Baking Chocolate (I used a whole 4oz bar but you can use as many or as less you want)
Different types of candies for add-ins (I used M&M's®, SNICKERS®, TWIX®, , 3 MUSKETEERS®)
Instructions
This recipe is more of decide-your-own-ingredients sort of recipe.
Here is how I do it but you can totally customize it the way you want!
Take a glass or any microwave safe bowl and add your white chocolate bar broken in pieces there.
Melt it on high for 30 seconds. Stir then melt it again for 30 seconds. Stir and then keep melting in intervals of 10 seconds and stirring until fully melted.
Spray a baking sheet with oil evenly. Add the melted chocolate in there and spread it evenly. Now working quickly, add all the candies and chill it for 30-60 minutes. Break it in pieces and enjoy!!

More Dessert Recipes:
https://www.naivecookcooks.com/mm-pecan-pie-pizza/