Blackened Shrimp & Roasted Poblano Queso Fundido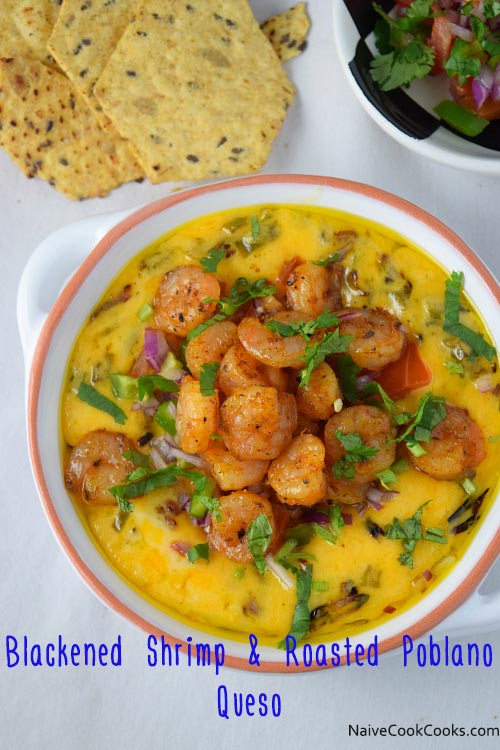 ¼ tsp ground basil
¼ tsp ground thyme
¼ tsp garlic powder
¼ tsp black pepper
¼ tsp salt
½ tsp cayenne pepper
¼ tsp hot paprika
Around 20 cocktail shrimps or 3-4 large regular shrimps
1 tbsp olive oil plus 1 tsp for cooking
I poblano, roasted, skin removed and pureed
2 cups colby jack cheese, shredded
¼ cup red onion, finely chopped for saute
¼ cup bell pepper, finely chopped for saute
2 garlic cloves, finely chopped for saute
1 tsp olive oil
Salt to taste
½ cup red onion, chopped
2 tomatoes, chopped
½ cup finely chopped cilantro
1 jalapeno finely chopped or as per taste
salt & lemon juice as per taste
Make the seasoning by mixing the first 7 spices together. In a ziplock or any plastic bag or conatiner, add shrimps, 1 tbsp olive oil and ½ tsp of the just made spice mix. Stir around so all shrimps get evenly coated. Heat a pan with 1 tsp olive oil. Bring it to high heat and add the shrimps. Cook for 30 seconds each side if using pre cooked cocktail shrimps and longer times for regular shrimps. Keep aside.
Roast a poblano by placing it directly on stove top. Once charred on all sides transfer it to a conatiner and cover with a plastic wrap. Let it sot for 5-7 minutes so it steams up which helps in removing the skin. Peel off the skin and take out the seeds. Puree poblano and keep aside.
Heat olive oil in a pan and add bell pepper, onion and garlic. Add salt and saute until almost soft.
Preheat oven to 400F. In oven safe dish, start layering by adding ½ cup grated cheese. Top it with the sauteed veggies and then another layer of 1.5 cups of cheese. Melt in the oven for good 7-8 minutes.
While queso is getting ready, make pico de gallo. Simply mix onion, tomatoes, jalapenos & cilantro and add salt and lemon juice to taste.
Take queso out of the ovenand immediately add 1 tbsp poblano puree, salt and mix. Taste and serve with lots of pico de gallo and shrimp.
Enjoy immediately with chips and cold beer!
Recipe by
Naive Cook Cooks
at https://www.naivecookcooks.com/blackened-shrimp-roasted-poblano-queso-fundido/