Best, Softest Vanilla Cupcakes that need only "One Bowl" and are so so much better than bakery ones!! Must try!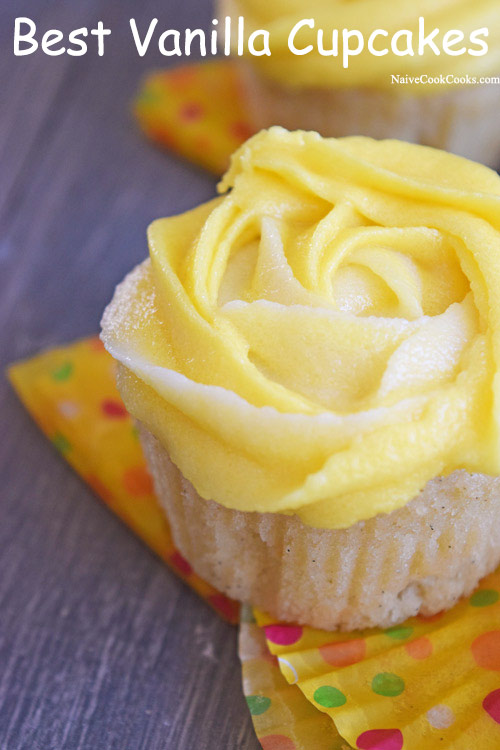 2nd day of fall today!! How are you all doing? I am writing this post sitting outside in sort of cold weather with my big mug of tea and computer. Until now I never really realised how amazing it feels to work from home in your workout clothes! Today's recipe is a special one.⤵ ⤵ ⤵Since I started this blogging thing, I have not posted any cupcake recipe here. It sounds weird knowing how much I love eating cupcakes! The only recipe <if I may call it one> is a red velvet cupcake recipe which I posted way back in the early days of blogging, I think it was my second or third post and even though those cupcakes tasted divine, the pictures were horrible. Sometimes I feel I should start updating all my old recipe pictures but then I feel those pictures always remind me how far I have come and how I still need to keep brushing my skills.
So these cupcakes!! It's sort of VANILLA  H-E-A-V-E-N in here and so so moist. I perfected these by making them twice just so to get them right and third time I finally made them with the changes. These are seriously no-where to the store bought vanilla cupcakes, I mean they are so good!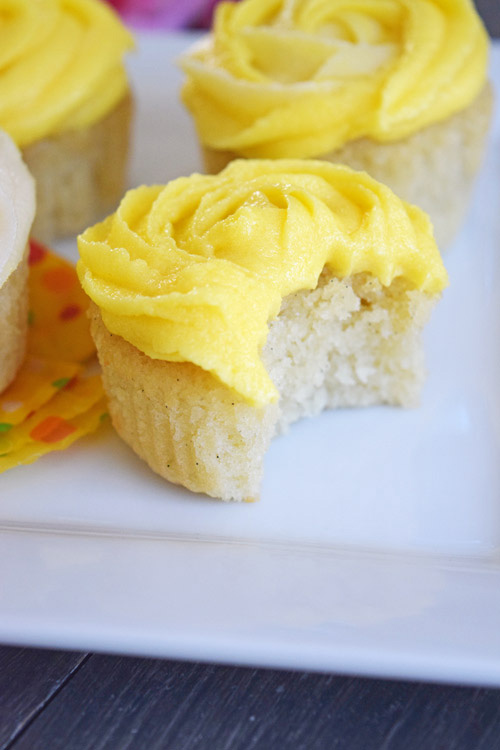 They have been sitting out in a sealed container for the last three days and I feel they keep getting better. Last night I finally succumbed to these and oh boy! what a treat it was! I am planning to send the last of the few left to work with Jerry before I end up eating all of them.
These are one bowl cupcakes meaning you make the batter in one bowl and I feel like you can easily make them in under an hour and once cool, frost them and this buttercream frosting! DO NOT SKIP! You need to make this buttercream frosting because it is what takes them from very good ->>> excellent!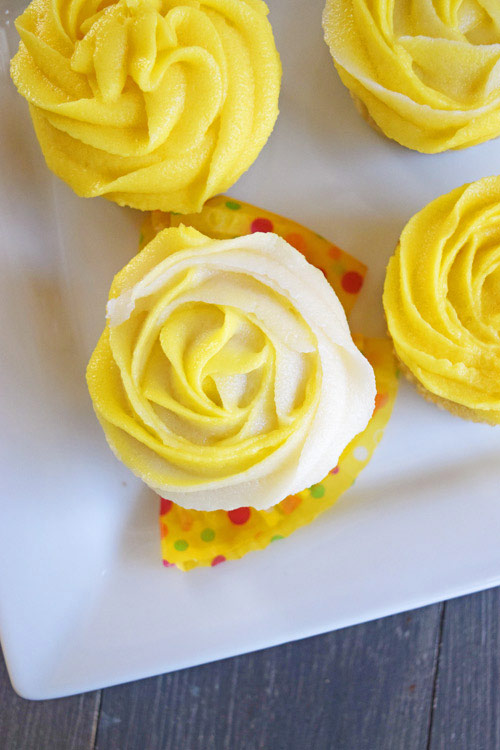 Yeah I can sort of finish them in 3 bites!! Lately I have been into piping techniques so I bought this Wilton tip and made these so easy to make roses with buttercream frosting!I have done the 2 tone technique but if you are not into this sort of crazy thing like me, you can keep your frosting simple and simply pipe it on top using a simple ziplock or pastry bag.
Lot of people have been asking for  EGG LESS recipes so just so you know, I am working on eggless recipe for these cupcakes and will be adding the link to eggless recipe here as soon as I nail them. Egg is what keeps these really moist and flavorful but if somebody knows the secret to making great eggless cupcakes, I am all ears!! Please please all the help in appreciated ?
 Follow along for a lot more delicious treats and life happenings on INSTAGRAM || FACEBOOK ||PINTEREST ||TWITTER ||GOOGLE+
Best Vanilla Cupcakes
Author:
Amishi Gadodia || NaiveCookCooks.com
Ingredients
Vanilla Cupcakes:
(1/2 + ⅓) cups All Purpose Flour
¼ tsp baking powder
⅛ tsp baking soda
¼ tsp salt
4 tbsp unsalted butter, melted
12 tbsp granulated white sugar
1 tbsp oil
2 whole eggs
2 Tbsp yogurt(I used low fat but you can even use full fat)
6 tbsp milk (I used 2% but you can even use 1% or full fat)
Seeds scraped from 1 whole vanilla bean
1 tsp pure vanilla extract
Butter Cream Frosting:
1 stick room temperature unsalted butter
2 cups confectioners sugar (white powdered sugar)
2 tsp vanilla extract
2-3 tbsp milk (start with 2 tbsp and proceed if you want a thinner frosting)
I used yellow food coloring (7 drops) added to 1 cup of frosting but you can also keep them plain.
Instructions
Vanilla Cupcakes:
Preheat oven to 350F.
In the bowl of your stand mixer or large bowl if doing by hand, add melted butter along with sugar,oil. Stir it until combined.
Add eggs, yogurt, milk, vanilla seeds from vanilla bean and vanilla extract and mix it all together until smooth.
To it add flour,baking powder, baking soda & salt and mix until its all evenly mixed.
Now line cupcake baking tray with cupcake liners and fill them up with the batter upto ⅔ full.
Bake at 350F for about 14-16 mins or until a toothpick inserted inside a cupcake comes out clean.
Let them cool in baking tray for few mins and then transfer them to a wire rack to cool further.
Butter Cream frosting:
While cupcakes are baking, start making buttercream frosting.
Clean the same bowl which we used for batter and after it is clean & dried, add butter and cream it for 5 mins.
To it add sugar, vanilla extract, milk and mix until it gets soft & fluffy. Now if you are adding color add few drops of desired color and mix evenly.
**If you want to achieve the 2 tone rose look I have created, divide your frosting mixture in half in 2 bowls. To one add yellow food color one drop at a time until you reach the desired color intensity you want ( I added around 5-7 drops) and keep the other one colorless.
Now take a piping bag and attach a Wilton tip 2D which is a star tip. Fill the bag with yellow colored frosting making sure that it stays in half side only and the other half fill it with plain frosting. Now tighten the bag from the top and squeeze on a rough surface to make sure you are getting 2 shades. Now starting from center and moving in circle going outwards pipe your beautiful rose on cupcakes!
Ami says:
I am not even close to being an expert in piping techniques so if it's hard to understand how to pipe 2 tone roses, there are tons of videos on you tube which I see all the time to practice.
More Cupcake Recipes: