Flour tortillas filled with homemade refried beans, sauteed vegetables, cheese and baked to crispy perfection and served with a zingy red sauce!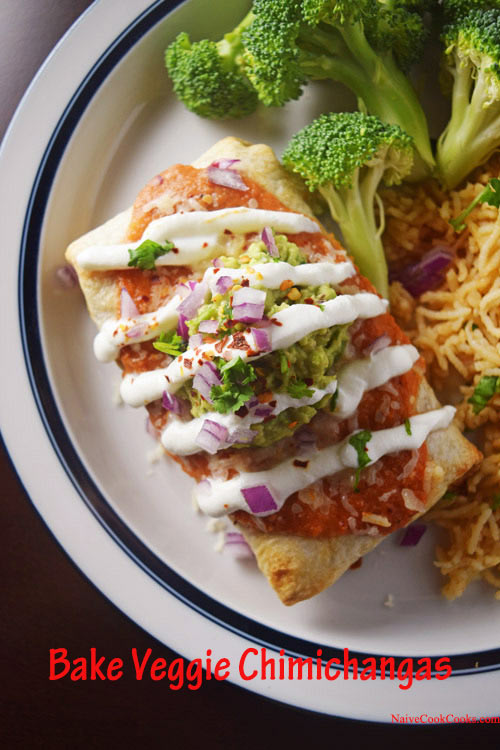 Friyay!!!???
This has been an awesome week and I am all ready to cozy up to some take out greasy food + movies + wine + probably a much needed massage!
Jerry's back has been bad again and I am feeling really tired too lately so we are planning on getting on the massage bandwagon and truth be told, I am dying to find a decent massage place for years! Everytime I got a massage my experience was never really good – greasy after massage feelings (too much oil?!), not enough pressure (why can't they massage better?) and sometimes I feel I get out way more stressed out than I entered lol! But that's just crazy me. Have you ever had a bad massage experience? 
But unlike bad massage experiences this Chimichanga never disappoints! "Chimichanga" is basically a fried burrito that is stuffed with all sorts of meats , veggies, beans, cheese, rice or basically whatever you feel like eating! But who want's to eat fried stuff all the time?! So the first time I tried making these baked, I was really worried!
There have been few dishes that were supposed to be fried but baking made them taste horrible! But GOOD NEWS these taste not just equally good but I am now partial to baked version! Less fat, super crispy outer shell and bubbling hot inside makes me want to have them for dinner EVERY.SINGLE.NIGHT!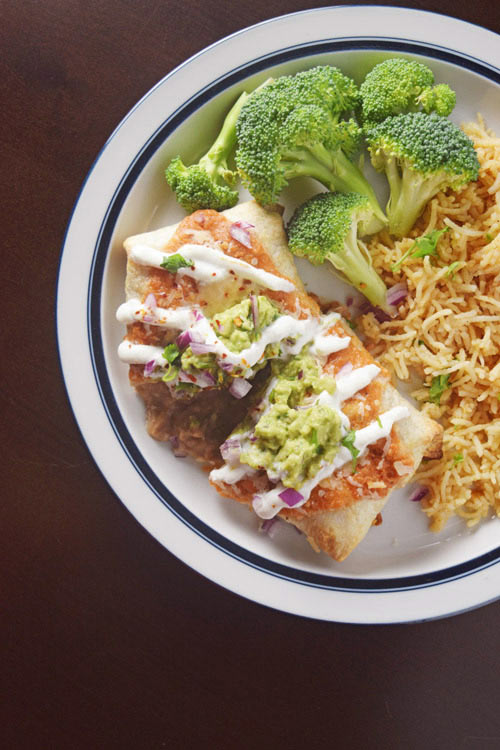 I made them meatless but by all means, you can season your favorite meat and use it as a filling. I like to make my own refried beans and usually a big batch which I freeze for later use. Soaking pinto beans a night before + a sturdy pressure cooker really makes it a cake walk to make refried beans from scratch at home!! Then I make my all time favorite red enhcilada sauce (that too from scratch!!) and saute some vegetables and tada you have a delicious fancy looking yet totally easy dinner ready! I like to make them in advance somedays and eat during the week for lunch or dinner.
Friday needs these!!
Follow along for a lot more delicious treats and life happenings on INSTAGRAM || FACEBOOK ||PINTEREST ||TWITTER ||GOOGLE+

Baked Veggie Chimichanga
Author:
Amishi Gadodia || NaiveCookCooks.com
Ingredients
Filling:
1 bell pepper,chopped fine
1 red onion,chopped fine
2 tsp oil
4 garlic cloves, chopped fine
1 jalapeno, chopped
Salt to taste
½ tsp red chili powder
½ tsp cumin powder
1-2 tsp Taco seasoning or as per taste
Refried beans:
**You can easily use good quality store bought refried beans can.
1 cup pinto beans, soaked overnight in water
Salt to taste
1 tbsp olive oil or good quality vegetable oil
1-2 tsp red chili powder
1 tsp cumin powder
2-3 tsp taco seasoning
Red Enchilada Sauce:
3 tomatoes, chopped in big pieces
½ red onion, chopped in big pieces
2 garlic cloves
1 jalapeno
2 tbsp cilantro fresh
½ cup water
2 tbsp yogurt
¾ tsp oregano
½ tsp cumin powder
½ tsp red chili powder
2-4 tbsp ketchup
Salt & black pepper to taste
Extras:
5 flour tortillas burrito size
Sour cream or yogurt
Chopped red onion
Shredded cheddar cheese
Packet of mexican rice, cooked
Guacamole
Instructions
Filling:
Heat oil in a skillet and to it add all the vegetables : garlic, onion, bell pepper, jalapeno and stir. Add pinch of salt and cook vegetables on low until soft. Add the seasonings, stir and adjust as per taste. Keep aside.
Red Enchilada Sauce:
In a high sped blender, add all the red enchilada sauce ingredients and blend on high until smooth. Transfer it to a pot and bring to a boil. Simmer for 5-10 mins until it reaches desired consistency and taste test for seasonings! Keep aside.
Refried beans:
Boil beans in pressure cooker with 2-3 cups of water and a pinch of salt until you hear 5-6 whistles. Make sure your gas is on low. Once beans are fully cooked, using a hand blender blend them. Add spices and oil and mix and taste. Now if it's too thin. cook it to evaporate some water while if it's too thick, add some water, adjust seasonings and cook until it reaches your desired consistency.
Assembly:
Preheat oven to 400F.
Take one flour tortilla. Place few tbsp of beans in the centre. On top place 1-2 tbsp vegetable mixture and then few pieces of finely chopped red onion and some cheese. Close it from all four sides tightly and place on a baking rack (I like to use my grill rack for this). Using a brush, brush them with oil on all sides to get crispier exterior. Repeat with the rest and bake for 15-17 mins flipping after 10 minute mark.
Transfer them to plates and top them with hot red enchilada sauce, onions, sour cream, guacamole, cheese! Go cray with the toppings and enjoy with a side of warm beans, mexican rice!
More Quick Meals:
https://www.naivecookcooks.com/almond-crusted-chicken/