Best Homemade Pizza Crust Recipe – crisp & chewy crust with the right amount of bite. This dough is super easy to make and even easier to shape into a thick or thin pizza crust.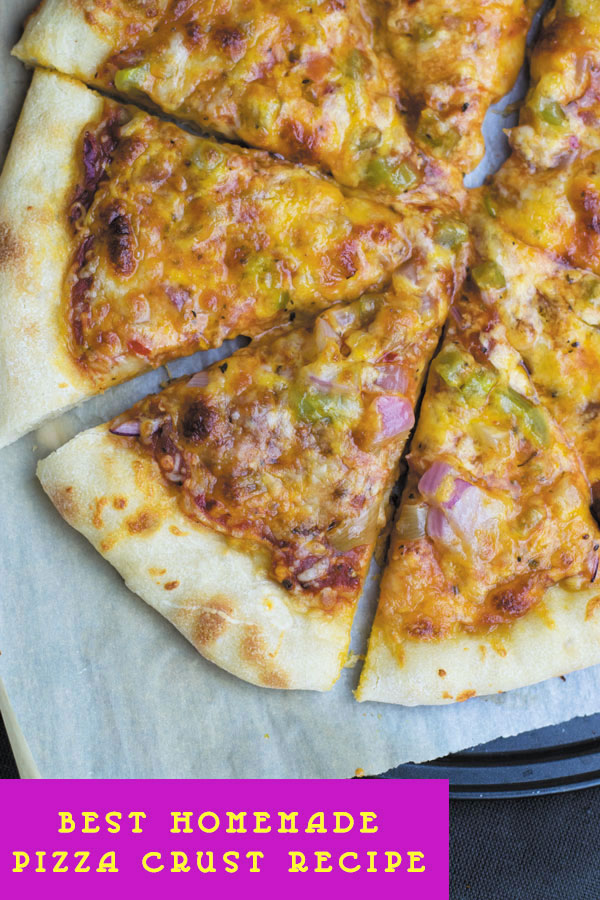 Friends how was your weekend? Do you have any specific food related routine for Friday night? Do you always go out for dinner, order food, make something special? We don't have any set routine. There are some Fridays when it's movie and dinner, while some we are hanging out with friends while some and my favorite ones are the ones that involve either take out food or cooking something special at home, when you eat your dinner while watching your favorite shows. I know, so typical and so boring, but not to me! To me these Friday nights provide much deserved break from work and we both look forward to having such nights.
This Friday we had tons of errands to run and so we decided to keep it low key and just stay in and relax. For a really long time I have been trying to perfect my pizza dough recipe. Earlier sometimes it would turn out tough, center under cooked, too much sauce and what not. Basically something would always go wrong. This time I devoted good 30 mins and read carefully all the details explained by my favorite Cook's Illustrated book and I was so happy when finally I was able to make pizza crust that's super light after being baked, it has the right amount of chewiness and crispness, the center doesn't fall in the middle when you pick up a slice. It's the perfect pizza crust, you guys! Seriously you need to give this a try!
I made 2 variations – classic with cheese, pizza sauce and veggies and veggie Hawaiian pizza – with cheese, pizza sauce, jalapenos and pineapple. We loved both but I devoured whole Hawaiian pizza by myself as well Ronak doesn't like any fruit in his food! 😛
MAKE SURE YOU READ THIS POST STARTING FROM HERE AND THE RECIPE CAREFULLY as I have tons of small pointers which will make sure you get an amazing restaurant quality crust!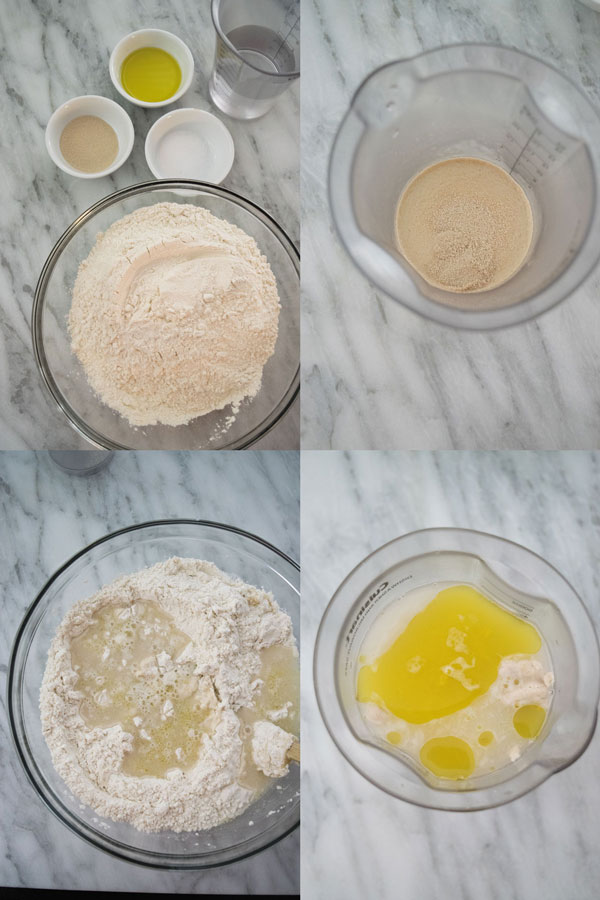 For making pizza dough, all you need is – all purpose flour, water, yeast, oil and salt. First yeast is dissolved in warm water and once yeast becomes active, remaining water and oil is added to yeast mixture. In a bowl flour and salt are mixed and to them this yeast oil mixture is added.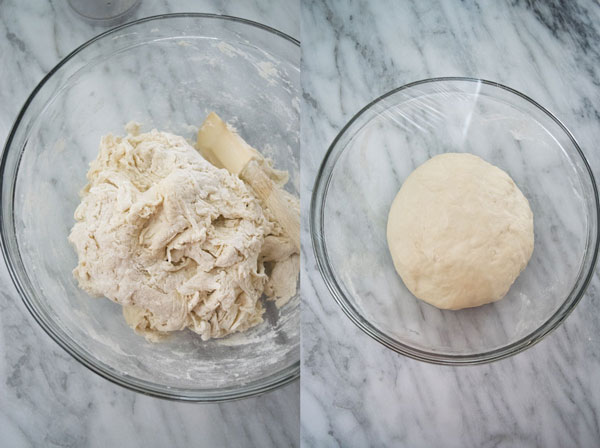 Mix it until it forms a ball and then knead it until you get a soft supple dough ball that's smooth.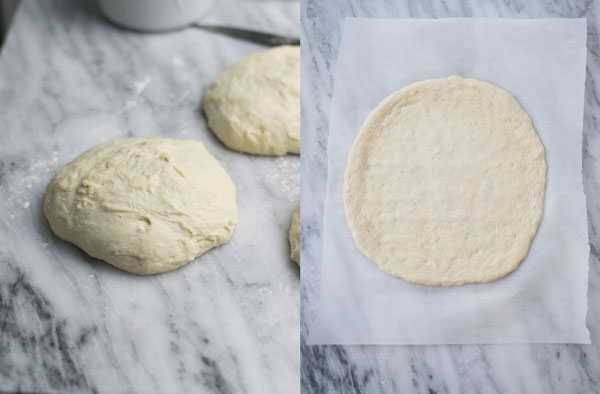 Let the dough rise. I forgot to take a picture but it will rise to double it's size. Now I divide it into 3 equal parts and if I am planning on using just 1 ball, then I will go ahead and freeze the remaining 2 balls in airtight container. If I am planning on using more than 1 ball or all, then while I work on one dough ball, I will cover the remaining two with a moist cloth. NEVER USE A ROLLING PIN FOR ROLLING OUT YOUR DOUGH as it takes out excess air and makes the pizza tough. Using your fingers press into the dough to spread it into a circle. Then using one hand to hold it in the middle and using other hand to stretch the dough to a thin or thick crust as per preference.
I bought pizza stone few years back and love it to bake pizza. The crust tastes so much better when cooked on one. So if you have a pizza stone, then go ahead preheat your oven to 500 F and let it get warm for 30 mins so pizza stone is properly heated through. I don't own a pizza peel yet so I always place my rolled out pizza dough on flour coated parchment paper first , then I place this whole parchment paper+ pizza dough on a pizza baking sheet and then I add toppings on my pizza. When I am ready to bake, I slide my pizza with a quick jerk onto my hot pizza stone. Bake it just for 9-11 minutes. Once you start to see cheese bubbling and crust golden, you know pizza is done! To pull it out of oven, I take my pizza baking sheet near the middle rack and pull out the cooked pizza along with parchment paper onto baking sheet. Cut using a pizza cutter and enjoy!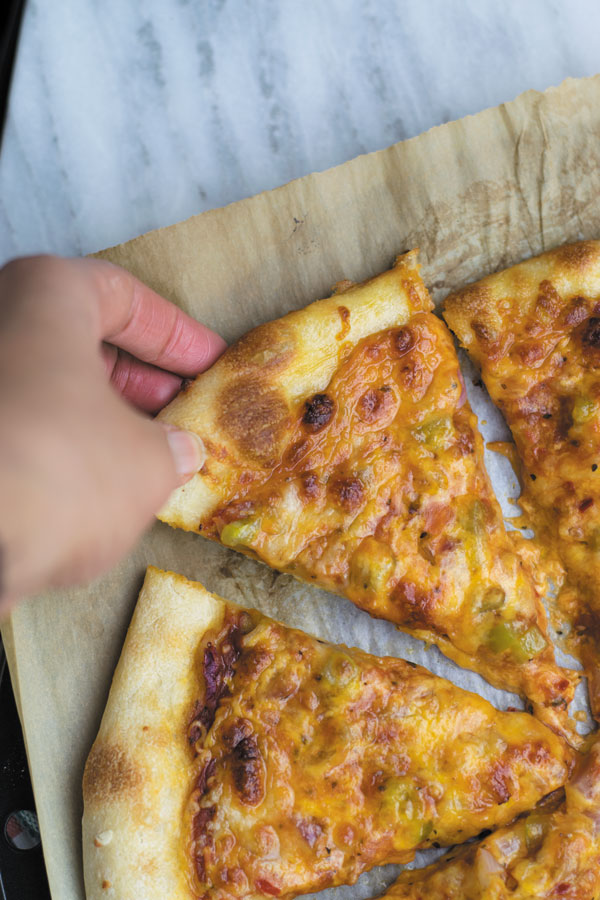 Best Homemade Pizza Crust Recipe
This dough yields 2 large or 3 medium size pizza crusts. So even if you are planning on making just 1 or 2 pizza. make the entire recipe and then freeze the remaining dough in airtight container. Thaw it overnight for use next time.
Ingredients
Pizza Crust :
½ cup warm water (around 110 F)
2+1/4 tsp instant dry yeast (1 envelope)
1+1/4 cup room temperature tap water
2 tbsp extra virgin olive oil
4 cups all purpose flour plus extra for dusting the work surface ( 22 ounces)
1.5 tsp salt
Instructions
Pizza crust :
Take warm water in a bowl. To it add yeast and let it sit undisturbed for 5-10 minutes until yeast starts to get active.
Once active, add the remaining 1+1/4 cups water and oil and stir. In a large bowl, take all purpose flour. To it add salt and stir. Now add this oil-water-yeast mixture to it and using a wooden spoon or any sturdy spoon stir it around. Mix it until it all comes together. If you feel it's still dry, then add 1 tbsp more water. Transfer it to a very lightly floured work surface and knead this dough for 8 minutes until smooth and supple. Do not add flour while kneading or it will make the pizza tough and leathery.
Transfer this dough ball to a greased bowl and cover tightly with a plastic wrap. Covering tightly is important as it maintains the moisture content in the dough. Let the dough rise in a warm spot for 2 hours or until double.
If you are making this dough in the morning and wanting to let it rise all day until dinner time, then leave it to rise on your counter instead of keeping it in a warm spot.
Once double in size, divide the dough into 3 equal sized parts. Cover 2 of the dough balls in 2 individual bowls with a moist cloth while you work on first dough ball.
If you have a pizza stone, keep it in the middle rack in oven and pre heat oven for 30 mins to 500F. DO NOT ROLL THE DOUGH USING ROLLING PIN as it takes out too much air and makes the dough tough! I just learnt it and this makes such a big difference!
Using your hands press the dough to a round circle, then by keeping one hand in the center of dough, stretch the dough on a floured surface. Sprinkle flour generously on a parchment paper. Place the stretched out dough on a floured parchment paper and if the dough shrinks a bit, stretch it again. Place this parchment paper dough on a pizza peel if you have one or pizza baking sheet.
Now prick the dough using a fork but leave the edges as you want the edges to puff up but not anywhere else. Spread a thin layer of oil all over the dough. Then is using pizza sauce, spread pizza sauce, cheese, veggies or meat if using and more cheese.
Now if you have a pizza stone then gently slide the parchment paper with dough on pizza stone. I like to keep parchment paper with my pizza as I find it easier to handle. If you don't have pizza stone, then simple keep the whole thing in the middle rack and bake for about 10-11 minutes.
Once you start to see cheese bubbling and crust golden, you know pizza is done! To pull it out of oven, I take my pizza baking sheet near the middle rack and pull out the cooked pizza along with parchment paper onto baking sheet. Cut using a pizza cutter and enjoy!
Some more delicious BREAD recipes- >>