Pizza With summer flavors!! Almond basil pesto, fresh peaches, spinach & fresh mozzarella makes this one delicious pizza!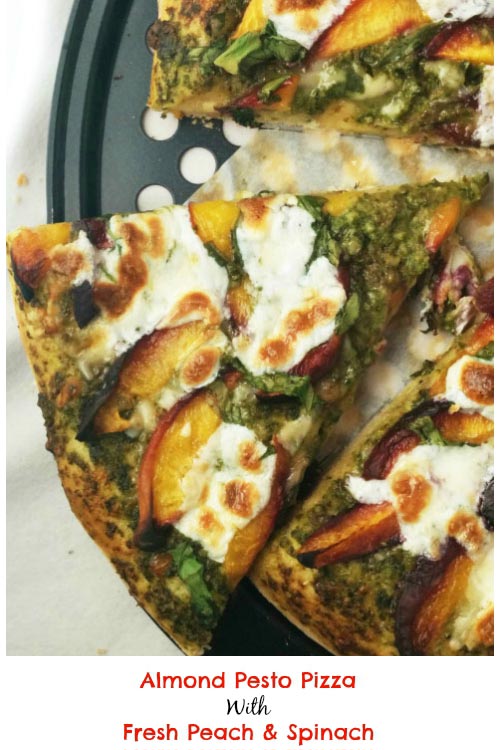 Hello S.U.M.M.E.R.
I can't get enough of this pizza! This is my first summer pesto of the season. I know I know that I need to catch up.  Pesto made using fresh basil is my favorite condiment to keep in refrigerator after cilantro chutney. So many uses!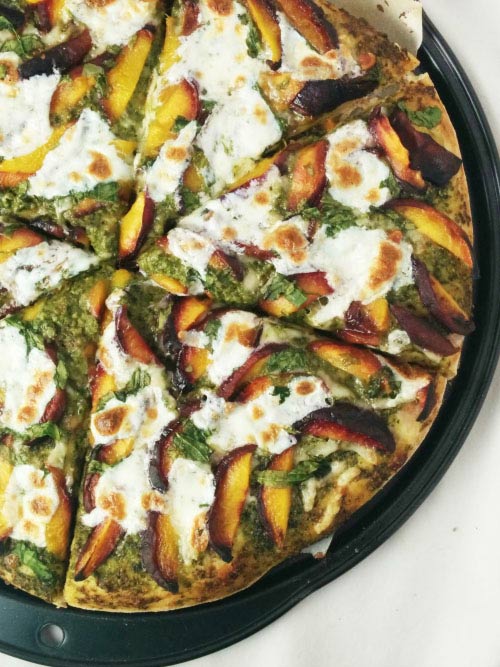 We have this place close to  where we live where we often go for pizza. Their pesto pizza with spinach is our favorite and most of the time we end up ordering that. Thin crispy crust smeared with loads of fresh basil pesto, fresh mozzarella and spinach is like a match made in heaven.
While making this pizza I was going for the same flavor profile but then I remembered my peach flatbread  from last year which was so so good  and with few peaches sitting on the counter, I just had to add them and I am glad that I did! This pizza is full of summer flavors. Little sweet from fresh peaches, cheesy from mozzarella and fresh pesto makes this combination rock!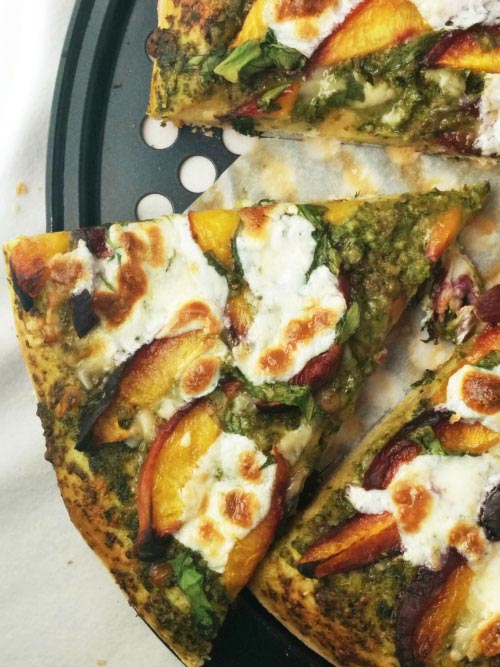 Make this!
Help in spreading the word!
Follow along for a lot more delicious treats and life happenings on INSTAGRAM || FACEBOOK ||PINTEREST ||TWITTER ||GOOGLE+

Almond Pesto Pizza With Peach & Spinach
Pizza with summer flavors. Easy almond pesto pizza with fresh peaches & spinach!
Ingredients
Rushed up Pizza Dough via Smitten Kitchen Cookbook
(Makes 1 12" thin crust pizza)
1.5 cups all purpose flour
1+1/4 tsp active dry yeast
1 tsp salt
½-3/4 cup warm water (start by adding ½ cup and proceed as needed)
Olive oil for coating
Almond Pesto
⅓ cup almond
2 cups fresh basil
Salt & Black Pepper to taste
2-3 garlic cloves
½ cup freshly grated parmesan cheese
3 tbsp olive oil
2 tbsp water or as needed for thinning
Pizza
4 peaches fresh, thinly sliced
Handful of fresh spinach, chopped
½ cup shredded parmesan cheese
1 ball of fresh mozzarella, freshly sliced
Red chili flakes (optional but YUM)
Instructions
Pesto
Blend all the ingredients in a blender until smooth.Taste and adjust and keep aside.
Pizza dough
Add warm water in the bowl of a stand mixer or regular bowl and to it add yeast.Once it starts to bubble up in around 10-15 mins, add flour and salt. Mix using stand mixer or your hands until you get a supple smooth dough. Coat it in oil and cover. Let it sit in warmed up place for good 30 mins or until it doubles up.
Pizza
Roll out the pizza dough to a 12" thin circle. Transfer it to a parchment paper lined baking sheet. Spread the pesto generously all over the pizza. To it add shredded parmesan and mozzarella. Add chopped peaches & spinach. Add more cheese on top and bake at 500F for around 10-12 mins or until edges are nicely browned.
Cut in slices & serve.
Notes
You can make the pesto ahead of time and store in an airtight conatiner for upto a week. You can use pesto on sandwiches, salads or crackers!
Some more recipe ideas: 
https://www.naivecookcooks.com/samosa-french-bread-pizza